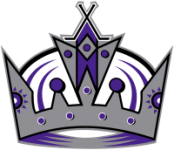 LOS ANGELES — Although the Los Angeles Kings are just one game beyond the halfway point in their season and a lot of hockey is left to be played, they are in deep, deep trouble.
Despite a strong start to their season and a 9-3-0 run in December, the Kings have had a stretch in November when they lost seven out of eight games, and they are currently mired in a slump in which they have lost six of their last seven, with no end to their nose dive in sight.
Their November slide was caused, in part, due to injuries to defenseman Willie Mitchell and left wing Alexei Ponikarovsky, but it was caused mostly by glaring defensive lapses.
The Kings' current slump is of much greater concern because the problems run much deeper, as they have been guilty of shoddy efforts and a serious lack of attention to detail, with some players seemingly not dedicated to playing the Kings' system and team game.
"We haven't been working hard and doing the little things we were doing when we were winning," said defenseman Drew Doughty. "I don't know what it was, but after we won those few games in a row [in December], since then, we haven't been playing the same way. I don't know if we got too cocky, or what it was. We need to be working harder."
"It's not about X's and O's," added Doughty. "It's about competing and outworking the other team. That's something we haven't been doing lately, and that's something we have to fix."
Talk about an understatement.
"We're not competing hard enough to win games," said right wing and team captain Dustin Brown. "We're not doing those little things, and our work ethic is low. With the exception of the San Jose game [a 1-0 loss on January 1 at Staples Center in Los Angeles], these haven't been very good efforts."
"It's not easy to win games in this league," added Brown. "You're not going to win consistently if you're not putting the work in."
Indeed, the Kings are not putting in the necessary work, even when they get off to a good start, as they have been unable to sustain their effort and intensity for an entire game during their current slide.
"We got up early there in that game, and it's not like we sat back, or anything, but we just weren't doing the little things right," Doughty said following a 5-2 loss to the Nashville Predators at Staples Center. "We weren't battling hard in the offensive end or the defensive zone."
The same thing happened against the Columbus Blue Jackets at Staples Center on January 8, even though the Kings held on for dear life, escaping with a 6-4 win.
"The first half of that game was exactly what you wanted to have with the compete [level], the intensity, doing the right things, getting [the puck in deep], scoring some goals," said head coach Terry Murray. "Things started to change after we gave up that first goal. We got a little too casual again, giving them a lot of energy and a lot of life from that point."
Their latest debacle, a 3-2 loss to the lowly Toronto Maple Leafs on January 10 at Staples Center, was more of the same, as the Kings got off to a solid start, only to allow their intensity and effort to wane in a big way after that.
"We went into a little bit of a coma there," defenseman Matt Greene lamented. "That's been the story of our year. We've got to stop that immediately, or else we're not going to have success."
"We started off with a good first period, and then we got away from our game," Brown noted. "We played desperate the last nine minutes of the game, trying to get back in it, but you have to play a full sixty [minutes]. Tonight, we started good, but we got away from what makes us successful."
Murray pointed to a lack of emotional commitment.
"You guys saw the game where we came out in the second period, after a pretty good start in the first, and got away, totally, from everything that was going the right way," he noted. "Turning pucks over the in the neutral zone, not getting [pucks deep], not skating the right way, and our pursuit of the puck, whenever it did get in, was not there with enough support to recover pucks, and they kept coming at us."
"Emotionally, we just let up on the gas pedal again in the second period."
The Kings know that their attitude is the problem.
"We need to have a bigger effort from the start," Brown emphasized. "We definitely need to get back on track and playing the right way. I always say that you worry about the process, not the result. Eventually, the results are going to be there. Right now, we some issues with the process."
"Something needs to be changed with our attitude, because that's all it is, an attitude—playing the game right," Brown added. "We're halfway through the year. This is a big home stand for us. The playoffs are at stake [right now]. We've got to find a way to get it going. We need to look at each other [in the eye] and get this thing turned around. I'm not sure what we need to do, but we'll figure it out, as players."
Their head coach has some ideas about what they need to do.
"It's about an attitude right now. We've got to get back into that compete, dig in and earn the right to win some hockey games [kind of attitude]," Murray stressed. "I think there are times that we show some real good things, recovering pucks, and then, other times, we're reaching in, trying to recover pucks just with sticks and with arms, and that's impossible to do at this level."
"You've got to have an attitude," Murray added. "You've got to dig right in and use your body—separate the man from the puck, recover pucks and make things happen. That's where it comes back to the hard work and more of a compete attitude."
"We're going to have to score some goals and be better in the fundamental parts of the game. The detail part of it is executed for forty or 45 minutes. But in this game, it's sixty minutes. It doesn't matter who you're playing. We're breaking down in the detail part of the game. Everything has to be re-focused on and everything has to become very important throughout the sixty minutes."