Finished with his tenure now in Vancouver, which team will be the one to gamble on David Booth? Despite various injuries, including the reoccurring concussion trend, the 29-year-old winger is certain to find a suitor; and if that's your team, that might just be a blessing in disguise.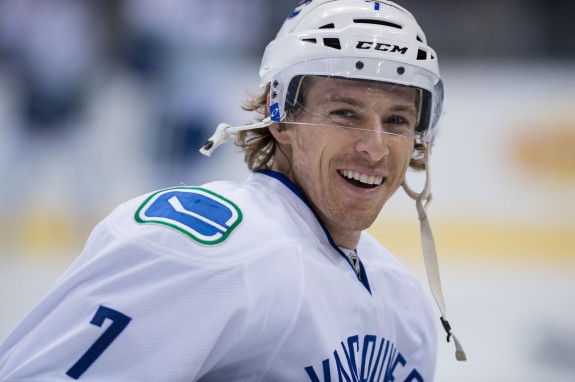 A History of Upside & Diminishing Production
It wasn't too long ago that the Michigan State product was highly valued and touted. After breaking into the league in 2006 with the Florida Panthers, many not only projected David Booth to be an asset, but a star in the NHL.
Booth's versatility is one of the largest attributes that led many to consider him to be a steal for the Panthers, who nabbed him with the 52nd pick of the 2004 NHL Entry Draft. Despite his ability to use his six-foot, 212-pound frame to contribute on an aggressive forecheck, as well as his skating speed, the player The Hockey News ranked 33rd overall dropped to the second round.
"It was weird because I went to three years of high school so I could go to college early to get two years of college eligibility before I was drafted," recalled Booth. "I didn't know, going into college as a freshman, if I would play a lot so my parents and a couple of advisers thought it would be best if maybe we got to college a year early and had an extra year of college. 

"Turns out, my freshman year of college was much better than my sophomore year of college. If I could have had another decent year in college as a sophomore I think I would have had a better understanding of where I was going to go but I think I only scored like 6 goals my sophomore year. I didn't really know how that was going to turn out. 

"I didn't even think Florida was on the radar because I went to the combine and I think I didn't have interviews with like three teams and Florida was one of those teams. So, going to the draft, they were probably one of the last teams in my mind that I thought I was going to get drafted by."
Nux coach Torts on David Booth: "He killed us in Florida. He can be an asset on how we want to play. The question is health." #Canucks

— Elliott Pap (@ElliottPap) September 18, 2013
https://twitter.com/sdolan3/status/478936818189336576
After establishing himself in the league, Booth exploded in the 2008-09 season, posting a career-high 60 points. His 31 goals and 29 assists earned him a big pay day from a traditionally frugal organization in Florida. After completing what still stands as his best offensive year, Booth signed a six-year, $25.5 million extension with the Panthers.
"We are excited to have reached a contract agreement with David Booth. David is coming off a career best season and he is undoubtedly an important part of our club's future," said then GM Randy Sexton in a released statement after extending Booth.
"Since we drafted David in 2004, he has dedicated himself to improving his skill set each season. Through his hard work, commitment and passion for the game, he has become a role model for other players, as well as a fan favorite. He embodies every attribute of what a true Panthers player stands for and we look forward to his continued contributions within our organization for many years to come."
While Booth would go onto notch 40 points two seasons later, injuries would eventually tatter his legacy in Florida. In 2011, he was shipped to Vancouver, a team he was expected to excel with.
"It's an opportunity to have a top-six forward and a left-winger to play with Ryan Kesler," said former Canucks GM Mike Gillis.
"Booth is a fast player. He's a north-south player and he's going to get a chance to play with another guy who plays that way. Ryan knows him very well. He's scored over 30 goals in the league before and he's 26 years old."
Although the trade was welcomed with optimism and enthusiasm, Booth was unable to find his niche with a Canucks team that would eventually go from Stanley Cup runner-up, to one of the league's largest current disasters.
"Booth arrived in Vancouver by a trade with Florida in which the Canucks didn't give up much, a move made in October, 2011, four months after losing Game 7 of the Stanley Cup. The winger was something of a reclamation project, coming off a series of concussions but with a 31-goal season to his name. It was a gamble by then GM Gillis – and it failed, though the reasons can be fairly pinned on injury, a series of them, starting with a significant knee injury not long after Booth arrived in Vancouver and then a severe ankle injury the subsequent season.

"He was brought to Vancouver to score – and didn't. The first season, 2011-12, was reasonable, 16 goals in 56 games. The 2013 lockout year began and ended with injury and in his dozen games played the only goal scored was an empty netter. This past season, he had nine goals in 66 games, going for a stretch of 32 contests without a goal and potting three in his last 10, a glimmer of production that wasn't enough for the Canucks to consider keeping him." — David Ebner, Globe Sports
Worth The Wager?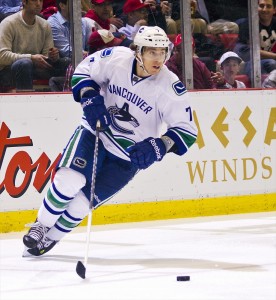 Given his history with injuries and sporadic production, the team that's next to gamble on David Booth will likely do so at a reasonable price. And although Booth won't turn 30 until November, his past adversities will most certainly drive his asking price down. His future teammates and coaching staff, however, will undoubtedly get a workhorse who exudes integrity and accountability.
"No one holds me to a higher expectation than myself,'' explained Booth this past season. "You know, 'To whom much is given, much is required.' That's an old Biblical principle that has always stuck with me. I know I've been given much and much is expected from me. I'm going to work as hard as I can.''
Coincidentally enough, though, Booth now finds himself in somewhat of the same situation that former Canucks forward, and teammate, Mason Raymond was perched in last offseason; save the compliance buyout.
Although Booth has well over 20 pounds on Raymond, both are similar in stature. Both are similar in age, with Booth nearly 10 months older. Both have flashed the capability of scoring throughout their career, with Raymond recording 53 points in 2009-10. And both were subject to a history of physical affliction.
"Then came the darkest moment of the 2011 playoffs, as Raymond got twisted around and checked hard into the boards while bent over in an awkward position. The hit left Raymond with a fractured vertebrae, forcing him into a long recovery during the 2011 off-season.

"As cliché as it may seem, Raymond hasn't been the same since. While his underlying statistics remained strong even during his disappointing 2010-11 season, they suffered once he returned in 2011-12. Those hoping that it was just a result of missing training time with his back injury were let down when the same was true this last season (12-13), even as his point totals slightly rebounded." — Daniel Wagner, The Vancouver Sun
If Raymond's first year in Toronto (19-26-45) is anything like Booth's next chapter, it would potentially drive his value up. But with Booth's current state, he'll most likely fetch a "prove it" contract, much similar to Raymond's one-year, $1 million deal with Toronto.
"On a cheaper salary and lesser term, Booth might again command interest in the free agent market. Even if his offensive numbers have eroded, Booth has three 20-goal seasons under his belt and teams will take a chance he can regain that prior ability." — Jimmy Hascup, USA Today Sports
Booth now joins six other left wingers who made at least $1 million last season, and are under 30. And while names such as, Dany Heatley, Thomas Vanek, Matt Moulson, and even Benoit Pouliot will lead the class at the position in free agency, Booth will be there for the taking.
"We didn't expand on the why, and the why doesn't matter,"  said Booth's agent, Mike Liut. "It wasn't something that was unexpected and, therefore, you push on. David's response was that it's an opportunity to start over again and that he's excited about it. The way the season ended for him, in his mind, he knows he can play. He's getting back to 100 per cent and it's a new challenge."
Whether Booth's future team can't afford any of the players listed above, or recognize the low-risk/high-reward of the Michigan native, the odds are in the favor of the team that's next to gamble on David Booth.
Andy is a contributor for The Hockey Writers, covering the Philadelphia Flyers. He holds a Bachelor's Degree in Communications from Walsh University. He enjoys spending time with his family, golfing, and reading. He is married with a daughter. You can follow Andy on Twitter @ADudones.