Recently, I was asked by an Anaheim Ducks season ticket holder, "Do you want Kopitar and Lucic to put up video game numbers?  You won't be able to afford them next year."
"Of course!", I said. "Who doesn't want to see their team's players put up big points?"
However, the more I thought about it, the more I began thinking that Milan Lucic realistically might not be a King for more than one season. If he helps the Kings win the Stanley Cup again, it'll be worth it. However, was losing Martin Jones and a first round pick worth the chance that Lucic will be that good and help the team to that extent? If he just walks away without winning, like Andrej Sekera did, we'll have lost two first round picks for rental players.
Worsening Salary Cap Problems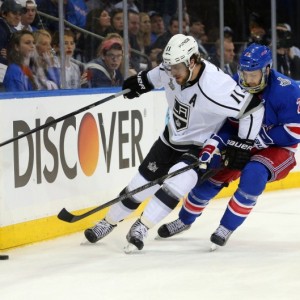 It's no secret that the Kings are already struggling with the current salary cap. But their struggles are only going to get worse after this season when Anze Kopitar and Lucic become UFA's. King's GM Dean Lombardi is going to do whatever it takes to keep Kopitar. You never want to lose one of the league's best two-way players, and your top scorer, to free agency. But how much will Kopitar demand?
When you compare Kopitar's numbers to other top centers in the league, it's not unrealistic to assume his value will end up in the range of $9M per season. Jonathan Toews had 66 points last season and was nominated for the Selke Trophy along with Kopitar, who had 64 points. Both play very similar styles, and Toews' current contract is paying him $10.5M per year.
Toews' contract is a bit of an overpayment based on stats alone. However, he's captained his team to three Stanley Cup wins in six years. Kopitar has led his team in scoring eight straight season and helped them win the Cup twice.
The best offensive season Kopitar has had was 2009-10 when he had 34 goals and 81 points. If he comes close to those numbers playing with Lucic and Marian Gaborik all season, is it unreasonable for him to want the same amount of money Toews receives?
Lucic Hopefully Due For A Bounce Back Season
Lucic has played alongside some decent offensive talent before, but never has he played with two players as skilled as Kopitar and Gaborik (no disrespect to David Krejci and Patrice Bergeron).
Last season was a down year for Lucic as he only recorded 44 points; however it was a down year for the Bruins as a whole as they missed the playoffs for the first time since 2007. This is a contract year for Lucic, and with plenty of rest and more talented linemates, it's logical to assume he'll get back to the 60-65 point totals he was putting up a few seasons ago.
This season Lucic will only be making $6M, of which the Kings are paying $3.25M, Boston is retaining the remainder of his salary. If he ends up scoring 20 goals and 60 points, there's no doubt he'll want to be making close to that again with his new contract.
Whether Slava Voynov returns or not, the Kings will need to sign another defenseman next season regardless; as well as looking for a backup goaltender and either re-signing Trevor Lewis or finding someone to replace him. And after locking up Kopitar until he hopefully retires a King, will there still be space to sign Lucic?
Dean Lombardi knows that the core of a hockey team only has so many years to keep winning, and bringing in Lucic should help the Kings, but it's looking more and more like he'll be one and done in Los Angeles if he plays really well. He'll price himself out of the team.
Hopefully, Lucic works out great and the Kings return to the playoffs and push for another cup, but will that drive up his value to the point we can't afford his next contract? If he doesn't click with Kopitar and Gaborik, the Kings likely flounder again, and Lucic isn't re-signed because he isn't able to recapture his scoring touch. Either way, I'm not counting on Lucic being with the Kings for more than one season and I don't think fans should get too attached to him.