Last year, I wrote about how Mike Babcock should join the Toronto Maple Leafs even though the future of the team didn't look that great. In numerous comments, I was told that it would never happen. Why would one of the best coaches around today want to come to a team that was starting a rebuild? Well, Babcock proved me right by surprising nearly everyone by signing an eight-year, $50 million contract with the Leafs.
Now I will try to do the same thing again, except this time with Steven Stamkos.
As we all know, Stamkos' current contract is over on July 1. If the Tampa Bay Lightning can't find a way to re-sign him before then, you can bet most NHL teams will throw their best offer at the star center. Of course, the Maple Leafs could have the most money to throw at Stamkos if they trade a few more of their players. So in the same situation as Babcock, the Leafs have the money advantage when it comes to negotiations.
Oh, Let Me Count The Reasons
Other than money, the biggest factor in where Stamkos will sign is where he has the best chance to win a championship. Obviously, the Leafs currently aren't in the best position when it comes to even talk about making the playoffs, let alone a championship. However, if you add Stamkos to the lineup, what does that do to their playoff chances? While the Leafs aren't in a good position now, it's hard to argue that they won't be in a few years.
The Leafs biggest problem recently, particularly in the Phil Kessel years, is that they would have a great player but they didn't build properly around him. Those days should be over now. If Stamkos joined the Leafs, he'll have players like William Nylander, Mitch Marner, Morgan Rielly and other young players that will join the lineup in the coming years. That is not even including the possibility of drafting Auston Matthews. Even if the Leafs don't win the lottery, they'll still get another blue-chip prospect regardless.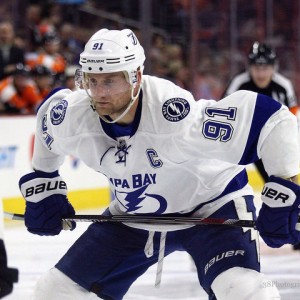 The other big draw for Stamkos could be Babcock himself. Now, with Babcock set to coach Team Canada in the upcoming World Cup of Hockey, Stamkos will be coached by him to start the year anyways. Why not just continue wearing a Maple Leaf and being coached by Babcock? In all seriousness, I'm pretty sure when a player is looking at teams he could potentially go to, the perception of the coach has at least something to with it. Babcock could give the Leafs yet another advantage.
If Stamkos does come to Toronto, he'll also do something that the team needs to happen. It's been a while since a superstar player born and raised in the GTA has chosen to come to Toronto as a free agent. Sure, the Leafs have drafted players from the Toronto-area but they have never really become elite NHLers. Whenever a superstar that was born near Toronto even approaches free agency, somebody always brings it up. Case in point, some fans have already moved past Stamkos and are already focusing on John Tavares.
Stamkos coming to Toronto might help this to not be a problem in the future. That doesn't really have anything to do with Stamkos himself, but it would be nice to finally see a homegrown star actually come home to play for the Blue & White, the original Blue & White.
Of course, until the Lightning are eliminated from the playoffs, this will all be shoved under the rug in Tampa. However, with Stamkos injured, you have to wonder if the Lightning will be eliminated before he returns. It will be interesting to see what goes down in a few months.
Toronto Maple Leafs Writer At The Hockey Writers.