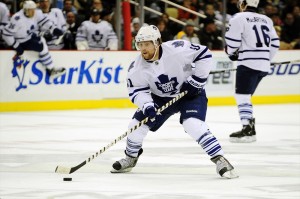 The Toronto Maple Leafs' second-half struggles have brought upon a debate that not one person anticipated to speak of back in September. That is the big question of whether Maple Leafs general manager Brian Burke should trade All-Star winger Phil Kessel or keep him on the roster.
The debate has not only spread through the world of bloggers, but also the mainstream media.
For example, Mike Brophy of Sportsnet wrote this article on March 21, and while he doesn't give his own solid opinion, the article does provide sensible arguments for both sides. Then there is the Toronto Star's sports front-man Damien Cox, who is a firm believer that Burke should deal the young veteran.
Let's focus on the Brophy article for a moment, more specifically one paragraph from it.
Almost unbelievably, on a night when 24-year-old Phil Kessel scored to tie his single-season high for goals with his 36th, there are those who think the only way the Leafs make it back to the playoffs — they haven't played in the post-season since 2003-04 — is to get rid of him. The theory being, he'd fetch a decent return if GM Brian Burke plays his cards right.
Note the last sentence in which Brophy says the Leafs would "fetch a decent return if GM Brian Burke plays his cards right." This statement is completely, one hundred percent correct, but does that mean Burke should take such a path?
What many people don't realize about Kessel is that he is, in fact, one of the Leafs' most important leaders. Perhaps not in the dressing room, but certainly on the ice. He is a player who can take charge of his team's offence and he can light a fire under their skates with his own speed and skill. And leadership is a trait that the Leafs have clearly lacked for the entire 2011-2012 campaign.
Just who might you consider to be a 'leader' on the Leafs' roster? Well, you would obviously have to throw captain Dion Phaneuf into that category no matter what you think of him, along with very few others that include Colby Armstrong (who is often injured), John-Michael Liles and possibly Joffrey Lupul and Mikhail Grabovski. That's a total of six players including Kessel, some of which you might not even look at as leaders.
Now that Kessel has become exactly that on Leafs, he's been very successful. Not that consistently scoring 30 goals each season isn't, but Kessel has set new career highs this season in assists (40) and points (76) and is just one goal away from accomplishing the same feat in goals, of which he currently has 36. As well, Kessel's 36 goals are the third most goals scored by an NHL'er this season, while his 76 points put him fourth in the NHL.
So we have now established the fact that Kessel, who comes at a fair price given his production this season, is one of the Leafs' most important leaders on the ice and he is just entering the prime of his NHL career.
Those factors all contribute to the fact that trading Kessel would be nothing but─believe it or not─a step backwards for a team that hasn't qualified for the playoffs since the 2004-2005 season.
Isn't a top-six scoring forward something that, despite having Kessel on the roster, Maple Leafs fans have craved for quite some time now? And isn't that rumoured to be what Burke and his staff are looking for? With that, let's throw another question out there. Wouldn't trading Kessel just keep the Leafs where they are at now in terms of skill up front, if not worsen their current situation?
That's not to say that Burke and his staff wouldn't be able to bring in a great return for the 24-year-old, but let's be honest; the only way the Leafs are going to get well-above market value for Kessel is if an appealing draft choice or two or maybe another roster player were sent to other way.
It should now be clear that trading Kessel isn't as easy, nor does it make as much sense, as it may seem. Take a step back for a moment and look at things from a realistic point of view. The Toronto Maple Leafs should not move Phil Kessel, at least not in time for next season.
Twitter: @LukasHardonk | Email: lukas.hardonk@gmail.com | Lukas' archive
For every Leafs article on THW, follow @THW_MapleLeafs on Twitter.