Sidney Crosby reminds me of Mario Lemieux at age 35.
That's not an insult.  Probably not a compliment to the 24-year-old Crosby either.  It's reality.
When Lemieux came out of retirement in 2000, he played differently.  He could no longer physically dominate opponents with his reach, deceptive speed, and 6-foot-4 frame.  He had to combine what was left of those talents with his exceptional hockey IQ.
Lemieux stayed out of the high-traffic areas in an effort to save his body and became an elite playmaker.  (Goals made up over 40% of his points pre-retirement; after 2000 that dropped to 33%).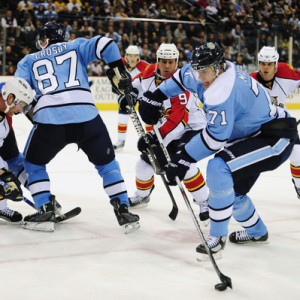 Crosby has made a similar transition.  THW's James Conley suggested last week that Crosby should consider the perimeter style of play if he wants to stay healthy long-term.  Through five games, that's exactly the Crosby we've seen.
He's had a number of great scoring chances that haven't resulted in goals.  He's been effective in all aspects of the game, but his playmaking has stood out the most, as evidenced by his nine assists.  Conley also pointed out in his article that coach Dan Bylsma has surrounded Crosby with the right personnel to make this transition easier.
Crosby has spent most of his even strength shifts with Matt Cooke and Tyler Kennedy, two wingers capable of winning battles along the boards and doing the dirty work.  Bylsma also moved Crosby to the point on the powerplay which allows him to stay out of the corners and utilize his playmaking abilities.
That switch answered one of the biggest questions surrounding Crosby's most recent return: Can Crosby and Evgeni Malkin co-exist on the powerplay?
Since the 2008-09 season, the Penguins' powerplay has routinely been in the bottom 10 of the NHL.  Minnesota Wild coach and former Penguins assistant coach Mike Yeo, who was responsible for the Penguins' powerplay, was chased out of town by fans who believed Crosby + Malkin should equal domination. That simple equation hasn't always happened for a number of physical and psychological reasons.
First, Crosby and Malkin are both left-handed.  More often than not, they tend to drift to the same areas of the ice and get in each others way (Jaromir Jagr's concern over the same dynamic was accurate, in my opinion)
They're also proud players.  When Crosby and Malkin have been in the same lineup together – a rare occurrence in recent seasons – both players have insisted on having the powerplay run through them.  Many times the puck would go to Malkin, he would drift to the right halfwall where Crosby was already standing, and he'd hijack the system.  The notoriously unselfish Crosby would do the same thing.  This is one of the biggest challenges of coaching multiple superstars.
Bylsma was recently asked whether he ever considered splitting the two up, creating a 1A and 1B powerplay unit.  "Of course," Bylsma said.  "We certainly explore all possibilities and opportunities out there. I think we've always felt, and strongly feel that having the best two players on the ice is the best thing to have success on our power play."
What Bylsma didn't say: Even the hint of Crosby or Malkin manning the 'B' unit would be an insult to both players.
So Bylsma made changes (with the help of assistant coach Tony Granato and his players, I suspect).  He took an inventory of the talents of his five best players:
Sidney Crosby: Exceptional vision, great passer, decent shot, needs to avoid contact for health reasons, doesn't turn the puck over.
Evgeni Malkin: Left-handed, huge one-timer, good playmaker, creative, often forgets defensive responsibilities when tired or focused on trying to score.
Kris Letang: Right-handed, defenseman by trade, solid one-timer.
James Neal: Pure scorer, great wrist shot, quick release.
Chris Kunitz: Wins puck battles, unselfishly screens goalies despite taking a beating in front of the net.
Bylsma then put the players in positions to utilize their talents.  He adopted a 1-3-1 system that a number of teams in the NHL use these days: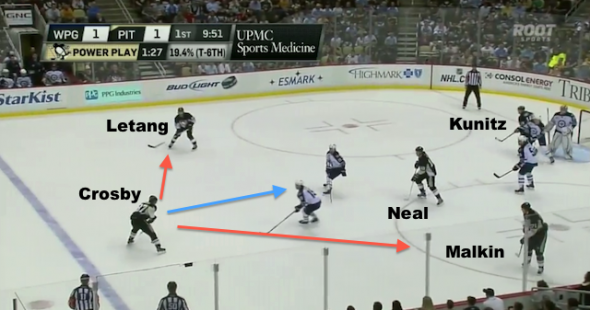 Once the puck is into the offensive zone and setup (another article in itself), the five players work themselves into position.
Ideally, Crosby plays the high point with Letang and Malkin flanking him on both sides.  Crosby's vision, patience, and reliability with the puck makes him a perfect fit for this position.  He can survey the entire ice and also place passes exactly where they need to be for Letang and Malkin to one-time slapshots.
"I've played there before," Crosby said of playing the point.  "It was a while ago, but no matter where you play you've got to find ways to be successful. And back there, there are things that I think I can do to contribute to the power play.  I think wherever it is that they think I will be able to contribute, we all have to play to our strengths. That's the most important thing."
Crosby, Letang, and Malkin are fairly interchangeable though.  Movement between the three players creates openings in the defense and makes the unit tougher to predict.
"It doesn't matter," Malkin said when asked if the positions were set in stone.  "We know how to play. It's not just Sid at the point. We move the puck and skate. We try to move and change positions."
Regardless of where the three players are stationed and who has the puck, there should always be a three-man triangle surrounding one penalty killer: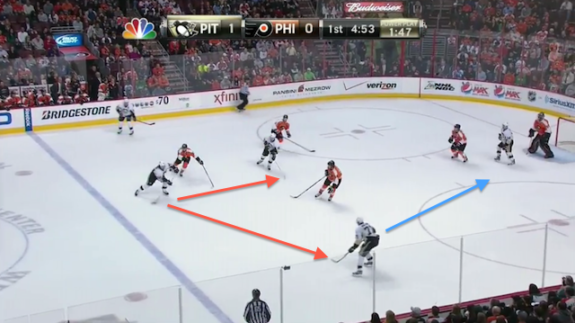 As Neal moves to the top of the circles, he gives the point man (in this case Letang) another passing option.  The triangle is now Letang-Neal-Malkin.
Letang also has the option of moving the puck over to Malkin for a one-timer.  If Malkin doesn't have a lane to shoot or Letang's pass is not in the right place (this happens a lot), Malkin can take the pass and attack the net, forcing penalty killers to confront him: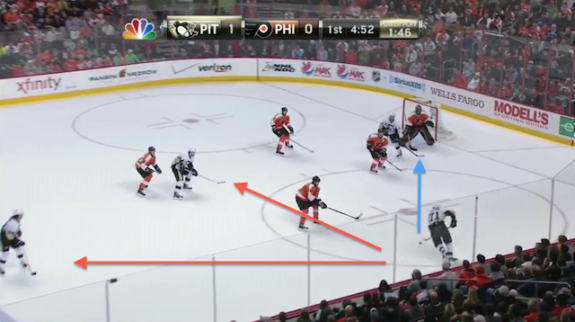 Malkin has a great shot, but when the goalie is ready and unscreened (like Ilya Bryzgalov above) and Malkin is outside the faceoff dot, it probably makes sense to be patient.
He can feed a backhand pass to Neal in the slot if Neal is open, or curl back and pass it to the point to reset.
The Penguins have tinkered with a number of wrinkles and set plays off this setup as well.  When the puck moves from the point to a stationary Malkin, sometimes Neal will skate from the slot to the corner and open up for a pass: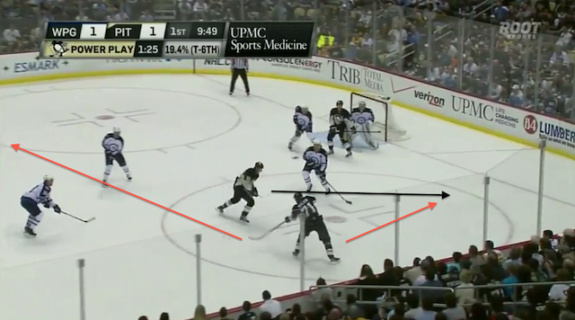 The movement and confusion sometimes opens up a lane for a cross-ice pass.  It also gives Malkin a different passing option to Neal down low.
If Malkin decides to attack the net, the penalty killer and goalie have to give him respect.  Drawing their attention leaves Neal open and ready to fire a one-timer under the crossbar.
The Penguins haven't been able to get the puck to Neal in this spot on the powerplay yet, but his hat trick goal on Tuesday against Winnipeg shows what the rotation will look like:
When both players execute correctly and Malkin attacks the net hard with speed to draw the defenders, this play becomes a nightmare for opponents.
Getting Neal open for shots in his prime scoring areas (upper left circle and bottom right circle, if you recall our Neal analysis in October) is an important part of the Penguins powerplay.  Neal is tied with Philadelphia's Scott Hartnell for the NHL lead in powerplay goals with 15.
The set play takes timing though.  If it doesn't come together correctly, again Malkin needs to be patient and utilize his other options.  After Neal rotates, if Malkin decides to make the cross-ice pass instead, Letang still ends up with a number of pass and shoot options: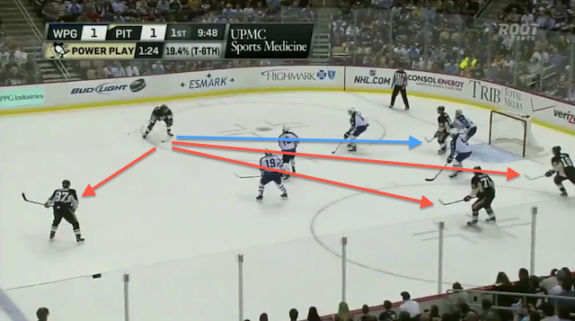 The Penguins work another variation from their base 1-3-1 setup on the left side.
The player with the puck on the left halfwall (most often Letang) waits for a seam in the penalty killers to get Neal the puck in his wheelhouse at the top of the left circle.  Neal turns and fires, unfortunately without a screen from Kunitz in this instance:
The problem with this execution is Neal receives the puck at a tough angle.  Instead of one-timing the puck or utilizing his quick release, Neal has to catch the pass, turn, and then shoot.
He also doesn't know what's going on between him and the net because he can't see the defender and Kunitz in his peripheral vision.
Letang knows he is responsible for playing defense and was probably nervous that he didn't have backup in case of a turnover.  The Penguins got a powerplay just a few minutes after the one pictured above and Steve Sullivan took the place of Letang.
Sullivan has quite a bit of powerplay experience in his 15-year career.  He knows he has to be lower in the zone to draw the attention of the penalty killers and also give Neal the best angle to receive a pass.
With Crosby also back in position at the point, Sullivan made the adjustment and Neal fired a wrist shot at the net before any Winnipeg players could react: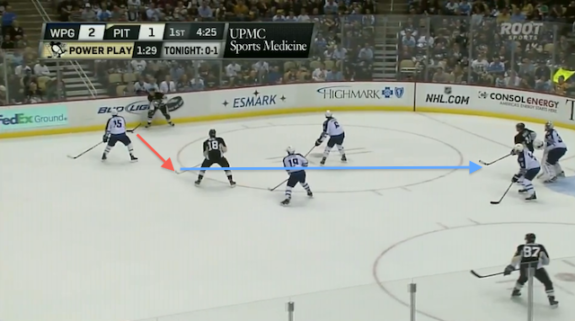 These are just a few of the powerplay variations the Penguins have used since Crosby returned to the lineup five games ago.  But Crosby and Malkin's creativity is what leads to so many of their goals.  Forcing talented players to stick to a handful of predetermined plays doesn't always make sense.
"I think when our power play has been most effective, it's when we're all moving and we don't get idle out there," Crosby said. "We're a little more predictable when we are standing still. I think when we are moving and everyone is creating things that way, it's a lot tougher on teams. I think all the guys out there have a lot of tools that they can use. Everyone's comfortable. Really, the quicker we move the puck the better everyone is."
From time to time, you'll notice the players just taking what the penalty killers give them and improvising:
The powerplay goal above looks chaotic, but notice how the 1-3-1 structure stays relatively intact. As the players move, switch, and rotate, Neal realizes the left spot is open and goes there.
"With the guys we have out there," Crosby said, "you can put all five of us in any of those spots and I think if we do the right thing, we are going to have success."
The Penguins' powerplay has only scored on 15% of their chances since Crosby's return (they were 20% without him), but they finally have players in the right positions and under the right mindset.
I'm confident this setup will work.  It's only a matter of time.  And when it does, look out.
"We don't know what our best is yet," Bylsma said this week. "We haven't been all together, the lines together, playing for a long time. We've had success and won some games since Sid's come back. I don't know if we've gotten to our best game or what our best is yet."
The Penguins are 24-4-2 over their past 30 games. It's scary to think what this team will look like at their 'best'.
___________________________________________