Auston Matthews started the season as the clear front-runner for the first overall selection in the upcoming draft in Buffalo, but Patrik Laine's outstanding performance over the past few months started to heat up the discussion on who should go first overall. Laine has picked up his play so much that there are scouting services which have him over Matthews meanwhile. The entire debate had reached the peak after the World Championship, where Laine's incredible performance helped him to secure the MVP title. But is there really a battle for the number one spot?
Lots of talk that Laine could potentially go ahead of Matthews. I don't think so. #Leafs will take Matthews. Elite no.1 C's hardest to find.

— NHL Watcher (@NHL_Watcher) June 13, 2016
No! There is not. I honestly don't think there is and I think that it is not as close as it might seem at first sight. Laine would be the first overall pick in many other years. He had a great season, has been outstanding in many games and really picked up his pace in the second half of the season, but Matthews is still ahead of him in some areas which I have listed below:
Hockey Smarts
Matthews' hockey smarts are through the roof and one of the best in the entire draft. He understands the game so well and combined with his puckhandling skills and outstanding vision, he has the potential to become an elite playmaker at NHL-level. In terms of hockey smarts, I would say he is right up there with some of the great center-men in today's game such as Sidney Crosby, Jonathan Toews etc.
Skating
Laine's skating has been improving the entire year and he has become a solid skater. However, Matthews' powerful strides, skating mobility and smoothness make him the better skater. At times, Matthews does not look like a very explosive skater as he tends to float around, but he has the quickness in his skates to make quick turns and shake off opponents as well as possesses the ability to glide up ice with the puck hitting his top speed with a few powerful strides. In addition, Matthews is very mobile for his big size.
Puckhandling skills
Matthews probably has the best puckhandling skills in the draft and although Laine's puck skills are impressive too, he can't do what Matthews can. Matthews can distribute the puck with accurate and hard passes and set up plays with no space and 2-3 opponents around him. His quickness in his hands and the confidence he carries the puck are very impressive. He can set up scoring chances as well as finishing off plays.
Position matters
I often hear that Matthews is only projected first overall because of his position. While I agree that his center position helps to overcome Laine, I don't think that it is the only reason. I've come up with at least 3-4 other reasons that speak for Matthews. With that being said, we should also keep in mind that the center position is probably one of the toughest to play in hockey and the skill set of a player needs to be extremely various being able to play this position successfully. I dare to say that Laine's hockey smarts and puckhandling skills would maybe not be advanced enough to play that position as successfully as Matthews does.
Toronto's need
Let's be honest here – Why the heck should the Leafs draft someone else than Matthews? They have been waiting for that number one center since Mats Sundin and have now a shot at picking Matthews, who is exactly the type of player the Leafs are looking for. There is no way they will skip that opportunity, I simply don't see that happen. Matthews is the type of player you can build a team around and the Leafs, which have a deep prospect pool already, are currently still lacking a potential captain and superstar like Matthews in their system.
Still, Laine Is an Outstanding Player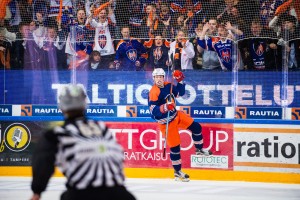 My purpose of this article is not to decrease Laine's value in any sense, I just simply want to give you my perspective on the first overall debate and demonstrate that the battle for the first overall might not be as tight as it seems. Laine is an exceptional player and will be a superstar in the NHL for years to come, a player that every Jets fan will love to have on their team and a guy that every elite goaltender will fear. His shot is elite and the best in the entire draft and as mentioned earlier, Laine would have been the number first selection in many other drafts without any doubt. We should be thankful that he did everything possible to even have this debate now. Before this season, he was often listed outside of the top three and now after the season he is in the mix for the first overall position. That shows his constant development throughout his unreal season.
I have been blessed to see those two young gentlemen play quite a bit this and last season. What they both have achieved and done this year is phenomenal. They dominated at nearly each stage, if it was in their league, at U20 level or at the Worlds, they have been among the best players. After taking over Europe, they will both try to make an impact next season in the NHL, and I would be surprised if one of them fails to do so.
Independent Scout covering European Hockey and Prospects for TheHockeyWriters. Located in Switzerland and blogging on www.scouting-factory.blogspot.com. Opinions on blog are my own