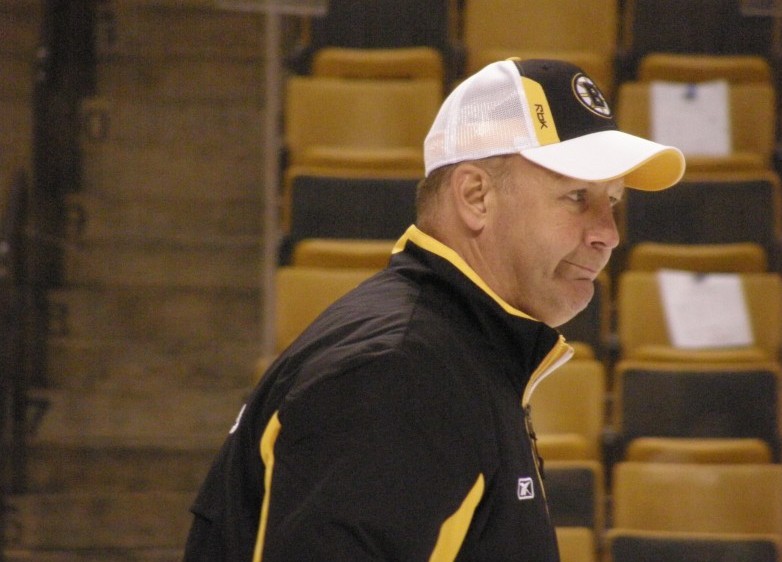 Every single season in Boston it seems as if head coach Claude Julien is on a permanent hot seat. I mean after all it is Boston, am I right? The Bruins put up great records in the regular season, but if they get somewhat close to being eliminated come playoff time, the Boston media is calling for Julien's head. It might not seem fair, but that's the way it goes in Boston.
You think I'm exaggerating about Julien always being on the hot seat?
May I present to you Exhibit A:
After the Bruins had SWEPT the Philadelphia Flyers in the 2011 playoffs, some were still calling for Julien's head.
Exhibit B:
Just one season after the Claude Julien won the first Stanley Cup in Boston since 1972, this happened,
Can somebody please fire Claude Julien now? Worst coach to ever win a Cup. #NHL. These upsets are amazing by the way. So many underdogs.

— Michael Bradburn (@MWBII) April 26, 2012
Exhibit C:
In 2013 before the Maple Leafs series:
Comcast Sports New England asks if Claude Julien gets fired if they lose in the first round. Studio host Gary Tanguay believes that he should.
Here are some Twitter fan opinions,
Chara and Seidenberg will be split up tonight. If Bruins lose this series, its bec Claude Julien screwed up. Dude will be fired in a week.

— Masshole Sports (@MassholeSports) May 12, 2013
Claude Julien had better be fired as soon as this game ends. #Bruins

— Ian Kenney (@PSU_Kenney) May 14, 2013
Evidently, I'm a "fraud" because I wanted Claude Julien fired. He's bought himself more time, for sure. Oh well, can't please everyone.

— Gethin Coolbaugh | Sports, Politics, Life (@GethinCoolbaugh) May 26, 2013
https://twitter.com/samer_k/status/334128078311809024
At last count, there two separate Facebook pages devoted to the firing of Claude Julien, neither of which have been updated since 2011.
Panic much, Boston?
Undeserving Criticism
It's incredibly unfair for Claude Julien to continuously be put on the hot seat time and time again. Boston sports fans are a fickle bunch. One season you are the toast of the town and the very next season you are the worst coach or player that the team has ever had. It's mind boggling.
Even our writers think that Claude Julien is a great coach. He finished tied for third in our greatest coach writers poll.
The fact of the matter is that Claude Julien is the greatest coach the Boston Bruins have ever had. Ever.
Not only does he have the second most coaching victories in the storied history of the Bruins, but he continuously gets the Bruins into the postseason. The Boston Bruins are now a contender under Julien's leadership. You certainly couldn't say that with Dave Lewis, Robbie Ftorek, or Mike Sullivan.
Claude Julien is succeeding in Boston on something that got him fired with the Devils: his defensive strategy. The Bruins are one of the best defensive squads in hockey and that is a testament to the work that Claude Julien and his coaching staff do. Also, it doesn't hurt when you have Patrice Bergeron, Zdeno Chara, and Tuukka Rask either.
Everybody credits Tim Thomas for the 2011 Stanley Cup victory, sure he was great, but Claude Julien should be given a ton of credit as well. Julien was completely able to outcoach the Vancouver Canucks' Alain Vigneault in perhaps the most lopsided seven game series in NHL history.
Granted the loss to the Washington Capitals was quite a shot to the gut, but, again, it wasn't entirely his fault. Tim Thomas was having a down year compared to the previous season and the Bruins, in all honesty, underestimated a rejuvenated Capitals squad with Dale Hunter at the helm. Every game in the series was decided by one goal. Just one goal. The series could have easily gone the Bruins way, but, alas, it did not.
Beat the Penguins? Still Hot Seat
As far as the people calling for Julien's firing after this past playoff run? You need to check yourselves into Bellevue Mental Hospital for you. Sure, it was an absolute miracle that the Bruins won Game 7 against the upstart Toronto Maple Leafs, but it was a highly successful run.
The Boston Bruins weren't expected to even make the Stanley Cup Finals when they ran into the Pittsburgh Penguins in the Eastern Conference Finals. The Penguins were the heavy favorites to not only win the Eastern Conference, but to win the Stanley Cup. Pittsburgh had gone on a spree picking up players with trades, most notably a late night theft of Jarome Iginla.
Not only did the Bruins beat the vaunted Penguins squad, but they swept them and made it look rather easy. The Bruins held both Sidney Crosby and Evgeni Malkin scoreless throughout the series, something incredibly unheard of. That you can credit to Claude Julien and his defensive scheme.
This season, the Boston Bruins are entering the season as the reigning Prince of Wales champs and were just one minute away from forcing a Game 7 in the Finals. The Boston Bruins also picked up some names like Jarome Iginla and Loui Eriksson while getting rid of Tyler Seguin. So, of course the pressure will be on Julien to succeed this season.
Boston sports fans, I believe, are masochists and this statement is coming from one. They feed off of the disappointment and despair. If a Boston team misses the postseason or gets eliminated during the postseason, all of a sudden it's time to clean house.
I think that mindset is due in large part to the success that Boston sports has seen in the past few years. Teams are expected to win rather than be the lovable loser that they used to be. The Bruins are no different. The Bruins weren't a very good team for a lot of years. Sure they would make the playoffs, but it would be a first round exit in a four or five game loss. After Julien came in town, the Bruins started to win and now it's expected of them.
So, in answer to my question, "Will Claude Julien be on the hot seat again?". Yes. It's Boston, they wouldn't want it any other way.