In the pantheon of sports, the gold medal game of the Winter Olympics men's hockey competition sits up there as one of the most prestigious – and pressure-packed – situations you can find. While there's some debate regarding just how nerve-wracking the gold medal game can get, at least one prominent Team Canada hopeful ranks it above the Stanley Cup Final.
"That's the most pressure I've ever felt". Sidney Crosby on Canada's men's hockey team going for gold at the 2010 Olympics

— Gene Principe (@GenePrincipe) August 25, 2013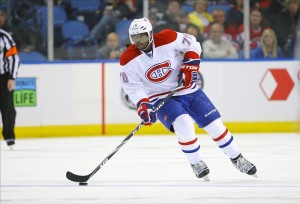 Big game experience and big game pressure were among the topics discussed on the second day of Team Canada's Olympic orientation camp in Calgary. With a compressed NHL schedule this season due to the Olympics – and the inherent compressed nature of the Olympics themselves – Hockey Canada brass may be tempted to take a long look at players that have been under the bright lights before. In addition to several members of the gold-medal winning entry at the 2010 Olympics, Hockey Canada's long-list of 47 players includes over a dozen Stanley Cup winners and a laundry list of medalists of World Junior and World Hockey Champions.
A veteran of battles for both the Stanley Cup and the Memorial Cup, Boston Bruins forward Milan Lucic likens the quest for a gold medal to chasing junior hockey's Holy Grail, though he admits he hasn't yet had the chance to go to the Olympics.
"Well, personally I think it would be the more the pressures of a Memorial Cup just because of the round robin. We went through a semi-final, then a final to win it," explained Lucic, a Memorial Cup winner with the 2007 Vancouver Giants. "You don't have the chance to build that team throughout 82 games. It's – boom – you're right there, it's game one. You've got to start off hot right away. You have to find a way, right? That's what you have to do. In terms of being Team Canada in Canada, there was a lot of pressure on that team [in 2010]. Obviously there's still a lot of pressure to defend that gold medal, but being far away in Russia I don't know if you'll feel it as much."
On a position-by-position basis, outside of perhaps a core group of players with a great deal of international and big game experience, there's a great deal of variation between players in terms of high-pressure environments. The experience "level" may remain constant, but there's variation between guys who have played in Ivan Hlinka finals, World Juniors, World Championships, the Spengler Cup, the Calder Cup and perhaps a trip to the Stanley Cup Finals. Montreal Canadiens blueliner P.K. Subban shared that while some of those experiences may be helpful, they're not quite the same as playing with the world's eyes upon you.
"It's definitely tough. Like I said, with previous experience playing at the World Junior level, having some deep runs in the playoffs, playing into some key games in the playoffs in the AHL, it's not the same as having the whole country [watching] – but I've been there when the whole country's been watching. I think that it's one of those things you have to relish. Most of these guys here have been guys that have had to step up in those situations consistently in their careers," said Subban.
But the challenge for Hockey Canada brass will be differentiating between several of those guys. Case in point? Goaltenders. Corey Crawford and Roberto Luongo have each been to a Stanley Cup Final – Crawford won. But Luongo has World Championship experience – does more experience in big games edge out Crawford's more recent success? And Carey Price's main experience came in the World Juniors several years ago, does that give him an edge over someone like Mike Smith?
With so many talented players with so much varied experience, the selection process will likely only get more complex and scrutinized the closer we get to the start of the 2014 Games in February. Team Canada's management team no doubt has a great deal of hard, and unenviable, work ahead of them before the puck drops in Sochi.