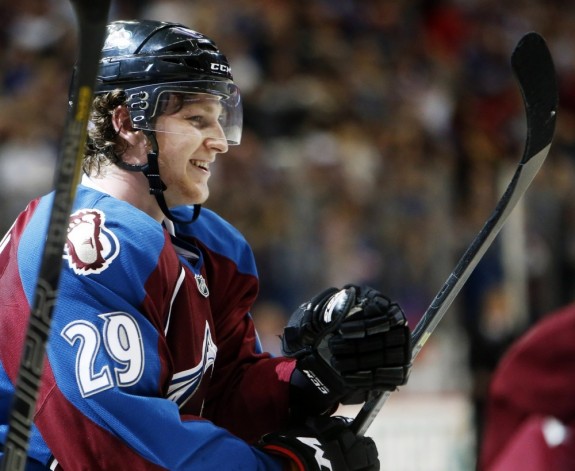 In becoming just the fifth player in modern NHL history to win the Calder Trophy at the age of 18, Nathan MacKinnon has already established himself as one of the emerging talents of his generation. Now, entering his second season with the burden of expectation placed heavily on both he and his Colorado Avalanche teammates, it is up to MacKinnon to build upon his stellar rookie season and playoffs, and further grow into the player the Avs need him to be. The only thing standing in his way? The dreaded sophomore slump. It has been well documented that, in the modern era, reigning Calder trophy winners have had extremely difficult times emulating the success of their rookie seasons. Indeed, only 2 of the 10 positional players who have won the Calder trophy since 2000, have gone on to better their point totals in their sophomore season
| | | | | |
| --- | --- | --- | --- | --- |
| Year | Player | Rookie line | Sophomore line | Net point diff. |
| 2001 | Scott Gomez | 19G 51A 70P | 14G 49A 63P | -7 |
| 2003 | Dany Heatley | 26G 41A 67P | 41G 48A 89P | +22 |
| 2004 | Barret Jackman^ | 3G 16A 19P | 1G 2A 3P | -16 |
| 2007 | Alex Ovechkin | 52G 54A 106P | 46G 46A 92P | -14 |
| 2008 | Evgeni Malkin | 33G 52A 85P | 47G 59A 106P | +21 |
| 2009 | Patrick Kane | 21G 51A 72P | 25G 45A 70P | -2 |
| 2011 | Tyler Myers | 11G 37A 48P | 10G 27A 37P | -11 |
| 2012 | Jeff Skinner | 31G 32A 63P | 20G 24A 44P | -19 |
| 2013 | Gabriel Landeskog^^ | 22G 30A 52P | 9G 8A 17P | -35 |
| 2014 | Jonathan Huberdeau | 14G 17A 31P | 9G 19A 28P | -3 |
^ – Jackman played just 15 games in 2004, owing to injury ^^  – Landeskog played just 36 games in 2013, owing to the NHL lockout and an injury
Of the Calder winners listed above, only Jeff Skinner won the award at the age of 18, and his represents the most significant sophomore drop for any player not affected by a lockout-shortened season. Call it jitters, call it 'too much, too soon', but the inevitability of Calder trophy winners regressing in their second season has become inherent to preseason NHL storylines. As such, the onus is on MacKinnon to prove why he is capable of shirking the trend of disappointing sophomore seasons, and asserting himself again as the best under-20 talent in the league today. Here are some of the main reasons why he can do this.
THE PLAYERS
Unlike his Calder contemporaries of the past decade, MacKinnon had the benefit in his rookie season of operating on a team with significant NHL depth. Stuck behind the excellent center-ice tandem of Matt Duchene and Paul Stastny (not to mention Ryan O'Reilly, a natural center who was shifted to wing), MacKinnon oftentimes found himself on the club's third line, anchoring a group alongside the underwhelming likes of P.A. Parenteau, Brad Malone, Max Talbot, and Jamie McGinn. In the first dozen-or-so games, MacKinnon saw top-6 ice time only on the power play, and it wasn't until the 14th game of his career that head coach Patrick Roy saw fit to ice the rookie for more than 20:00 in a game (20:18 TOI v. NSH on 6NOV). This kind of enviable forward depth isn't always afforded to top-flight NHL rookies, and allowed MacKinnon to ease into the flow of NHL game, without big time minute expectations.
Entering last season, Colorado was seen as a scrappy underdog, emerging slowly on the back of a youth movement that had been several years in process. Now, on the back of a Central division championship and a playoff appearance, the Avalanche are regarded as one of the favorites in the Western Conference. The departure of center Paul Stastny hurts their depth, but the acquisitions of veterans Jarome Iginla and Danny Briere have augmented weaker wing depth. For MacKinnon, this means that top-6 center ice minutes are virtually guaranteed; as is a spot alongside a high-scoring winger such as Iginla, O'Reilly, or team captain Gabriel Landeskog. This will also undoubtedly lead to increased ice-time, offensive zone starts, first unit-power play time (alongside the likes of Matt Duchene), and overtime appearances.
As of early August, the Avalanche even strength top-6 forward depth sits as:
Landeskog – Duchene – Iginla
O'Reilly – MacKinnon – Briere/Tanguay
Though the loss of P.A. Parenteau and his 14 goals from the second line right wing position eliminates a natural fit for Mackinnon, Tanguay and Briere are both proven NHL veterans with 30 goal seasons, and in the event that Patrick Roy seeks to spread the scoring depth around, you could well see Iginla placed on the second unit with MacKinnon; conversely, Ryan O'Reilly is a natural center, allowing Roy the opportunity to move MacKinnon up to the first line, alongside the dynamic Duchene and playoff linemate Landeskog, in the event that he covets a 'kid line' of sorts.
In brief, the Avalanche are simply a much better team than most Calder trophy winners are fortunate to have in the early years of their career, and MacKinnon is sure to benefit from the forward depth that they possess as he looks to build upon his solid rookie numbers.
THE PLAYOFFS
MacKinnon was also afforded an opportunity that few reigning first overall draft picks are given in their rookie seasons, when his team was a surprise qualifier for the 2014 NHL playoffs. In doing so, he became the first 1st overall pick since Joe Thornton in 1998 to appear in the playoffs in his rookie season.
And not only did MacKinnon play, but he played extraordinarily well. He registered a team-leading 10 points (2G 8A) in the 7-game first round series against Minnesota, leading the stellar offensive trio of he, Paul Stastny, and Gabriel Landeskog. What's more, head coach Patrick Roy saddled the rookie with increased ice time (32.0 vs. 29.4 EV TOI% from regular season), particularly on the power play (52.7 vs. 44.7 PP TOI% from regular season), demonstrating an increased confidence in the rookie's offensive and defensive responsibility. His highlight-reel goal in game two against the Wild established him as one of the most exciting players in the game, while his game five overtime winner demonstrated that he is already of immense clutch abilities. Though his performance in the road contests (including the decisive game seven) can be seen as disappointing, there hasn't been an 18-year old who has showcased himself in the playoffs as MacKinnon did in a long, long time.
Not only did an appearance in the playoffs allow MacKinnon to raise his profile, it also gave him an opportunity to engage in the most grueling, physically-demanding time on the NHL calendar. This kind of experience will be invaluable in built the character and competitiveness of a player who has already demonstrated himself to be of immense skill and tenacity. And what's more: now that he knows the pain of a game 7 defeat, you can be sure that he will relish the opportunity to return to the dance, and right the wrongs of the year previous.
THE PEDIGREE
Not since Steven Stamkos has a rookie entered the NHL with the kind of unanimous expectation, praise, and junior success that MacKinnon did. In 34 career playoffs games with the Halifax Mooseheads of the QMJHL (in two seasons), he amassed a ridiculous 61 points (24G 37A), including scoring a hat trick in the deciding game of the 2013 Memorial Cup against the Portland Winterhawks, en route to a tournament MVP and a championship.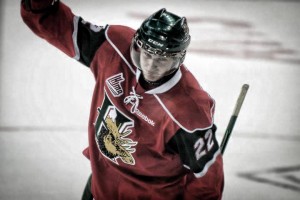 This is a young man who also broke one of the innumerable records Wayne Gretzky held in 2013/14, recording points in 13 consecutive games as an 18 year old (Gretzky scored in 12 straight in 1980). The 7 points he registered in his first two career playoff games were also an NHL record. All he does is score, win, and lead. The ankles of Jared Spurgeon are a testament to the game-breaking speed he possesses, and his two playoff tallies, along with many of the 24 goals he scored during the regular season, demonstrated a wicked, top-shelf capable wrist shot.
He is already one of the best set-up men in the game today, as his 6 assists (several of them of the highlight reel variety) in the Avs' first two playoff games demonstrated, was a +20 in the regular season and a +2 in the playoffs, and registered a strong 57.7 GF% during the regular season. The only tool that is keeping him from a five-tool arsenal is a more gritty, physical side to his game. Expect that, as he grows further into his frame, you will see him below the boards and in the gritty areas more often than you did in his rookie season. He will never be a power-forward type, but he is of a Crosby-type frame, where you can count on him to engage in low-percentage board battles, in an effort to free the puck up for teammates in high-percentage shooting areas.
So when the pick comes to you in the late-second round of your fantasy draft, and you are humming and hawing over whether MacKinnon will continue on the promise he showed in his rookie season, or whether he will fall into the trap that so many other highly-regarded rookies do in their expectation-laden sophomore seasons, consider the three P's: Players, Playoffs, and Pedigree. Go forward with the confidence that this is a player who is primed not just for an improvement on a 63-point rookie season, but for the kind of stellar number jump that we haven't seen since Evgeni Malkin entered the superstar stratosphere in his sophomore season of 2008. Nathan MacKinnon is absolutely the real deal.