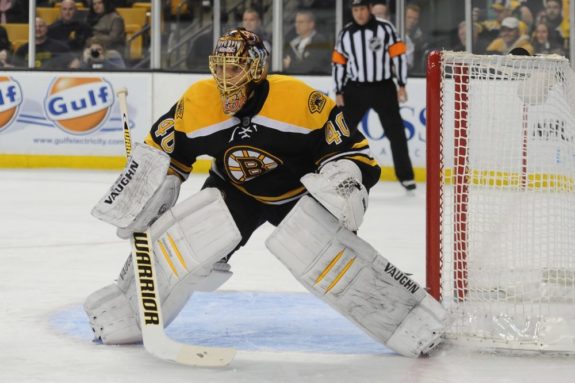 What do Tuukka Rask, Sergei Bobrovsky and Henrik Lundqvist have in common?
They are the last three Vezina Trophy winners, in order — and they all call the Eastern Conference home.
Sure, Bobrovsky won his Vezina during Columbus's final season in the Western Conference (before realignment), but that technicality does little to diminish the fact that the game's best goaltenders, by and large, currently reside in the East.
While centres are all the rage out West these days, an elite puck-stopper almost seems essential to winning in the East.
That discrepancy between conferences is becoming more and more evident, even with Ryan Miller crossing over to join St. Louis and then Vancouver as a free agent. Jaroslav Halak went the other way, ending up with the Islanders after a brief stint in Washington. Those have been the only notable moves to this point in the off-season, so call it a wash.
Overall, the East has a clear advantage between the pipes.
Lundqvist of the Rangers and Carey Price of the Canadiens carried their clubs to the final four in this year's playoffs, while Rask backstopped the Bruins to the President's Trophy as regular-season champions. For his efforts, Rask added his name to the Vezina Trophy — awarded annually to the NHL's top goalie — becoming the 18th winner from an East team in the last 20 years. Besides Bobrovsky, the only other exception over the last two decades was Calgary's Miikka Kiprusoff in 2006.
Those four — Lundqvist, Price, Rask and Bobrovsky — could very well be in the Vezina running again in 2014-15, and one would think it's a matter of when not if Price will earn that honour. He'll need to beat out a long list of East rivals and a shorter list, by comparison, of West challengers. Let's take a closer look at his competition, starting in the East:
Team: New York Rangers
Depth Chart: Henrik Lundqvist-Cam Talbot-David Leneveau
Analysis: Lundqvist is all-world and his backup Talbot is no slouch, having emerged as a bright spot early in 2013-14 when Lundqvist (and the rest of the Rangers) were struggling to hit their stride under new coach Alain Vigneault. But it seems as Lundqvist goes, so do the Rangers and once he got going, New York went all the way to the Stanley Cup final before falling to the L.A. Kings. Lundqvist turned 32 just prior to that playoff run and remains in the prime of his career.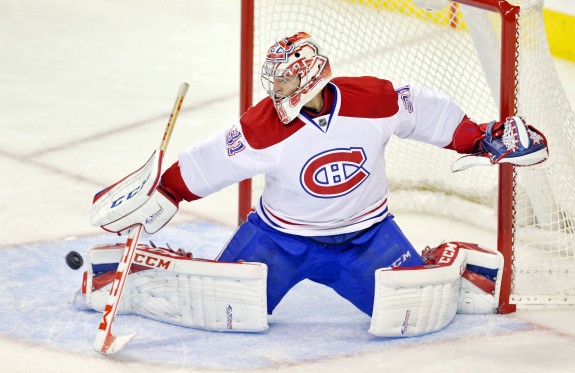 Team: Montreal Canadiens
Depth Chart: Carey Price-Peter Budaj-Dustin Tokarski
Analysis: This is Price's team even more than it is P.K. Subban's. Price, who will be 27 this month, is coming off a pretty incredible 2013-14 campaign that also saw him star for Canada while defending Olympic gold in Sochi. Unfortunately, it ended with a knee injury in the opener of the East final and prevented a highly-anticipated showdown with Lundqvist in a rematch of that Olympic final where Canada beat Sweden. Price didn't require surgery and was expected to make a full recovery in time for training camp, so he should be able to pick up where he left off for 2014-15. It'll be interesting to see who plays second fiddle to Price this coming season, with the Canadiens having turned to the youngster Tokarski rather than the veteran Budaj when Price went down against the Rangers. Tokarski, who turns 25 next month, performed admirably and might be the preferred option, but Budaj is still under contract for another year on a one-way deal that pays him $1.4 million.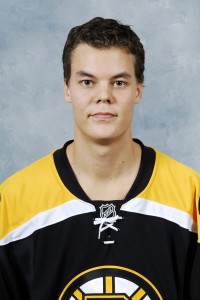 Team: Boston Bruins
Depth Chart: Tuukka Rask-Niklas Svedberg-Malcolm Subban
Analysis: Rask emerged from the shadow of Tim Thomas a few seasons ago and hasn't looked back. He's also just 27 years old with a bright future still ahead. Boston has maintained a nice goaltending pipeline with Svedberg, 25 in September, and Subban, 21 in December, waiting in the wings. Unless the Bruins sign a veteran backup between now and training camp, Svedberg should get a chance to establish himself at the highest level having signed a one-way contract for 2014-15.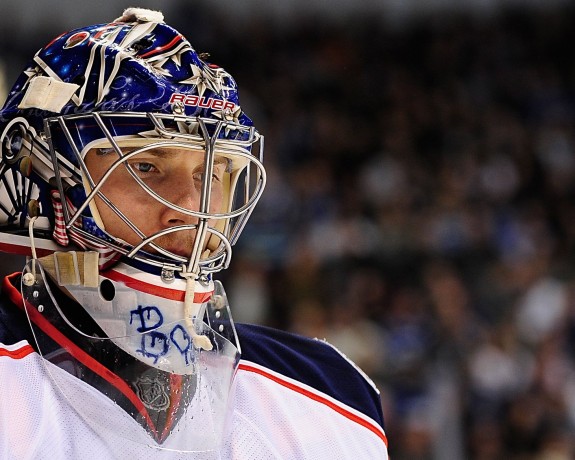 Team: Columbus Blue Jackets
Depth Chart: Sergei Bobrovsky-Curtis McElhinney
Analysis: Bobrovsky — and I can't say that name without using Jay Onrait's excessive pronunciation — has solidified himself as a top-tier 'tender, but with expectations on the rise in Columbus, he'll need to be as good as ever in 2014-15. There will be more pressure than in years past, with the Blue Jackets coming off just their second playoff appearance in franchise history. Now entering their 15th season, Bobrovsky will be crucial to Columbus's success (or failure), while McElhinney is a mediocre backup who will eventually be replaced by one of the Blue Jackets' many goaltending prospects. Bobrovsky is only turning 26 in September, so the Columbus crease will belong to him for the foreseeable future providing his play doesn't drop off.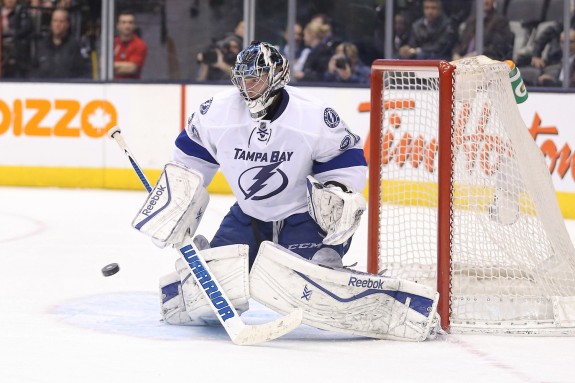 Team: Tampa Bay Lightning
Depth Chart: Ben Bishop-Evgeny Nabokov-Kristers Gudlevskis-Andrei Vasilevskiy
Analysis: Tampa took a chance on Bishop, who had been developing as a backup in Ottawa and St. Louis. Given an opportunity to start, Bishop enjoyed a big breakout in 2013-14 — earning a Vezina nomination and a recent two-year contract extension worth just under $6 million annually. The Zdeno Chara of goaltending, Bishop is a mountain of a man at 6-foot-7. He'll be 28 in November and as long as he recovers well from off-season wrist surgery, Bishop should be given full reign again in 2014-15. Nabokov was signed as a veteran backup, but more so to help mentor Tampa's top prospects, including a fellow Russian in Vasilevskiy.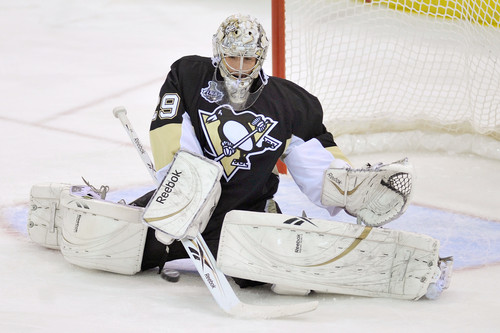 Team: Pittsburgh Penguins
Depth Chart: Marc-Andre Fleury-Thomas Greiss-Jeff Zatkoff
Analysis: Fleury is entering a contract year with Pittsburgh and needs to live up to his billing as a former No. 1 overall draft pick in 2003 and Stanley Cup champion in 2009. He's been inconsistent at times in recent years, especially in the playoffs. Without an extension between now and the season opener, Fleury will be in a bit of a lame duck situation as a pending unrestricted free agent, but his play will ultimately determine his future in Pittsburgh one way or the other. Greiss and Zatkoff are both competent backups, with Greiss capable of picking up the slack should Fleury falter again.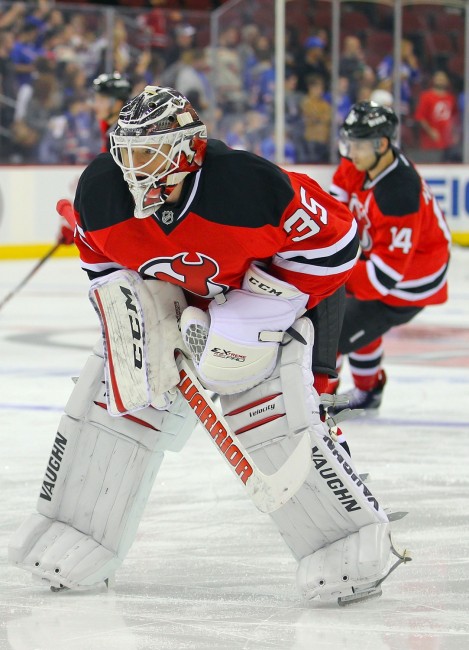 Team: New Jersey Devils
Depth Chart: Cory Schneider-Scott Clemmensen-Keith Kinkaid
Analysis: Schneider has officially taken the torch from Martin Brodeur, with the winningest goaltender of all time currently on the unemployment line. Schneider has earned the opportunity to be a No. 1, having also supplanted Roberto Luongo in Vancouver before strangely getting dealt to the Devils at the 2013 draft. Schneider's time to shine is now, with Clemmensen and/or Kinkaid likely to see minimal action in 2014-15.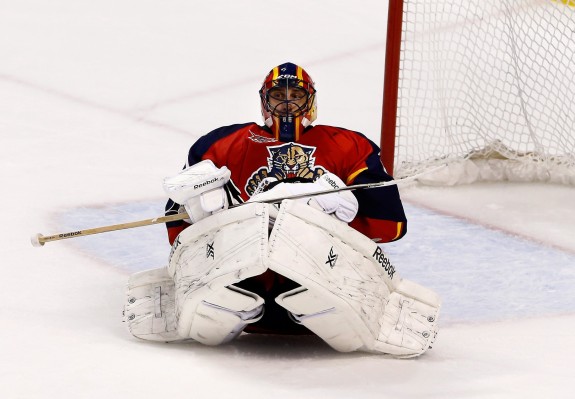 Team: Florida Panthers
Depth Chart: Roberto Luongo-Al Montoya-Dan Ellis
Analysis: Speaking of Luongo, he rejoined the Panthers at the 2014 trade deadline as the Canucks handed the reins to rookie Eddie Lack before signing the veteran Miller. Luongo has long wanted a return to Florida, where he started his career and where his wife and kids remained throughout his time in Vancouver. Now that he got his wish, I fully expect Luongo to settle in and be the goalie everybody knows he's capable of being. He's 35 but should have a few good seasons left in him. My THW colleague Mark Scheig "boldly" predicted the Panthers to make the playoffs in 2014-15, and I could potentially get on that bandwagon if Luongo gets off to a good start this season. Meanwhile, assuming Montoya was brought in to back up Luongo, the #DanEllisProblems hashtag could make a triumphant return this fall.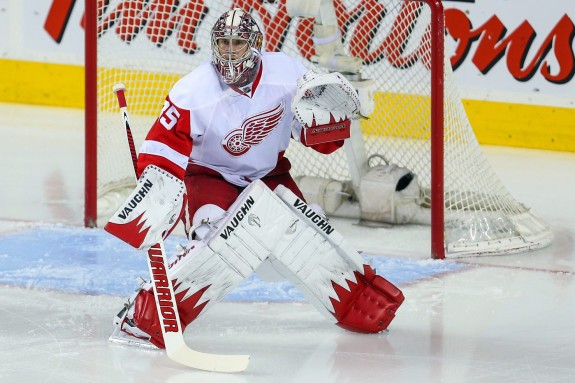 Team: Detroit Red Wings
Depth Chart: Jimmy Howard-Jonas Gustavsson-Petr Mrazek
Analysis: Howard has helped get the Red Wings into the playoffs the last five seasons, prolonging Detroit's incredible streak to 23 years. Now 30 years old, Howard is an established but not necessarily upper-echelon starter. Gustavsson, if healthy, is a talented backup, which makes for a nice tandem. Mrazek is a promising prospect, but like any prospect in Detroit's system, he'll have to wait his turn and continue to pay his dues in the AHL.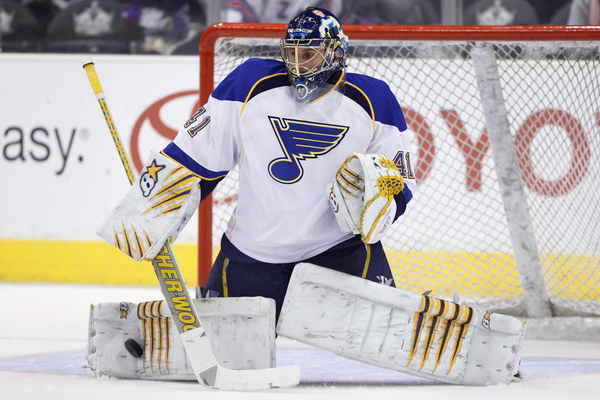 Team: New York Islanders
Depth Chart: Jaroslav Halak-Chad Johnson-Kevin Poulin
Analysis: I would put Halak in the same category as Howard in that he's proven capable of handling a starter's workload, but he doesn't immediately come to mind when you start naming off the league's best. Halak, now 29, will always be remembered for his 2010 playoff heroics with Montreal, and the Islanders will be hoping he can get to that level again in 2014-15. Actually, the Islanders will be just hoping he can get them to the playoffs this season. That is certainly possible, and Johnson has the potential to be a solid secondary option whenever called upon.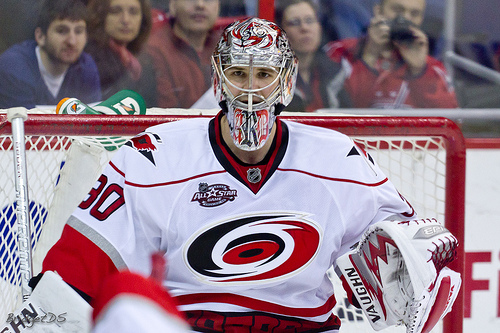 Team: Carolina Hurricanes
Depth Chart: Cam Ward-Anton Khudobin
Analysis: The order of that depth chart is sure to spark some controversy. Khudobin was stellar last season, don't get me wrong, but I think Ward will be given every opportunity to regain his starter's role. New coach Bill Peters will certainly remember Ward from their WHL days, and the Hurricanes also hired a goaltending coach, David Marcoux, who has a history with Ward. Carolina's a playoff longshot, but its best chance at making the cut is with Ward playing like the Ward of old — don't forget he won this franchise a Stanley Cup in 2006. That was eight years ago, though, and if the now 30-year-old Ward struggles out of the gate, Khudobin could take the ball and run with it again.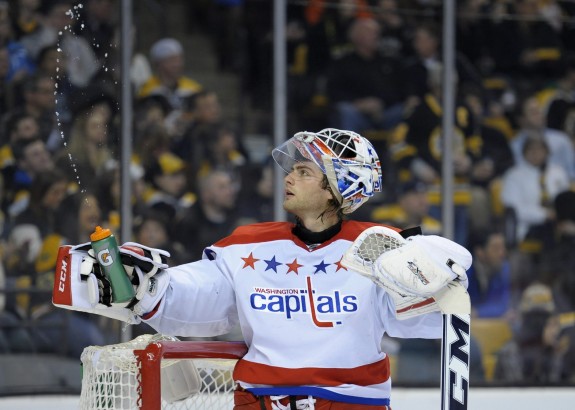 Team: Washington Capitals
Depth Chart: Braden Holtby-Justin Peters-Philipp Grubauer
Analysis: The Capitals gave Holtby a vote of confidence by not signing a veteran free agent like Miller, Halak or even Brodeur, among others. Now it's up to Holtby to reward that confidence with results. Having new coaches Barry Trotz and Todd Reirden implementing a different defensive strategy, and a blue-line bolstered by free-agent additions Matt Niskanen and Brooks Orpik, should help Holtby's cause even though he's always played better when facing a lot of rubber. It's a big year, to say the least, for the soon-to-be 25-year-old — somewhat of a make-or-break, if you want to call it that. And if Holtby happens to "break", I wouldn't rule out Brodeur to Washington mid-season. For what it's worth, I think Holtby will "make" the Capitals into contenders again.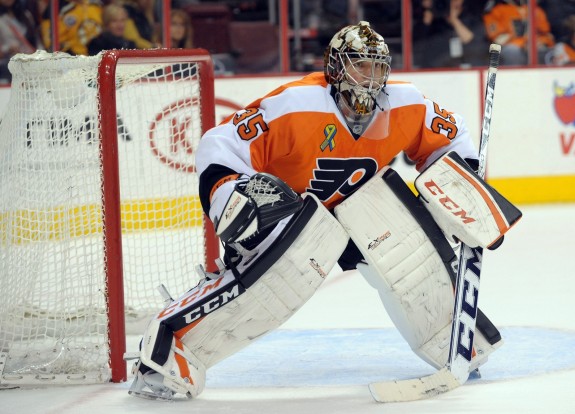 Team: Philadelphia Flyers
Depth Chart: Steve Mason-Ray Emery
Analysis: Mason silenced his critics and solidified himself as Philadelphia's starter last season. It was an about-face for the former rookie of the year who fell out of favour in Columbus after failing to build on his Calder-winning season there. He's only 26 and appears to have his career back on track, while Emery, who turns 32 next month, has also persevered through his ups and downs. The ability has always been there for both, and Emery is a nice No. 2 (or 1B) option for the Flyers.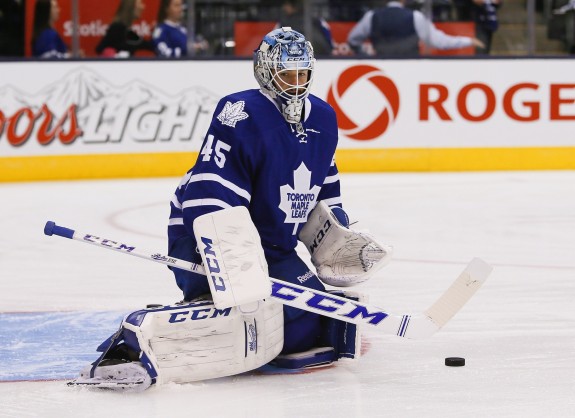 Team: Toronto Maple Leafs
Depth Chart: Jonathan Bernier-James Reimer
Analysis: In terms of tandems, these two work well together, even if Reimer doesn't work well with head coach Randy Carlyle. Bernier will begin the season as the clear-cut No. 1 and the preferred option for Carlyle, but Reimer's statistics suggest he's very capable of sharing the workload if needed. Reimer is constantly subject to trade rumours, but as long as he's in Toronto, the question remains: Who will go first — Reimer or Carlyle? That is a debate for another day, but we'll likely get that answer in 2014-15.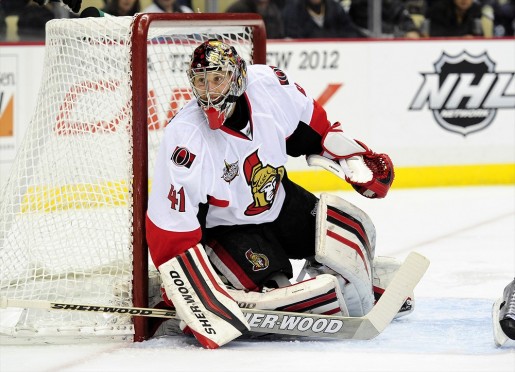 Team: Ottawa Senators
Depth Chart: Craig Anderson-Robin Lehner
Analysis: Lehner just signed a three-year deal worth north of $6 million in total investment. The 23-year-old is expected to overtake the 33-year-old Anderson as the Senators' starter sooner than later, and that changing of the guard could occur in 2014-15. Ottawa isn't expected to challenge for a playoff spot and Anderson is scheduled to be an unrestricted free agent next summer, so it makes sense for that transition to begin now. I wouldn't be surprised if Lehner starts 50 games for Ottawa and Anderson is shipped out at the 2015 trade deadline.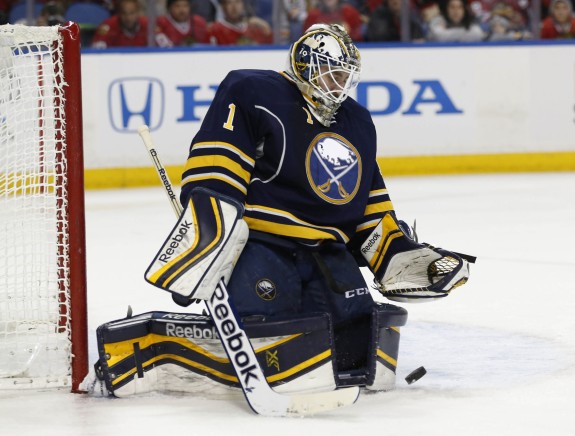 Team: Buffalo Sabres
Depth Chart: Jhonas Enroth-Michal Neuvirth
Analysis: The Sabres, who finished a distant last in 2013-14 and aren't projected to be much improved in 2014-15, will go with a tandem of Miller's heir apparent, Enroth, and Washington castoff Neuvirth. The pair of 26-year-olds will be thrown to the wolves and likely chewed up in the process. Unless one of these guys steal the show and become the next Bishop — chances of that are slim to none — I can't see either of them being in the picture by the time Buffalo is ready to compete for real in three or four years. I fully expect the Sabres to address their long-term goaltending via trade (or possibly free agency) — and I wouldn't be shocked to see a top prospect from Boston (Subban/Svedberg) or Tampa Bay (Vasilevskiy/Gudlevskis) end up in Buffalo.
---
By my count — and everybody's math will vary, based on opinion — the East is at least nine deep in quality starters. It's as high as 12 if you count Luongo, Ward and Holtby, which I still tend to do. Plus there's a few above-average platoons to boot, with Buffalo the only team clearly lacking in the goaltending department.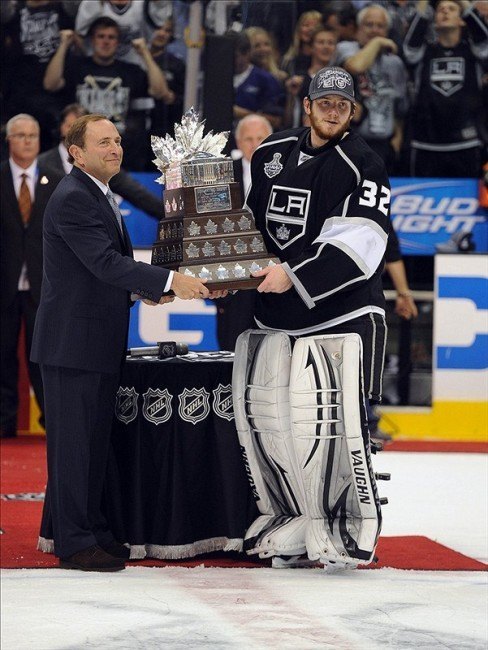 By contrast, there's only a half-dozen studs in the West. The best of the bunch is former Conn Smythe winner and now two-time Stanley Cup champion Jonathan Quick in Los Angeles. There's Corey Crawford in Chicago, Kari Lehtonen in Dallas, Mike Smith in Phoenix and the aforementioned Miller in Vancouver, though the latter may be a bit long in the tooth since winning the Vezina with Buffalo in 2010.
Past that, there's a whole whack of question marks.
That includes Colorado's Semyon Varlamov, who caught lightning in a bottle with the Avalanche, as a whole, exceeding all expectations by winning the Central Division last season. He rounded out the Vezina candidates in 2013-14 and a repeat performance in 2014-15 would raise Varlamov's stock to star calibre.
Nashville's Pekka Rinne is a former all-star who could regain that status with a return to form after hip surgery and a related infection hampered him for most of 2013-14. He was great for Finland at the world championship this spring, so that was a step in the right direction and reason for optimism heading into 2014-15.
Even if Valarmov stages a successful encore and Rinne rebounds, that's still only 7 of 14 teams with bonafide starting goaltenders — in other words, only half.
Anaheim is relying on the young-but-promising pairing of Frederik Andersen and John Gibson. The Ducks discarded their former tandem of Jonas Hiller and Viktor Fasth within the last year, and both landed in Alberta where they will continue to battle for playing time with Calgary and Edmonton, respectively.
St. Louis is now putting its faith in 29-year-old journeyman Brian Elliott, a backup for the majority of his career, and top prospect Jake Allen.
San Jose still has Antti Niemi, who has been trending downward, and Alex Stalock, whose career is on the upswing but remains rather unproven.
Minnesota will once again be deploying its three-headed (not so scary) monster with Nicklas Backstrom, Josh Harding and Darcy Kuemper.
To think those four teams — Anaheim, St. Louis, San Jose and Minnesota — are all entering 2014-15 with playoff aspirations is a tad frightening but also telling of the West landscape in regards to goaltending. And chances are at least three of them will qualify for the post-season.
Winnipeg won't be making the playoffs with Ondrej Pavelec as its workhorse, while the Alberta teams are facing equally long odds by banking on Hiller with Kari Ramo in Calgary and Fasth with Ben Scrivens in Edmonton. Those situations could go miraculously good or disastrously bad — or, in all likelihood, mediocrity will ensue.
---
The East, for whatever reason, places more of a premium on proven goaltenders. Perhaps that is out of necessity with five of the sport's most prolific scorers — Sidney Crosby, Evgeni Malkin, Alex Ovechkin, Steven Stamkos and John Tavares — taking aim on a nightly basis within that conference. Yet, despite all that firepower, the East playoff teams averaged seven fewer goals than West seeds over the course of last season (234-241).
There are more fancy stats to support both sides, but I don't believe the East goalies will have as much of an impact as the West centres on their respective conference standings in 2014-15. I also feel the East is tougher to predict from top to bottom, but I'll go ahead and take a blind stab at it — obviously factoring forwards and defencemen into these rankings without full explanations:
1) Tampa Bay Lightning
2) Pittsburgh Penguins
3) Columbus Blue Jackets
4) Boston Bruins
5) New York Rangers
6) Montreal Canadiens
7) Washington Capitals
8) New York Islanders
9) Toronto Maple Leafs
10) Philadelphia Flyers
11) Florida Panthers
12) New Jersey Devils
13) Detroit Red Wings
14) Carolina Hurricanes
15) Ottawa Senators
16) Buffalo Sabres
To put the Capitals and Islanders in over the Leafs, Flyers, Devils and Wings won't be too popular — let alone placing the Panthers that high. Realistically, those predictions could blow up in my face with as many as 14 teams in the running for East playoff spots as opposed to just 9 or 10 in the more predictable West. However, until the final buzzer sounds on the 2,460th game of the regular season, nobody is right or wrong — a genius or a goof. That's why the games are played on the ice and not on paper (or online), so sit back and enjoy all the action that is set to begin in roughly two months.
Larry Fisher is a sports reporter for The Daily Courier in Kelowna, British Columbia, Canada. Follow him on Twitter: @LarryFisher_KDC.