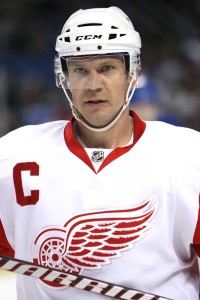 With the National Hockey League announcing today that the 2013 Winter Classic will be hosted by the Detroit Red Wings at Michigan Stadium, speculation has begun as to whether or not legendary Wings defenseman Nicklas Lidstrom will be playing in it.
Lidstrom, who's 41 years old, has been surrounded by retirement rumors for years now. The Red Wings' tilt at the "Big House" against the Toronto Maple Leafs could hold as many as 109,901 screaming fans on New Years Day. That's a very attractive scenario to Lidstrom, who's acknowledged that it's a very "intriguing" game.
Members of the Red Wings organization haven't yet said much on whether they're expecting Lidstrom to be playing in the Winter Classic next season. However, many people – such as head coach Mike Babcock – believe he'll stay around for one more year. "He's too good, and our team's too good," Babcock has said on the possbility of Lidstrom's retirement. "I know [Tomas] Holmstrom wants to play [next season] and he's working on [Lidstrom] every day," he added.
Nicklas Lidstrom is having another outstanding season, and once again is in serious discussion for the Norris Trophy, which is awarded annually to the league's top defenseman. With six of those already under his belt, it would be a tremendous feat if he was able to add another one this season. Even at 41, he's still without a doubt one of the best blueliners in the world.
The 2013 NHL Winter Classic is expected to be the biggest one in history. Attendance records are expected to be shattered, there will multiple games at two different stadiums (Comerica Park being the other one), and fans around the world are to be thrilled with outstanding outdoor hockey action. Maple Leafs general manager Brian Burke said, "It's Hockeytown versus the center of the hockey universe." With all the hype surrounding this upcoming event, it won't be easy for Lidstrom to retire, especially with the Red Wings being a perennial Stanley Cup contender.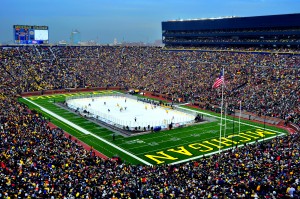 Toronto forward Colby Armstrong said, "To see the amount of people that stadium (at the University of Michigan) can hold (an expected 115,000), and to be there — it's going to be really exciting." Players from both teams are already excited to take part in the event, and if they haven't been already, Detroit players are going to be all over Lidstrom with little hints and suggestions that he should stay another year to play in the Winter Classic.
Being the first European-born player to captain his team to a Stanley Cup means you have a tremdous amount of respect from players around the world. Lidstrom is arguably the greatest European ever to play the game, and to see him lead his team to victory on New Years Day in front of a massive crowd could put the icing on the cake for his career. He has won championships, Olympic gold medals, and an almost ridiculous amount of individual honours. However, playing in front of over a hundred thousand fans isn't something checked off on his career accomplishments list.
When asked about the upcoming Winter Classic, Lidstrom said, "I think it's going to be an unbelievable feeling (to walk down the tunnel to the rink). It's got to be for the football players coming out here, so I'm sure it's going to be the same for hockey guys coming out here next year having a chance to play in front of fans in this kind of stadium that might be a once-in-a-lifetime opportunity." Clearly, he's aware that this could be a fantastic event to take part in.
For now, hockey fans hoping that Nicklas Lidstrom will play at the "Big House" can only be satisfied with, "We'll have to wait and see," Lidstrom said, with a smile.