Former New Jersey Devils captain Jamie Langenbrunner will make his return to Prudential Center tonight when the Devils take on the St. Louis Blues. Faceoff is scheduled for 7:00 p.m. at The Rock.
Langenbrunner is back in New Jersey for the first time since being traded to the Dallas Stars last season. He played for the Devils from 2002 to 2011 and had five 50-point seasons, hitting the 60-point mark three times. In 2003, he won his second Stanley Cup and the Devils' third by leading the NHL with 18 points in 24 playoff games.
He served as captain from 2007 until his trade and had 14 points in 31 games before moving to Dallas. He signed with St. Louis in the offseason and currently has 18 points and a plus-nine in 50 games. The Blues have made him an alternate captain.
There is one other former Devil on the Blues in Jason Arnott. Arnott played in New Jersey from 1998 through 2000 and won a Stanley Cup with the Devils in 2000. He returned to Newark last season, playing 24 points in 62 games before being traded to the Washington Capitals.
However, Tom Gulitti of The Recordreports that Arnott will miss his third straight game with a shoulder injury and will not get to play his former team.
About the Devils
New Jersey does not have any time to focus on the Langenbrunner reunion.
They currently sit in fifth place in the Eastern Conference and third in the Atlantic Division with a record of 31-19-3 for 65 points. They are currently on a five-game winning streak and have beaten high-quality teams in the New York Rangers (two victories), the Philadelphia Flyers and the Pittsburgh Penguins. Last week, they also defeated the Montreal Canadiens.
Their last game was a 1-0 win over the Rangers on Tuesday, their second win over their arch-rivals in a week. David Clarkson scored the Devils' lone goal on a power play, while Martin Brodeur made 30 saves for his first shutout of the season.
New Jersey currently has the NHL's 14th-ranked offense (2.66 goals scored per game) and the 16th-ranked defense (2.76 goals surrendered per game). Their penalty kill has an 88.7 percent success rate (second in the NHL), but their power play is towards the bottom half of the league with a success rate of just 16.4 percent (19th).
About the Blues
The Blues have experienced a resurgence under Ken Hitchcock, who took over the team in November. They have a record of 31-14-7 for 69 points, good for fourth place in the Western Conference and second in the Central Division.
They have won two out of three games since returning from the All-Star break, including a 3-1 win over the Ottawa Senators on Tuesday night. David Perron had two goals, and Chris Porter also chipped in to help the Blues rebound after losing to the Nashville Predators. Goaltender Brian Elliott made 28 saves on 29 shots to get the victory over his former team.
St. Louis scores just 2.46 goals per game, ranking them 23rd in the league in offense. However, their defense is the best in the league, as they surrender 1.92 goals a game. Their special teams are in the bottom half of the NHL, as their power play is successful 13.1 percent of the time (28th) and the penalty kill is 22nd with an 81.2 percent success rate.
It is also worth noting that the Blues have yet to lose in regulation against an Eastern Conference team this season, as their record is 10-0-2 against non-conference opponents.
Goaltending Matchup
Both teams will switch their goaltenders for tonight's game, as Johan Hedberg will get the nod for the Devils and Jaroslav Halak will step in for the Blues.
Hedberg is 13-7-1 this season with a .909 save percentage and 2.52 GAA, as well as two shutouts. He has won three of his last five games, including victories over the Florida Panthers and Philadelphia Flyers. In the Flyers win, he made 37 saves on 41 shots.
Halak is 15-9-5 with a .922 save percentage and is fourth in the NHL with a 1.97 GAA. He has also won three of his last five games, which includes two shutouts. He made 22 saves in a win against the Los Angeles Kings last Friday, and he needed just 15 stops against the Edmonton Oilers back on Jan. 19.
Key Players
David Clarkson, Right Wing, New Jersey: Clarkson has five goals and eight points in his last five games, including a two-goal performance against the Montreal Canadiens. He is second on the Devils with 21 goals this season, and he also has 30 points on the year.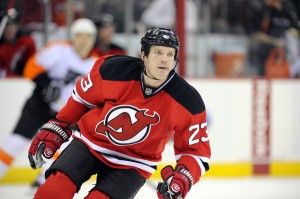 Ilya Kovalchuk, Left Wing, New Jersey: Kovalchuk has 10 points in his last five games, including three straight three-point games from Feb. 2-5. He is second on New Jersey with 50 points and leads the team with 22 goals.
Chris Porter, Left Wing, St. Louis: The Devils should not overlook Porter's five points in 27 games. He has goals in back-to-back games and has had a point in each of the Blues' last three games. This is his first full year in the NHL, and if he keeps going, he should be able to find his footing on the Blues roster.
Prediction
The Devils should not look past this out-of-conference game in advance of an upcoming meeting with the Florida Panthers, who are sitting just outside of the Eastern Conference playoff picture. St. Louis may be faltering as of late, but they have still come a ways from where they were in October.
Expect this to be a low-scoring matchup with solid work from Halak and Hedberg. There's a good possibility of a power-play goal coming from the Devils, as they have scored on the man advantage seven times in six games. The Blues' low-ranked penalty kill won't have an answer for the Devils' red-hot power play.
New Jersey has been winning against top teams during this streak, while St. Louis has been looking for consistency since the end of a four-game winning streak in January. The Devils will get the edge.
Devils 2-Blues 1