Less than four minutes into the game on Tuesday night, Ottawa Senators goaltender Craig Anderson was pulled from the game and hit with a 2-0 deficit. Forwards Chris Porter and David Perron were the culprits.
It was a microcosm of the way the St Louis Blues have handled Eastern Conference teams all season. And while it wasn't one of their more dominant performances, the Blues ran their overall record to 10-0-2 against the east remaining unbeaten in regulation.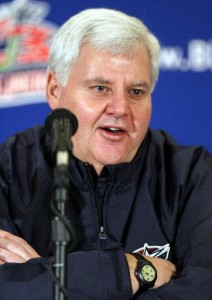 The only teams to gain two points against St. Louis are the Pittsburgh Penguins and Toronto Maple Leafs, both in shootouts. Oddly enough, those games were both home games for St. Louis who boast the second-best home record in the NHL at 22-3-4, behind only Detroit.
The record against the east is one of those curious cases of stats don't lie, and doesn't necessarily mean anything, but it is interesting none the less.
In the grand scheme of things it could be on of the team's down falls. In mid April when the puck drops on the Stanley Cup playoffs the Blues will have to grind their way through three rounds of play just to face another Eastern Conference team.
Let's take a look at how they've done it:
Oct. 21st: Blues 3 Hurricanes 2 OT
Oct. 22nd: Blues 4 Flyers 2
Nov 10th: Blues 2 Maple Leafs 3 SO
Nov 12th: Blues 3 Lightning 0
Nov 17th: Blues 4 Panthers 1
Nov. 23rd: Blues 3 Penguins 2 OT
Nov 29th: Blues 2 Capitals 1
Dec 15th: Blues 4 Rangers 1
Jan 10th: Blues 3 Canadiens 0
Jan 21st: Blues 4 Sabres 2
Jan 24th: Blues 2 Penguins 3 SO
Feb 7th: Blues 3 Senators 1
The Blues are outscoring their Eastern Conference foes 37-18 counting overtime and shootout wins. So are the Blues too dependent on the east for their points?
Currently the Blues sit fourth in the Western Conference with 69 points and hold a record of 21-14-5 against their conference opponents. The goal differential is +7 overall against the west compared to +19 against the east in only 12 games.
It could be chalked up to the Western Conference teams being more familiar with St Louis' game, especially after a November coaching change. It could also mean the west is the stronger overall conference as was the case last season. Last year two teams (Dallas and Calgary) in the west missed the playoffs that would have qualified in the east (8. Rangers had 93 points)  and the eighth seed (Chicago) would have qualified sixth in the east.
The Blues have six Eastern Conference teams on the schedule in their remaining 30 games.
The next opponent on the schedule for the Blues is the New Jersey Devils and former Blue and St. Louis native Cam Janssen. And tonight they can become the first Eastern Conference team to beat the Blues in regulation.