It's mid-December, and the Edmonton Oilers currently occupy a playoff spot in the Western Conference. That doesn't happen very often. In fact it hasn't happened in years, and Oiler fans are enjoying it, as well they should. Just a few weeks ago Twitter was trading players and blowing up the core, and now here they sit, third place in the Pacific Division, fresh off a sixth straight win, thanks to a big overtime goal from Andrej Sekera. Take it all in.
The Good
The season is 31 games old, and last year after 31 games the Oilers were in last place, and subsequently fired their coach Dallas Eakins. Amazing the difference a year makes, and it's not because of Connor McDavid. No, the biggest reason for this turnaround is Todd McLellan. When the Oilers hired him, I felt it came with a bit too much fanfare for a guy who had never won the Cup as a head coach. But, there was no denying his hockey smarts and success in making in the playoffs. Maybe I underrated him, because McLellan has managed to do something that his predecessors were not able to. He's getting the most out of his players.
We always knew Taylor Hall was talented. Under Eakins, he was too worried about playing defensively, because that's not his game. And it shouldn't have to be. Everyone wants their stars to play a 200-foot game, but rather than force it, why not play them to their strengths first. That's what McLellan is doing with Hall, and as a result, his two-way play has improved. He's also leading the Oilers in goals and assist, and sits fourth overall in the NHL in points. The Oilers forwards in general are playing better hockey, and it's a result of the right coaching system for their skill-levels. And it's not only the offence that's thriving.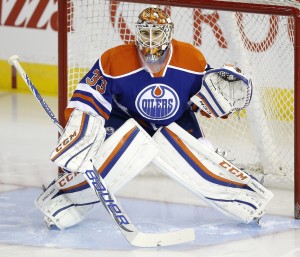 I wasn't sure how Cam Talbot would perform. The Bruins are a good team. They're a high scoring team. Talbot has struggled this season. But he was brilliant against Boston. He made 47 saves, and let's face it, he was the reason the Oilers won the game. The great goaltending story doesn't stop with Talbot. Anders Nilsson has a been a wonder for the Oilers, stealing games and giving them a chance to win every night. It changes the entire team's demeanor when you have a guy behind you who can stop the puck. It raises everyone's confidence.
The Bad
Last night, the Oilers should have lost, if you're going by stats. They were outshot, they were outchanced, and if not for Talbot's setllar play, the win streak would have been snapped. Now a lot of people won't care about how they got the won, because they got the win. This reminds me of another team in Alberta, last season's Calgary Flames. They defied analytics, they won games they had no business winning. They made epic comebacks. They fell behind early and managed to catch up. It worked so well that they made the playoffs, and even won a round. I believe its very possible to catch lightning in a bottle like that, to have good luck, and fortunate bounces and it carries you. But it isn't sustainable, as the Flames painfully proved this season.
Can the Oilers keep on winning when they clearly aren't the better team? Some games they will, and some they won't. Here's the key though. Regardless of the flaws, overall this team has improved, and that's huge whether they hang onto this playoff spot or not. But, because of the division they play in, it may not be as difficult as it looks. The Ducks and Sharks are both underachieving, the Canucks are unreliable and the Flames are shaky. The Kings look to have first place in their grasp, but the rest of the Pacific is absolutely up for grabs. In any other division, the Oilers would not be in a postseason spot. That causes some to place an asterisk on this hot streak. But the Oilers don't have to better than any other division. Their job is to be better than the other teams in the Pacific. It's not their fault the division is having a down year. Sometimes you need that bit of extra luck.
The Verdict?
The Oilers will essentially be getting back an entire line when Connor McDavid, Nail Yakupov and Benoit Pouliot are all in the lineup and healthy. That's huge. And, believe it or not, the defence has gotten better with the return of Justin Schultz (though I wouldn't necessarily attribute that only to him). If the goaltending hasn't been a mirage, and they can keep the Oilers in games, if the offence continues to click, and if the rest of the division continues to struggle, well, there's an excellent chance the Oilers can stay in playoff contention all season. I believe a playoff appearance this year is ahead of schedule, but no one is going to complain if they get in.
The defence still needs to be improved, because they can't always rely on the goalie bailing them out. I want to see the Oilers limit the oppositions chances, I want to see them battle for that open ice. Getting outplayed and stealing a victory isn't the formula for success. But you know that Todd McLellan won't accept that from his players. He's coaching them the right away. He's undoing the old habits. And regardless of what happens from here on out, there have been big strides taken in Edmonton. It's about time.