Like most NHL players, David Desharnais has undoubtedly had his ups and down since breaking in on a full -time basis in 2011. Unlike most players, however, Desharnais has dealt with his roller coaster ride as one of the few francophone players on the Montreal Canadiens. While many fans and pundits will argue that Desharnais receives more on-ice benefits than non-francophone players, being a Quebecer on the Habs can certainly have its pressures as well. Regardless, the 2013-14 regular season saw two separate versions of David Desharnais.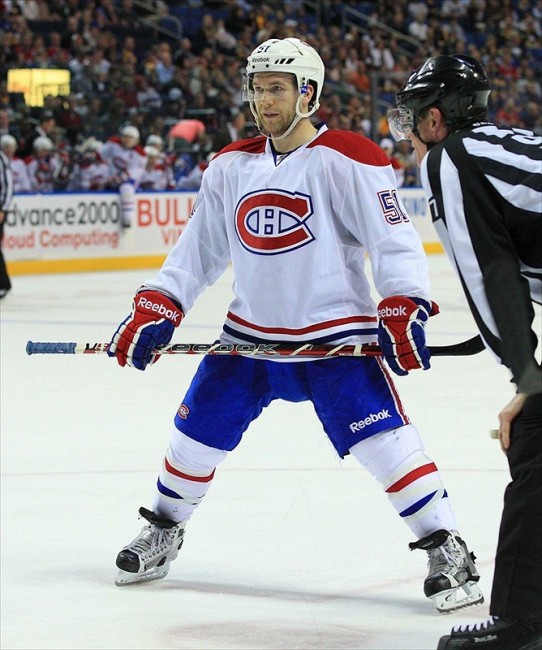 There was the David Deharnais who manufactured just 1 assist through his first 19 hockey games, and there was also the dynamic center-man who registered 51 points in his next 60 matches. The contrast was like night and day.
Early on, Montreal mayor Denis Coderre was calling for Desharnais to be demoted to Hamilton, and by season's end he was playing on one of the best lines in hockey with Max Pacioretty and Thomas Vanek. He had legitimately proved all of his critics wrong, and was thriving with a newfound look of inspiration on his face. Suddenly Desharnais had restored that "I'll show you!" attitude that got him to the NHL in the first place.
This season, Desharnais' start is not quite as abysmal in comparison to last year's. Nonetheless, he only has 2 goals despite averaging approximately 18 minutes of ice-time per game. Meanwhile, Michel Therrien continuously places Desharnais on the first wave of the power play, a tactic that hasn't been so successful early on this season. To this, Desharnais' last 5 on 5 goal was a whopping 47 games ago.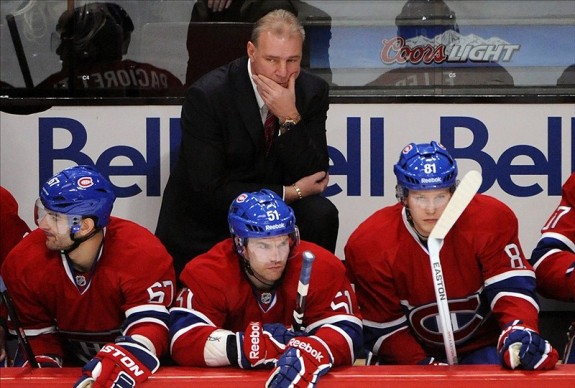 Many will argue that when Desharnais is successful in producing points, it is primarily because he is benefiting from sniper Max Pacioretty. I'm here to tell you, that this was not the case last season. I'm here to tell you that David Desharnais was a big part of Max Pacioretty's success last season, and that we have not seen his best so far this season. I tell you this, because when I counted Desharnais out last October, the diminutive forward proved me wrong. I'm convinced, that David Desharnais was not simply a flash in the pan. I believe he's got the drive to take his game to a higher level. Why am I so certain? I am certain, because we've seen him do it before.
He's a battler, he's a gamer, and he is a man with strong character. Let's not forget, David Desharnais went undrafted. But still, he never gave up. He never gave up when scouts and critics gave him every reason to. Instead, he found motivation in their judgments, and he worked his butt off to prove them wrong.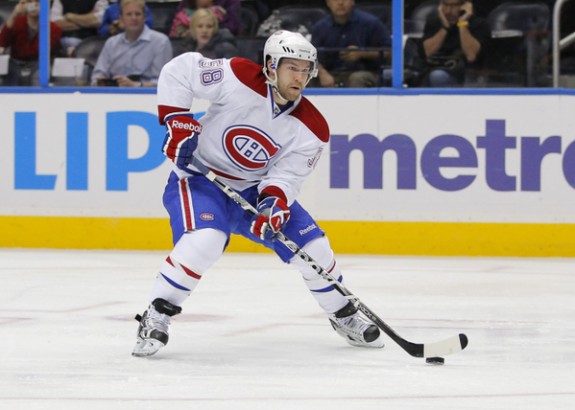 So will the real David Desharnais please stand up?
David is currently a second year Arts student at McGill University and aspires to have a career as a sports journalist one day. When he's not covering the Montreal Canadiens for THW, he is the sports producer for TVMcGill and the host of his very own show called "On The Line with David Stein." He is also a frequent contributor to the McGill Tribune.