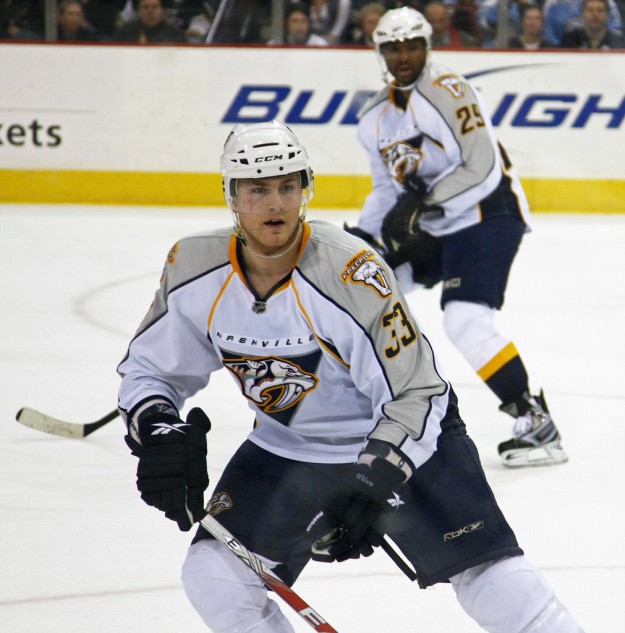 LOS ANGELES- Three has been a bit of a magic number for the Nashville Predators' Colin Wilson this season.
He has played all three forward positions and logged minutes in all three situations, this despite the 2010-2011 campaign being his first full NHL season.
"He's been huge for us.  We're definitely thankful he's on our side and he's been playing really well," Predators right winger Joel Ward said.
Where some organizations may shy away from utilizing a young player in so many different positions and situations, the Predators have been eager to get Wilson's strength and smarts into as many spots as they can this season.  Nashville Head Coach Barry Trotz has compared Wilson to Rod Brind'Amour in the past and has already begun leaning on him the way the Philadelphia Flyers and Carolina Hurricanes relied on Brind'Amour.
"We just want him to get confident offensively and he's doing a good job offensively.  Now he's doing a good job defensively," said Trotz.  "He's given us that versaility, he's played left wing, right wing, he's played a little bit of center in a couple of games, so, I think that's really good for his growth pattern."
There has been no hesitation from Wilson either, who has welcomed the chance to become proficient in so many areas of the game.
"I like it when coach is showing trust on me early on my career.  I'm feeling good about it and that definitely gives me confidence when coach puts me out there in those situations," Wilson said.
The 21-year-old Wilson also broke out with three multi-point games in a span of five contests earlier this season, highlighting his offensive aptitude in the Preds' defensive system.  His 14 goals rank him third among Nashville forwards as the team sits a single point outside the Western Conference's top eight.
"It just comes down to confidence.  I think getting those couple multi-point games before this helps out. I'm starting to realize I can play at this level and play well at this level," Wilson said.
Wilson's scoring could almost be considered a bonus given his contributions in other areas of the game.  Wilson led the national champion Boston University Terriers in scoring in his second and final season in Hockey East.  His coach Jack
Parker compared him to Boston Celtics legend Larry Bird in terms of his hockey sense and ability to make plays in the offensive zone.
His defense and physical game have also been lauded by many, including Los Angeles Kings Head Coach Terry Murray.
Murray, who has spent more than four decades in professional hockey, said Wilson's willingness to bang bodies at either end of the ice was one of the first things that struck him about the young forward.
"He's a big guy that plays a pretty gritty hockey game," said Murray.  "He has no hesitation on the physical side of the game. He just gets in, he gets knocked down, he'll get back up and get involved again without any hesitation."
Wilson is also a third-generation NHL'er.  His grandfather Jerry was briefly a Montreal Canadien before he served as a team doctor for the Winnipeg Jets and his father Carey played 10 NHL seasons with the Calgary Flames, New York Rangers and Hartford Whalers.
Murray, who remembers Carey Wilson's career well, compared the two latest generations of the Wilson family in the NHL.
"They're both thick guys, good-sized guys, they get around the ice very well and they're good skaters," said Murray. "The son is a much more gritty, physical player. And he has some pretty decent hands.  Carey Wilson had good offensive ability and could score goals.  This kid is gonna score some goals, too, he plays more of a power-forward attitude."
Carey coached Colin until the age of 15 as the former 67th overall selection in the NHL Entry Draft prepared the 2008 draft's seventh overall pick at a pace much faster than that of his peers.  Colin said that much of what he heard at
various levels of his development was review rather than introduction as a result.
When asked how often he speaks to his father now, Colin could not contain a smile as he admitted his father's tutelage
was hardly something left in his past.
"Everyday," Wilson said.  "I wish I could say I didn't talk to him that much but yeah, we talk a lot.  He went through everything I went through and he knows the game.  So, he gives me lots of tips. Coach can't sit me down everyday and tell me what I'm doing wrong, so it's good to have my dad there who sees the game very well and can tell me everything I need to do."
Having already made a noticeable impact on the Nashville roster, Wilson will undoubtedly continue his development in all facets of the game. Despite his uncommon poise for a player of his age and professional experience, Wilson understands that repetition and learning how to handle the mental aspects of the game are what lie ahead.
"Just learning to stay consistent, that's something that coach and I have talked about a lot," said Wilson.  "I come from college where I get really hyped for the weekend, so it's a little bit different playing four games in seven nights or something like that.  I'm just learning to kind of stay even keel and stay focused."
A reporter, editor, educator and entrepreneur from Southern California, Andrew has taught at Temple University where he earned a Master's Degree in journalism.
Andrew has also edited copy on The New York Times sports desk. He currently covers the Los Angeles Kings and Ontario Reign for the Los Angeles Newspaper Group, the Pacific Division for Hockey Primetime and both the Kings and Anaheim Ducks' prospects for Hockey's Future.