When the Winnipeg Jets made their final cuts Monday morning they had a clear vision for the future of this team. Winnipeg has been one of the youngest teams in the league the last few years, and this year is no exception, getting even younger. Winnipeg will have five rookies on their opening night roster and all will likely see action. These spots were not gifted, these rookies earned their spot, but there are people who will question management on a young team that struggled last year getting even younger.
Winnipeg made the playoffs two seasons ago before being swept by the Anaheim Ducks. That summer management allowed veterans such as Lee Stempniak and Jiri Tlusty walk away in free agency. The Jets instead focused on developing young players. Nikolai Ehlers was a top pick in that summer's draft and received a spot. Roster spots at the start of last year were also given to Nic Petan and Andrew Copp, and players like Adam Lowry were afforded more opportunity and moved up the depth chart. While some moves worked, Ehlers had a great rookie season, some clearly did not, and the Jets finished well out of the playoff picture.
Related – Winnipeg Jets 2016-17 Season Preview
A New Face in the Crease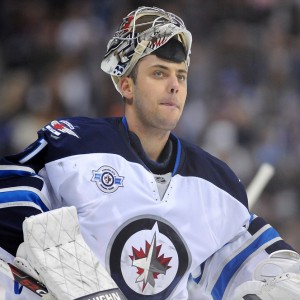 This year Winnipeg is doubling up on their approach, adding more rookies to the lineup and hoping for a different result. Perhaps the biggest change the Jets will see is in net. Monday saw Ondrej Pavelec, the only starting goaltender this team has ever known, sent down to the AHL, and replaced for what might as well be two rookies.
Connor Hellebuyck will inherit the starting role in the short-term. Playing in a fair amount of NHL games last year, Hellebuyck showed he has the skill (also with his play in couple international tournaments.) Backing him up, though not technically a rookie, Michael Hutchinson is still a young goaltender and looking for his first real shot at being an NHL starter. Both have shown flashes of brilliance in the NHL but both have also struggled. Much of the Jets overall success will come down to whoever is manning the net, the Jets are taking a big chance dressing two unproven goaltenders and asking them to keep this team afloat.
The Jets also bring in a rookie to man the blue line on a nightly basis. With the holdout of Jacob Trouba, a door was opened for rookie defenseman Josh Morrissey. Morrissey played well through much of his pre-season and has been paired with Dustin Byfuglien recently in both games and practices. This indicated the rookie will likely get a chance to play some big minutes and be counted on to really help insulate the back-end and take pressure off of Hellebuyck and Hutchinson.
Jets Rookies May Lead up Front
A full line of rookies has cracked the Jets forward roster as three men will lace up their skates for their inaugural season. This group is led by the second overall pick in this summer's draft Patrik Laine. Laine has been talked about to death and for good reason. Though he has not had the most impressive preseason, fans have seen flashes of brilliance and we have seen his real skill in international play as well as the Finnish Elite League last year. Laine looks to fit into Winnipeg's top-six and will get plenty of chances on the power play and along side the Jets' best players.
The second rookie Jet that will get a shot with the big team is 19-year-old Kyle Connor. Connor made waves last year winning the NCAA scoring race as a freshman and immediately made the jump to pro hockey. Connor was one of the most impressive Jets forwards during pre-season scoring three goals and creating numerous chances. Though it is clear Connor still has some growing to do, his offensive skill is unquestionable. He has a nose for the net and is a pure goal scorer. It seems the puck just finds some players around the net and Connor has that ability. He by no means has a lock on this spot all year but if he continues playing the way he has been the last few weeks it will be tough to move him anywhere else.
The fifth and final rookie that will take to the ice for the Jets to start the year is Brandon Tanev. Tanev was signed by the Jets out of the NCAA at the end of last season, and impressed in the three games he played. That has continued over the pre-season this year where he has been one of the Jets most consistent players. Tanev saw action in most of the Jets games and was one of their best players. He was not a favorite to make the team coming into camp, however, he played his way onto the team with speed and solid two-way play.
Related – Four Bold Jets Predictions
The Jets made a statement this year. It is not often an NHL team dresses five rookies but every one of these players earned their spot. The Jets will be in tough to make the playoffs, especially in the hardest division in hockey, but they are putting themselves in the best possible spot. It is no doubt that the players they picked were the most skilled, but there is something to be said for experience. Either way, this team will be fun to watch.