The Winnipeg Jets were not successful on their four-game Eastern road trip. They went 1-3-0, losing to the Columbus Blue Jackets and New Jersey Devils, then beating the New York Rangers, then losing to the New York Islanders.
Here are five takeaways from the trip, which can only be described as subpar and concerning.
1) Jets Missed Opportunities to Win
When things were going really well for the Jets earlier this season, they found ways to win, even when a number of key players were out with injuries. On this road trip, and over the past six weeks in general, they've instead found ways to lose.
The basement-dwelling Blue Jackets proved to be a tough test to open the trip, beating the Jets for the second time of the season. The Jets' wounds in the 3-1 defeat were mostly self-inflicted as their poor power play continued to slump by going one-for-seven and failing on three separate five-on-three opportunities and their discipline leaving much to be desired.
It was quite the swing and miss to keep good times rolling as in the last game of the preceding home stand, they captured a 3-2 comeback shootout victory against the Seattle Kraken to claim their third-straight win. Elite teams take care of business against weaker opponents, and the Jets didn't.
The missed opportunities and lack of finish continued in New Jersey against the Devils, who were playing their second game in as many nights but looked energetic than the Jets, who had Friday and Saturday off. The missed opportunities were characterized most literally by Kevin Stenlund, who had a glorious opportunity to make the score 3-1 for his side in the second period, only to have his stick break when he tried to put the puck into an open net.
Despite that, a chance at two points — or at least one — was definitely on the table as the Jets entered the third up a goal. They quickly fell behind, though, allowing a pair of goals 1:51 apart due to two terrible turnovers. An empty-netter made the final 4-2, just their second loss of the season when leading after 40 minutes.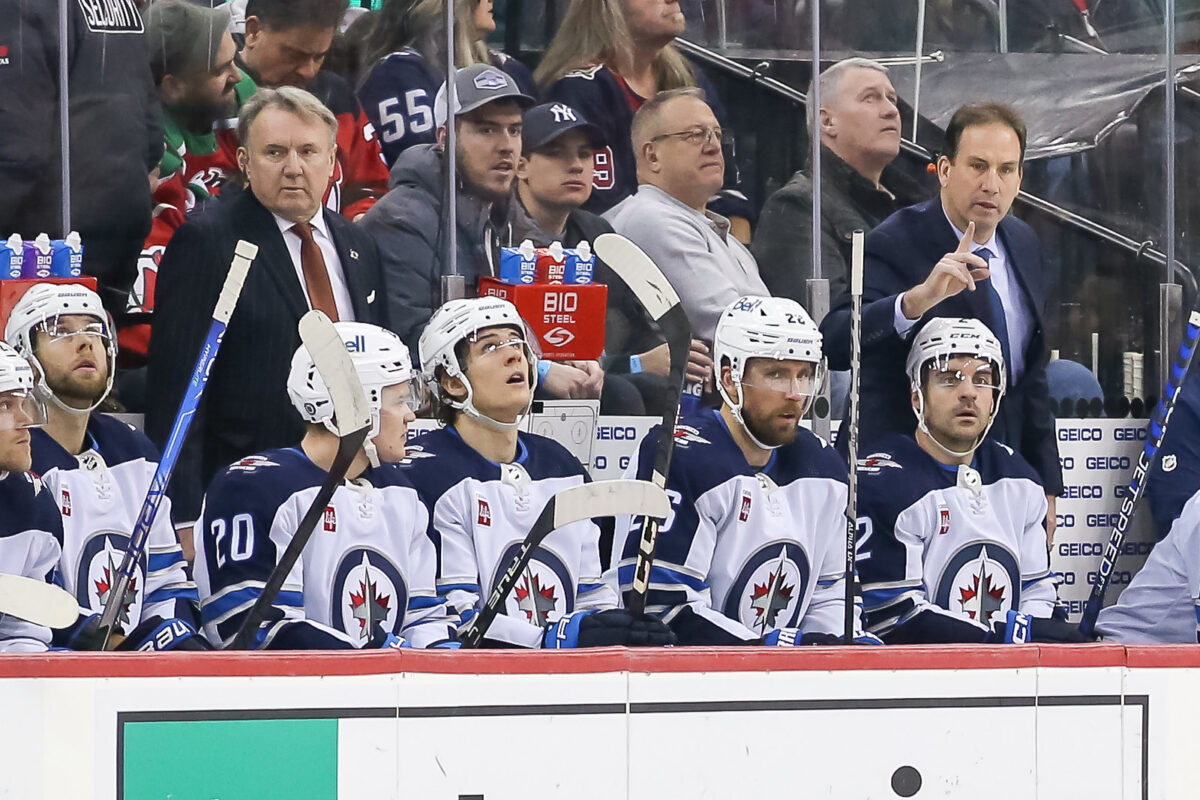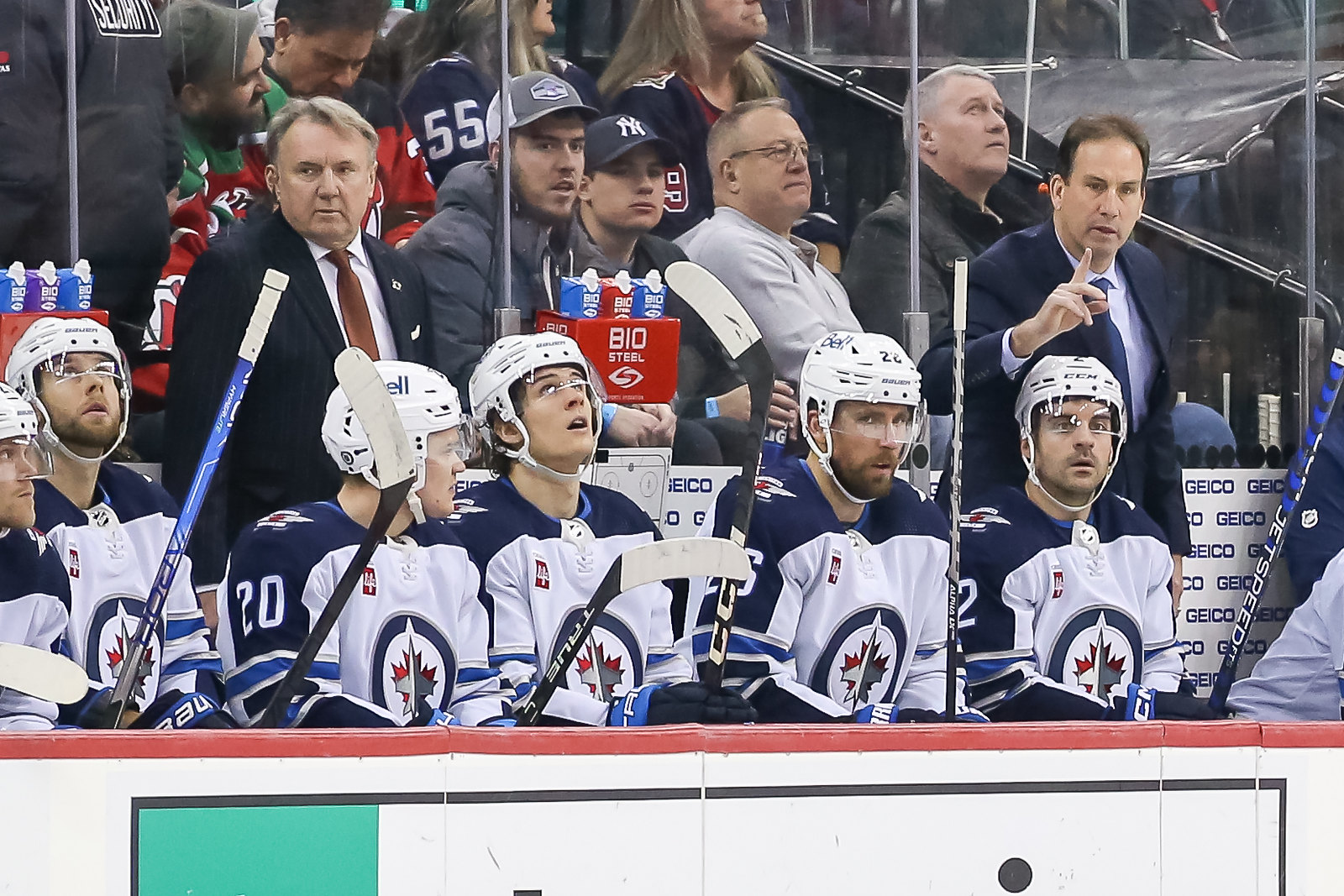 The casualness and overall lack of finish the Jets exhibited — just three goals on 63 shots and 1-for-11 on the power play between the two — had head coach Rick Bowness incensed postgame.
"We just have to get back to playing a full 60 minutes," Bowness said. "Our puck management tonight certainly got us in a lot of trouble. When we were in trouble, it was more us turning pucks over than anything else."
The Jets turned in a sturdier effort against the Islanders, but once again failed on two power play opportunities when the game was tied 1-1, ultimately losing 2-1.
2) Hellebuyck Can Still Steal a Game
it was a sick performance, that appropriately came after he was sick.
Hellebuyck was at his absolute best on the Big Apple's big stage, turning aside 50 shots — including 29 of 30 from the slot area — in a 4-1 win against the Rangers in one of the more memorable goaltending performances in recent memory. Sportlogiq numbers show he turned aside 4.87 expected goals, and his 50 saves were the second-most in one game of his entire eight-year career. It was also the fourth-most saves ever made by a winning road goaltender against the Rangers (since 1955-56, when the NHL started tracking saves.)
Impressively, it was Hellebuyck's second start in as many days, and he showed little rust after being off for eight days due to a flu bug. David Rittich started against the Kraken and Blue Jackets, and Hellebuyck started against the Devils on Sunday evening. Going with Hellebuyck back-to-back was possible as the team stayed at the same hotel Sunday night and didn't have to actually travel.
Everyone on the Jets and around the NHL knows the Vezina winner — who certainly built on his case for a second award — can single-handedly will the team to victory, and his heroics couldn't have come at a better time than after the collapse in New Jersey.
---
Latest News & Highlights
---
They weren't heroics to him, though: "It was a pretty routine night," he quipped post-game to Sportsnet.
Josh Morrissey's comments get closer to the truth. "He was incredible. They've got a really potent offence and a lot of high end skill. They're aggressive offensively. He was unbelievable and looked so solid in there," the defenseman said. "I didn't think anything was going to beat him clean. It was impressive. Everything was sticking to him.."
3) Morrissey's Superb Season Continues
Speaking of Morrissey, his superb season rightfully became part of the Jets' history books against the Rangers. His first-period power play primary assist — initially credited as his goal before it was determined the puck hit Pierre-Luc Dubois on the way into the net — was his 57th point and broke the franchise record for most points by a defenseman in a single season, previously held by Dustin Byfuglien.
The 27-year-old All Star, who has played in a revelatory fashion on both sides of the puck, thought he'd set the record twice previously on the road trip. First, he had his assist on the Jets' only goal against the Blue Jackets taken away, then had an assist taken away against the Devils as well.
Some Jets fans may hold ill will toward Byfuglien for suddenly walking away from the team in September 2019, leaving an already-depleted defence totally decimated, but Morrissey spoke well of the man whose record he broke.
"It means a lot," Morrissey said. "It's something that you're kind of aware of the last couple weeks. I'm more worried about how we're doing as a team and how we're playing. But when you remove that and look at it, especially considering the relationship I had with Buff and him being my first partner when I came into the league."
"I credit a lot of the confidence I had early in my career to playing with him and his attitude," he continued. "It definitely means a lot to me and it's a function of opportunity and us having a great team and great players that make my job easy. Just have to get them the puck and good things happen."
Morrissey, who now has 58 points with an assist on the only goal against the Islanders, still has 24 games to build on the record and make ig a tough one for himself, or a top defenseman in the future, to beat.
4) Depth Scoring Is Non-Existent
Depth scoring continued to be a non-existent as of the six goals tallied by forwards on the road trip, none were scored by a member outside the so-called "core scorers."
The depth forwards' complete lack of production has been a festering issue since early in the new year, and it's getting harder and harder to ignore. Bowness has tried to correct it by making wholesale changes to lines in attempts to spread the offensive wealth, such as he did against the Devils, but it's had limited effect.
The dry streaks are long and they are many. Adam Lowry hasn't scored in 31 games, Kevin Stenlund hasn't scored on a goaltender in 22, Saku Maenalanen hasn't scored in 18, Morgan Barron hasn't scored in 16, Karson Kuhlman hasn't scored in nine, Sam Gagner hasn't scored in eight, and Mason Appleton hasn't scored in eight.
The Jets have 181 goals this season. 46.4 per cent of them have been scored by just three players: Mark Scheifele, Kyle Connor, and Pierre-Luc Dubois.
Related: Jets Cannot Afford to Wait for the Trade Deadline
General manager Kevin Cheveldayoff is primed to add a forward by the March 3 Trade Deadline, but if he can do it sooner than that, he should, because as we'll explore next, the Jets aren't sitting as comfortably as they once were. Acquiring someone such as Timo Meier, James van Riemsdyk, or Max Domi would allow Bowness to spread the scoring from two forward lines to three.
5) Jets Don't Have Much Cushion in the Central Anymore
The Jets' margin of error going forward will be even slimmer than it already has been. Although they continue to sit second in the Central Division with 71 points, a couple of teams are right on their heels now.
While Jets have gone a mediocre 7-8-0 in the past 15 games, their Divisional compatriots have hit their stride during the same stretch and have closed the gap. The Colorado Avalanche, after a so-so first half of the season by their standards, have been scintillating and are now just four points back of the Jets with three games in hand.
The Minnesota Wild have picked it up too and are tied with the Avalanche, four points back of the Jets with one game in hand. The Wild hold the second Western Conference Wild Card spot, while the Edmonton Oilers hold the first spot with 70 points.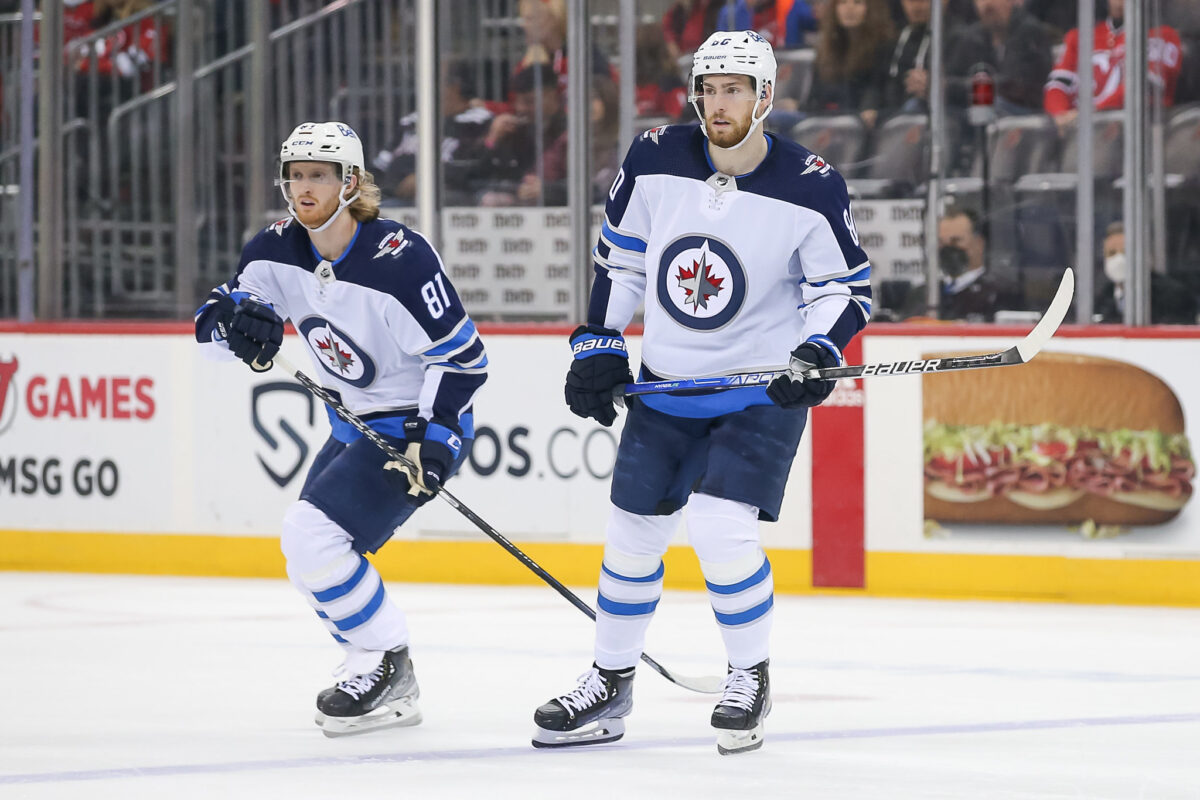 The Jets have played well against Divisional opponents this season, with a 14-4-0 record against the seven other Central clubs. They'll have a chance to add some separation again in two key upcoming matchups, against the Avalanche on Feb. 24 and the Wild (who they have not beaten this season) on March 8.
If their subpar overall play continues, they'll soon find themselves in third, fourth, or even fifth in the Division.