It's about as easy a road game as you can play right now in the NHL. On Saturday night in Toronto the Winnipeg Jets led 2-1 after the first period and 3-2 after the second. But, after failing to score a goal in the third period they headed to overtime tied 3-3 with the Maple Leafs.
The first couple minutes of which was spent shorthanded courtesy of a careless Mark Stuart penalty. The Jets went on to lose in overtime, handing Toronto its first win in five games.
Is it time to panic? No, but there aren't many reasons to be confident about the Jets' playoff hopes right now.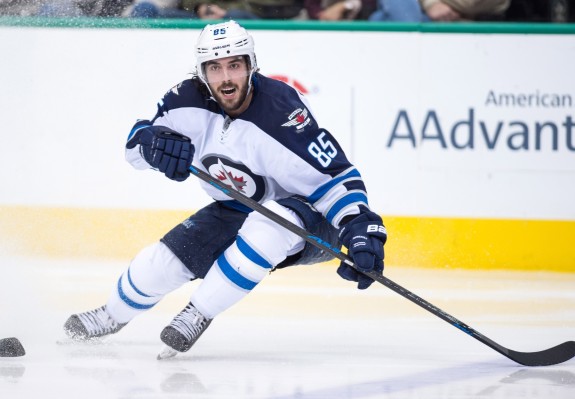 Penalties
The Jets like going to the penalty box almost as much as Joe Thornton likes passing. They have been shorthanded 251 this season. No other team has been shorthanded more than 207 times this season. Winnipeg has a penalty problem and although it wasn't directly effecting them earlier in the season when they were killing off penalties with ease at times, it is now.
If only the Jets could kill penalties as well as they can kill their own momentum by taking penalties.

— Mike McIntyre (@mikemcintyrewpg) February 20, 2015
After dropping a 5-1 decision to the Washington Capitals the Jets have allowed a dreadful 17 goals on their last 50 penalty kill attempts. That's a 66 percent success rate. Working on the power play is one thing, what the Jets need to do is stop taking so many penalties.
Loss of Mathieu Perreault
There wasn't much for Winnipeg's fans to cheer about in the offseason. The lone noteworthy acquisition was Mathieu Perreault and many thought that he would just replace Olli Jokinen.
Perreault has been much more than that. A solid two-way forward, Perreault performed as expected in the early part of the season. In December, that changed. Perreault was one of the hottest players on the team in December and January. He recorded a few multi-goal games, including a four-goal performance against the Florida Panthers. Unfortunately,  a lower-body injury will keep him out for the rest of the regular season.
By the numbers, Mathieu Perreault is probably the #NHLJets 4th best forward. That is a big loss. #sadz

— Arctic Ice Hockey (@arcticicehockey) February 19, 2015
Perreault's totals sit at 18 goals and 18 assists for 36 points in 56 games. He has been a dynamic player whose impact has been felt in all three zones in just about every situation. This is a big loss. The Jets proved they can get by without some of their top blueliners, but a lack of depth at forward could make this the worst injury loss for the team since it moved to Winnipeg.
Goaltending
Devan Dubnyk has become dominant with the Minnesota Wild, a team that's quickly catching the Jets in the wild-card hunt. In Winnipeg, there has been no solid netminding of late from either Ondrej Pavelec or Michael Hutchinson.
Unless the Jets gets NHL-quality goaltending, they're not making the playoffs. Allowing a bad goal per game is not nearly good enough.

— North End Rick (@NorthEndRick) February 22, 2015
Without above avg goaltending Jets will have a tough time making playoffs. Hutch needs to step up and take this starting job. @RickRalphTSN

— Frank Barbaro (@frankbarbaro10) February 22, 2015
Neither goaltender has allowed less than three goals in his previous three starts. Neither goaltender has recorded a save percentage above .900 in his last three starts. Hutchinson has cooled off after a few weeks of great play. He's allowed four goals in three straight games, but managed to win the first two before Saturday's overtime loss to the Leafs. Pavelec has been shaky, with weak shots getting through him on a number of occasions in February. Although, the majority of his goals allowed in the past two games have come on the penalty kill.
As previously mentioned, the Jets don't have the depth up front to consistently outscore opponents. To make the playoffs they need solid goaltending. They need both of their netminders to come up with huge saves on the penalty kill and steal games outright at times.