The Pittsburgh Penguins have been a bit underwhelming of late. They're 5-4-1 in their past 10 games, and 10-9-3 since the calendar turned to 2015. A winning record, yes, but for a team that's regularly among the top of the league, "just barely above .500" is considered struggling. One of the reasons for Pittsburgh's "struggles" of late has been the play of their two best players: Sidney Crosby and Evgeni Malkin.
This month, neither player has looked like the elite players that they've been in the past, and with the acquisition of Perron this season, the "lack of good wingers" reasoning no longer flies. Instead, as is typical within human nature, nostalgia takes over during times of strife, and Pittsburgh fans are pining over the "3 Center system" that won them the Cup back in 2009.
Going with What You Know
Jordan Staal was that 3rd center during the Cup run, and unsurprisingly, Jordan Staal is the center that's allegedly being targeted today. According to members of the Pittsburgh media, citing unnamed sources, Jim Rutherford is interested in acquiring forward help, and Jordan Staal is one of the players they are interested in acquiring.
This should come as no surprise to Carolina fans. When he was the general manager of the Carolina Hurricanes, Rutherford allegedly called Pittsburgh every day to inquire about Jordan before the deal happened, so Rutherford attempting to re-acquire Jordan back to Pittsburgh isn't a shock. Though if you think about it too long, the logistics of such a trade may make your head hurt.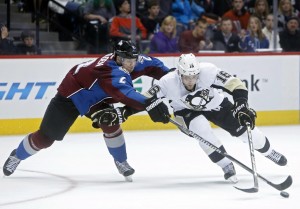 In addition, Brandon Sutter has not quite developed into the player Pittsburgh was hoping he would become, when he was the main piece in dealing Jordan Staal. He's still the same extremely intelligent, defensive-minded player that was dealt in 2012, but his offensive game never took that next step, making him a poor replacement for Staal.
Never Going to Give You Up
Rutherford's persistence regarding certain players is the only legs this rumor has to stand on. When he gets his eye on a player, he will do everything in his power to acquire said player, even years later. He showed this while acquiring Jordan for Carolina, but the Staal brother wasn't the only one.
When Joni Pitkanen was playing with Philadelphia, word out of Carolina was that Rutherford wanted to acquire him, in a deal surrounding Nic Wallin. The deal apparently fell through, and Carolina went a few more years without a defenseman that could break out of the offensive zone effectively. Pitkanen eventually went to Edmonton and struggled there, allowing Rutherford another chance to acquire his desired player. This time, he got his man, at the cost of long-time Hurricane Erik Cole.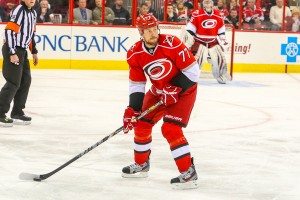 Cole is an example of another Rutherford quirk that lends credence to this rumor: JR loves to bring back players he's familiar with. An offseason couldn't go by in Carolina without at least one former player donning the "sightless eye" again. Just ask Joe Corvo, who had 3 distinct runs with the Canes, despite being traded or allowed to go to free agency after each one of them.
You Can't Always Get What You Want
Obviously, Carolina's position in the standings is another reason why this rumor has surfaced. The Canes are bottom-feeders once again this year, and current general manager Ron Francis has indicated that changes are coming within in the organization.

"What's going to guide me is doing what's best for the franchise long term. The fans are frustrated, I'm frustrated. We're going to take a look at everything closely and make some decisions that will be best for the franchise going forward." said Francis
The need to shed salary, from a Carolina standpoint, is obvious as well. The attendance this year has been abysmal, with fans showing that frustration that Francis alluded to, and owner Peter Karmanos isn't one to waste millions needlessly. With Eric Staal making over $9 million this year, and Jordan Staal making $6 million until 2022, those are two names that could cut a lot of money really quickly if they were dealt.
The rub is, of course, both players have a no-trade clause in their contract, and neither player has given any indication they want to waive it. Jordan came to Carolina because he wanted to play with his brother, and both players have stated how much they love Raleigh. Not that Francis would ask them to waive their NTCs in the first place. Back in November, rumors surrounding an Eric Staal trade were declared "absolutely" B.S. by Francis in an interview with Sportsnet Fan 590.
If Eric's not on the move, Jordan's not on the move. Both players control their own fate with their NTCs, and they want to play together. If this season is any indication, that's for good reason as well. Though Jordan missed the first half of the season to injury, his play on the top line of late, with Eric on the wing, has been a sight to behold. Two players with big bodies that are dominating shifts in the offensive zone.
So Rutherford and Pittsburgh fans can continue to pine over "the one that got away." There are a lot of names from the Carolina roster on the trading block. It's expected that Andrej Sekera, Jiri Tlusty, Jay McClement and Patrick Dwyer may be wearing new uniforms in a couple weeks. However, the Staal brothers don't appear to be on the chopping block this year, and there's little reason to believe they will wear anything but a Hurricanes uniform for a long, long time.