The 2018 World Junior Championships kicked off yesterday and so far things are looking really great for the two North American teams. Canada's first game was against Finland in the afternoon and they beat them 4-2 at the Key Bank Centre in Buffalo, NY. Then at 8 p.m. last night, the United States played against Denmark and beat them 9-0. That's a pretty impressive victory for the Americans, who've entered the international tournament with guns blazing. It was only two weeks ago when the Canadians played against the Danes in an exhibition game at the Meridian Centre in St. Catherine's during Canada's selection camp, beating them 5-2. Now that the Americans have played them, though, it seems that Canada could have done better.
Americans Are Canadian's Biggest Threat
After Canada's final roster was selected nearly two weeks ago, they played in a preliminary game against the Czech Republic and beat them 9-0 and then went on to beat Switzerland 9-1 two days later (also in a preliminary game). Yesterday afternoon, the Czechs beat the Russians 5-4 and so it makes sense that Russia won't be a problem for Canada either.
Back at the World Junior Summer Showcase in Plymouth, MI at the end of July and beginning of August, the Americans had three varying rosters who played in a total of nine games against the Canadians, Swedes, and Finns and they went on to win seven of them.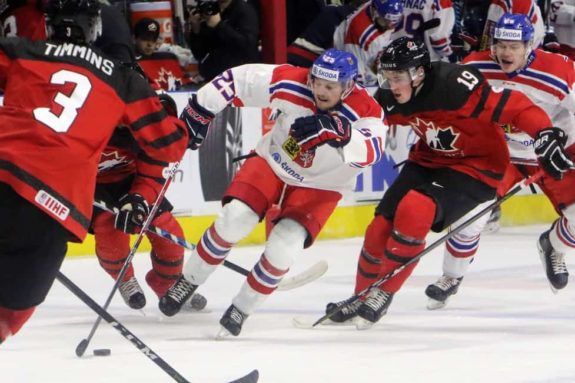 Based on all the evidence, Canada's biggest threat lies with the Americans, a team that continues to dominate at every turn. As discussed in a recent article which interviews several of Team Canada's top defencemen, the American's are fast, fierce and insanely talented on the top end – not to mention highly defensive too. This perception has become the consensus around Canadian hockey circles everywhere and now it's eliciting the question of how have the Americans come so far in terms of talent? It wasn't that long ago when Canada was the reigning Champion, having won the gold medal five times in a row twice, once from 2005 to 2009, and another from 1993 to 1997. Now, in the last eight years, Canada has only won one gold medal.
Many believe the USA's growing number of hockey players at every level over the last couple of decades has improved their competitiveness and skill levels. The American's have a population 10 times the size of Canada's and therefore they're going to eventually get the best athletes playing hockey instead of football or whatever their national sport is. Although these two facts are undeniably true, they cannot account for the American's quick climb to the top, as they've won three gold medals in the last eight years now.
The NCAA Produces Elite Talent
Team USA has a roster comprised of 20 players plus three goalies and there's one thing that makes this team particularly unique and that is everyone with the exception of three players currently plays in the NCAA. The fact that the vast majority of these players come from the NCAA is what makes this team so elite and beating them in the World Juniors is going to be no easy task for the Canadians. After all, the evidence is showing that players who develop in the NCAA before entering the NHL are having a significant amount of success at the NHL-level in terms of point-production, compared to their CHL and European-league developed counterparts. Further evidence has also shown defensemen who develop in the NCAA before entering the NHL are having an improved long-term impact in the NHL as well.
Interesting, Team Canada only has two players developing in the NCAA – Cale Makar who's playing for the University of Massachusetts (Amherst) and Dante Fabbro, who's playing for Boston University, and both happen to be defencemen and drafted in the first round. Furthermore, Fabbro also happens to play on the same team as Brady Tkachuk, the younger brother of the Calgary Flames' Matthew Tkachuk, son of former NHL-er Keith Tkachuk and one of the American's top forwards heading into the World Juniors. If there's anyone who can give Canada the inside scoop on Tkachuk, it's Fabbro. Like Fabbro, the youngest Tkachuk boy was also drafted into the OHL, but he too decided to play in the NCAA instead.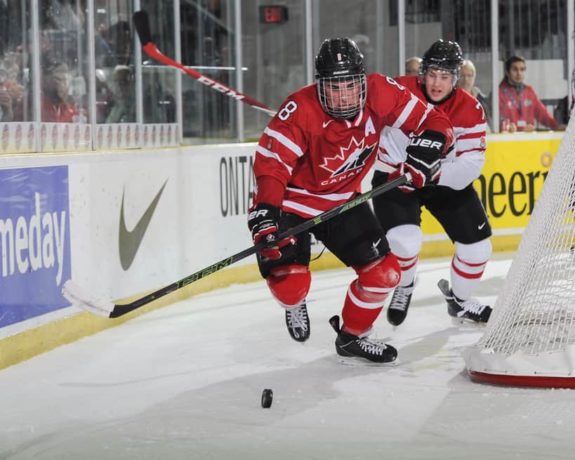 At this year's World Junior Summer Showcase, Tkachuk played for Team USA Blue and has the exact same attitude as his older brother, who was recently given his second, one-game suspension for spearing this season. Some hockey circles actually think Brady's attitude is worse than his brother's. In a post-game interview at the showcase, The Hockey Writers asked him what could be expected from him this year with Boston University, as it would be his first season playing in the NCAA. He was asked if we could expect a lot of goals or a lot of game misconducts and he laughed and said,
I mean, I'd like a lot of goals but realistically, I mean, every shift, I try to make a difference.
In Tkachuk's summer showcase game against the Canadians, he said they played down low and by the net. His mindset is to score goals and if it takes aggression and a 'big-body presence' to get it done, that's exactly what he's prepared to do. At least we know that Fabbro will be able to give team Canada direct, insider knowledge on one of USA's top players.
It's unfortunate there's not more NCAA-developed guys playing on Canada's roster this year during the World Juniors because the majority of Team USA's players are currently in the NCAA. What better way to beat them than with their own medicine? However, Canada does have a couple NCAA-developing defencemen on their roster – one of which knows Tkachuk personally. Plus, the Canadians are slightly older than the Americans and perhaps they can use their size and maturity to their advantage as well. Regardless of all that, when Canada faces off against the USA, it's definitely going to be one hell of a game.