As the Buffalo Sabres have meandered at the bottom of the NHL standings this season, fans have understandably shifted their attention toward the future.
When speculating which prospects are most likely to crack the Sabres' lineup in 2018-19, players like Brendan Guhle and Casey Mittelstadt tend to dominate the conversation.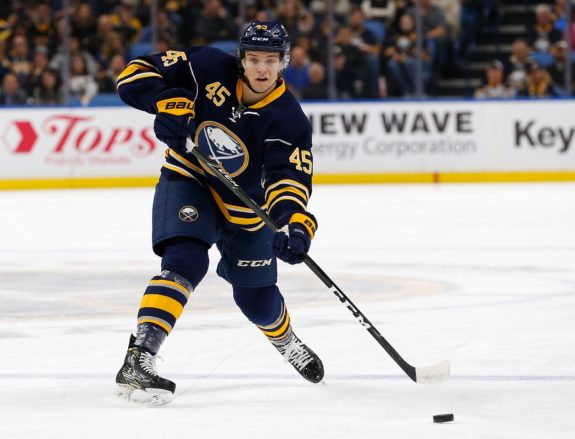 But what about some of the lesser known prospects? Surely the Sabres have hit on at least a few late round draft picks, right?
Let's take a look at six under-the-radar youngsters who are climbing their way up the organizational depth chart.
Devante Stephens, Defenseman
In 2014-15, the Kelowna Rockets boasted what was arguably the best defensive corps in the WHL. Stuck behind high-level NHL prospects, Madison Bowey, Josh Morrissey and Lucas Johansen, Devante Stephens struggled to make significant waves in his first two seasons.
In 2016-17, he emerged on the Rockets' top pairing, more than tripling his point production from the season prior. He now anchors the top pair for the Sabres' ECHL affiliate, the Cincinnati Cyclones.
Less than a month into the 2017-18 season, the Sabres were forced to recall over half of the Rochester Amerks' defensive corps. In desperate need of reinforcements, Stephens was sent up to the AHL for a four-game stint.
In 22 games with the Cyclones this season, the 20-year-old Surrey, BC, native has posted seven points. Though he isn't lighting up the scoreboard, he is praised for his puck-carrying ability as a responsible, two-way defender.
Stephens may need to develop for a couple more seasons in the minors, but don't be surprised to see him in a Sabres sweater in the near future.
Vojtech Budik, Defenseman
As one of five Sabres prospects in the 2018 World Junior Championship, it may seem inaccurate to say that Vojtech Budik has flown "under-the-radar." While he is well known in his home country, most Sabres fans knew very little about him prior to making the Czech Republic roster.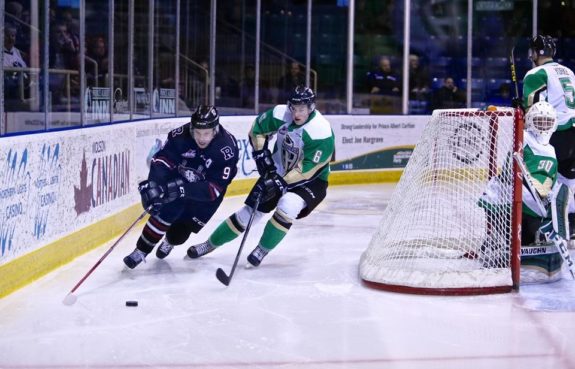 In their first game of the tournament, the Czechs were able to pull off an unlikely upset of 2017 bronze medal winner, Russia. Though he did not appear on the score sheet, Budik's shut-down ability proved essential late in the game as the Russians nearly mounted a comeback after falling behind 5-2.
A fifth-round selection in the 2016 entry-draft, he is the epitome of a defensive defenseman. At 6-foot-1, 203-pounds, the 19-year-old blueliner plays an extremely physical game.
With 11 points in 32 games for the Prince Albert Raiders, he has regressed a bit this season in terms of scoring production.
The Sabres' organizational depth is rather sparse on the back-end, but Budik will need to pick it up a notch in the WHL if he wants to stand out. No doubt Botterill will be paying close attention to his performance at the World Juniors. If the Czechs can advance to the playoff rounds, Budik will have every opportunity to perform well in front of the Sabres' brass.
Casey Fitzgerald, Defenseman
Selected in the third round in 2016, Casey Fitzgerald entered the draft after his freshman season at Boston College. Following an outstanding inaugural campaign in the NCAA, posting 27 points in 39 games, the North Reading, MA native had the look of a future NHL contributor.
During his time in the junior ranks, Fitzgerald was a three-time gold medal winner. His most recent international championship came last season as a member of Team USA at the U-20 World Juniors.
Now in his third season at Boston College, the 20-year-old defender has shown his maturity and leadership ability. Fitzgerald was named the Golden Eagles' captain to start the 2017-18 campaign.
As an organization that is currently devoid of leadership, the Sabres could use a former captain in their minor league system to help guide their younger prospects.
Buffalo has yet to offer him an entry-level contract. They have until the 2019 offseason to decide whether or not he fits into their future plans.
Interestingly enough, during their search for a new general manager this offseason, the Sabres interviewed Casey's father, Tom Fitzgerald for the role prior to hiring Botterill.
Cliff Pu, Center/Right Wing
Upon arriving in Buffalo for his first developmental camp in 2016, Cliff Pu immediately became a fan favorite. Following a monster 86-point season for the London Knights of the OHL last season, Botterill elected to sign him to an entry-level deal.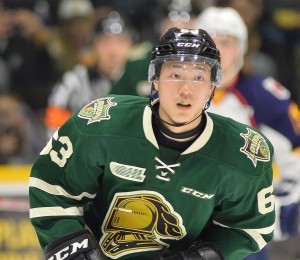 During the Prospects Challenge in Buffalo this summer (a four-team tournament featuring prospects from the Sabres, Pittsburgh Penguins, Boston Bruins, and New Jersey Devils), Pu looked like a man amongst boys, posting points in every game. Though the sample size was relatively small, he out-skated and out-worked fringe roster players, Justin Bailey and Nic Baptiste.
Fans were so enthralled with his level of play, that they chanted his name every time he touched the puck. Much to their dismay, the 19-year-old was a surprise snub from Team Canada's World Junior roster.
This will undoubtedly be Pu's last season in the OHL. Sabres fans shouldn't be surprised to see him dress for the Amerks next season.
Boasting dynamic speed and sneaky good stick handling ability, Pu has all the tools to succeed in the NHL. As the league continues to shift toward rosters assembled with four scoring lines, there is certainly room in the Sabres organization for a big-bodied, slick-moving power forward.
Rasmus Asplund, Center
During the 2016 draft, the Sabres moved up in the second round to select Rasmus Asplund 33rd overall. Several draft prognosticators had the Swedish standout going off the board in the mid-to-late first round.
Former general manager, Tim Murray felt he got a steal with his second round selection and agreed to part with Mark Pysyk (while acquiring Dmitry Kulikov) as part of the deal.
Now in his fourth season with Farjestad BK of the SHL, Asplund is on pace to post career high numbers with 16 points through 27 games.
Though he's no juggernaut at 5-foot-10, 176-pounds, Asplund can create opportunities in the "dirty areas" of the ice. His two-way ability paired with excellent play-making vision will make him a valuable asset at the NHL level.
Leading up to the 2017-18 season, it came as a surprise when the team announced that he would stay in Sweden for another season. Though Botterill has established a policy of slow, patient prospect development, Asplund appeared more than ready to make the leap and get himself accustomed to the North American game.
Like Pu, it is a virtual certainty that he will play for the Amerks next season. With a contract that has him locked down until June of 2020, the Sabres front office will have plenty of time to assess his development.
Brandon Hagel, Left Wing
Brandon Hagel is perhaps the most underrated prospect in the Sabres farm system.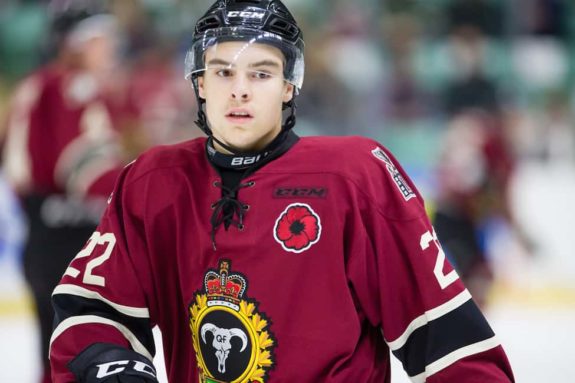 Since being selected 159th overall in 2016, he has made a quantum leap in his development while playing for Red Deer of the WHL.
Hagel is the exact type of player that teams hope to acquire with late round draft selections. Beyond the early first round, it is especially important for scouts to find players with a work ethic that matches or exceeds their talent.
He is lauded as a hard-working player who never takes a shift off. Though he likely projects as a bottom-six forward in the NHL, his undeniable compete level could make him a valuable asset for a team looking to jump-start an underachieving line (something the Sabres have in spades).
Over the past two seasons, he has produced at a near point-per-game click for the Rebels.
At just 19 years old, Hagel has a long way to go before he reaches the big squad. Weighing in at a mere 165-pounds, he has some bulking up to do as he transitions to the professional ranks.
Botterill will continue bolstering his developmental teams with homegrown talent. It would not come as a surprise to see Hagel dress for the Cyclones next season.