By now, you should know that the world has lost yet another legend – both for the Toronto Maple Leafs and the game of hockey – in Johnny Bower when the 93-year-old passed on December 26.
For some, the mourning process has just begun, while others are still finding the words to describe just what he meant to the world, to Canada and to hockey.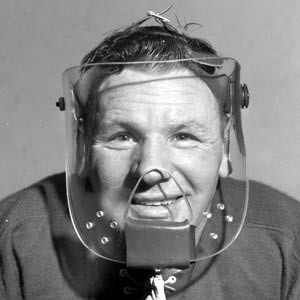 For me, born in 1988, I missed out on his playing days by 19 years and didn't get a chance to see him inducted into the Hockey Hall of Fame (which happened 12 years prior to my being born). While I never got a chance to get to know him on a personal level – like a number of people in the industry – and I barely got to know him on a professional level (which is still an overstatement), I did get to sit in on one press conference that told me all I needed to know about the legendary goaltender.
Bower Speaks at Centennial Classic
I stood in a room filled with hockey people all waiting to hear from hockey greatness. At the front of the room sat five former players – all impressive with what they brought to the game. Next to Bower, sat Johnny Bucyk, Dave Keon, Red Kelly and Glenn Hall – a royal table of sorts.
The five took questions from the media on hand and responded by talking about their playing days and what it meant to be a part of the NHL 100. While Bower didn't say much, the smile he wore at the front of the room that day spoke volumes for the then 92-year-old.
Saddened to hear of the passing of Leaf legend Johnny Bower!
Loved him as a goalie, loved him as a person! pic.twitter.com/O9cVZviiPA

— Curtis Joseph (@Cujo) December 27, 2017
"It's great to be here and I thank you very much for inviting me," said Bower.
As the press conference went on Bower sat listening to the stories from the other former greats – laughing and smiling the entire time. There were a number of times where Bower surveyed the room in front of him and it seemed as though it was a moment of gratitude for him – reminiscing on his days with the Maple Leafs, a franchise he epitomized during his playing days and even into his retirement.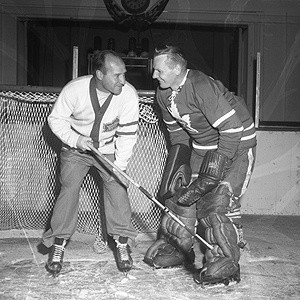 For me, it was a chance to see greatness in a single human being. I witnessed the excitement, the gratitude, the joy that Bower purveyed in this short time. In a matter of 10 minutes, I was able to understand what the game of hockey meant to this former player, what it meant to don the blue and white – the Maple Leaf – again on his chest.
Bower by the Numbers
While I don't want to dwell on the numbers, you can't avoid them either. Bower ranked second in franchise games played (475), eighth in career goals against average (2.50), second in wins (219) and third in shutouts (32).
He won two Vezina trophies – in 1960-61 and in 1964-65 (which he shared with Terry Sawchuk). He won four Stanley Cups with the Leafs (1962, 1963, 1964 and 1967) and was inducted into the Hockey Hall of Fame in 1976.
His number one was retired by the Leafs (along with Turk Broda) in front of the team's fans that made Bower such a beloved member of the club's alumni. The team honoured their former goaltender again when he was immortalized on Legends Row outside of the Air Canada Centre with a life-sized statue.
Johnny's reaction to when his number got retired was so pure and heart-warming. RIP. pic.twitter.com/LhZdKXcXN1

— Flintor (@TheFlintor) December 27, 2017
Thank You, Mr. Bower
While I never got to see you play, I want to thank you Mr. Bower for representing the purity of the game of hockey. I grew up in a Blackhawks household, but quickly became a Leafs follower living just 40 minutes from the heart of Toronto.
It wasn't long before I knew that I wanted to have a career in hockey. Then, I thought I could make it as a player. But those who can't play go on to write about it – or something like that. I dove into the history of the game – the players that came before my time and you were around the franchise all the time. I knew who Johnny Bower was.
You wore the blue and white with pride – I could see it on your face every time you waved to the crowd, every time you spoke to anyone about the organization.
Your likeness will forever grace the outside of the Air Canada Centre, while your number will remain in the rafters inside.
You were the person that people strived to be, the player young ones dream to be and an icon that only some will ever achieve. But you remained humble and bound to your roots. For this, Mr. Bower, I thank you.
May you rest in peace.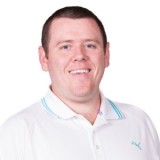 Andrew is in his 8th year reporting for The Hockey Writers covering the Toronto Maple Leafs. He began his broadcasting with CBC's Hockey Night in Canada team as well as being part of their coverage of the 2014 Winter Olympic Games in Sochi. He's the former play-by-play voice of the London Jr. Knights for Rogers TV and currently hosts the Sticks in the 6ix podcast. You can follow him on Twitter at @AndrewGForbes.