With only two games on the schedule for Day Two of the 2018 World Junior Championships, it was a lighter day of hockey in Buffalo. The two games themselves – Belarus against Switzerland, and Canada against Slovakia – ended up being key performance indicators for all four teams who played. Belarus and Canada did not have any luxury, as both teams played back to back days. Day Two, however, was our first glimpse of Switzerland and Slovakia, and how their respective teams look in action.
Both Switzerland and Canada came away as victors. There were still positives to be taken from all four teams. A few negatives, of course, too.
THW talks the five main takeaways from Day Two:
[RELATED: Our WJC Hub for Info on All the Teams]
#5. Ship May Have Sailed on Belarus' Opportunity
To say that Belarus is in deep waters is an understatement. They may also have missed their one opportunity to pull out a victory at this tournament. Finding themselves in Group B, chances are very slim for the Belorussians to now grab a win against the likes of Russia, or even the Czech Republic. Their best shot was against Switzerland, and it did not materialize. The Swiss ended up coming away with a 3-2 victory.
In a game that was tied 1-1 going into the third period, Belarus was doing what they needed. They were keeping the game close and in tight, with goaltender Andrei Grishenko making the stops when needed. After two periods he had made 29 saves.
Day 2 in Buffalo and Switzerland beat newly-promoted Belarus in its first game. Swiss-Russian forward Kurashev scores the late game-winner. Story: https://t.co/zHIvpT0jhX

Photo: Andrea Cardin / HHOF-IIHF Images pic.twitter.com/EjeI3TEdSK

— IIHF (@IIHFHockey) December 27, 2017
At 44:18 Switzerland took a penalty for too many men on the ice. Seven seconds later Belarus capitalized on the power play on a goal by Viktor Bovbel. For the first time in the game they had the lead. It was exactly what the Belorussians needed – a perfectly set stage if they could only hold on.
It would end up being for naught. Switzerland's Valentin Nussbaumer was left wide open in front of the Belarus net. He would snap a shot past Grishenko to make it 2-all with less than 12 minutes remaining. Just slightly over two minutes later, one of the Swiss' best players, Philipp Kurashev, took a pass at the point and wired a shot home on his blast.
Though Belarus would come ever so close to tying the game with 10 seconds to go, they could not jam the puck past Swiss goalie Philip Wuthrich. The mad scramble seemed to last an eternity for the Swiss, but they would keep Belarus at bay. Barely.
Belarus' next best hope (and likely their last) will be their Dec. 30th game against the Czechs.
#4. Sushko Is Producing Exactly How He Needs To
It is not all gloom and doom for the Belorussians. A major factor in them having any hopes for a win is because their best player is scoring. We said before this tournament got underway that Maksim Sushko would need to be a point-per-game player for Belarus. So far so good.
While the Swedes were able to keep the Belarus captain off of the score sheet on Day One, Switzerland could not stymie him on Day Two. Sushko had us a bit worried against Sweden too. Not only didn't he score, he did not even register a shot on goal.
Despite the loss in their second game, Sushko started producing for Belarus. He notched the initial game tying goal at 18:34 of the first period. Then, when Belarus went briefly into the lead in the third, Sushko got the secondary assist on Bovbel's goal.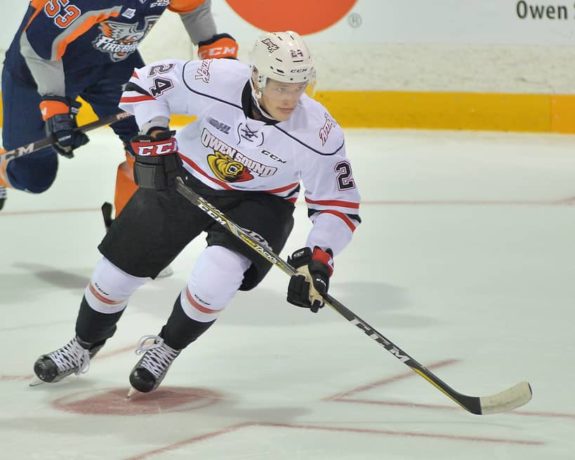 Sushko would finish the game with five shots on goal for Belarus – the second most on the team. He was also one of only four Belorussians to finish the game as a plus player. Furthermore, Sushko led all Belarus forwards in ice time with 21:17. This would also be the second most of any of their skaters.
One would have to figure that he is making an impression upon the Philadelphia Flyers' brass. If Sushko can maintain his performance and continue to generate points throughout the rest of the tournament, Belarus may make the most of that forthcoming game against the Czechs. Sushko's firepower, unfortunately, will not be enough against Russia.
#3. Point and Hart Are Canada's Dynamic Duo in Net
Obviously Team Canada felt quite comfortable going with two goaltenders on their roster instead of the usual three for this tournament. Having a trio is a number that most teams abide by. When your two goalies are Carter Hart and Colton Point though, you probably don't need a third. Barring injury, Canada has the best goaltending tandem at the tournament. While Day One's game against Finland went to Hart, Day Two was all about Point.
The work that Point has put forth for the Colgate Red Raiders this season gave every indication that he would have a solid tournament anyway. In 16 NCAA games this season, he has a minuscule 1.90 goals against average and a superb .938 save percentage. Those numbers helped compile a record of 8-4-4 with two shutouts.
Against Slovakia Point did not face a ton of work. Through the first two periods he stopped all 14 shots that Slovakia sent his way. Only a handful of those posed any true challenge to Point. When the game ended he had stopped all 20.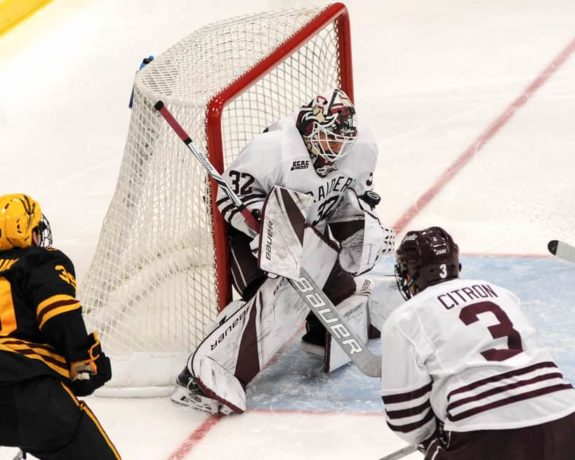 The takeaway however is that Canada has two netminders that can stonewall shooters when they need to. To make a reference to the late Johnny Bower, the ability of Point and Hart feels as steadfast as when the Maple Leafs had Bower and Terry Sawchuk between the pipes for their last Cup-run in '67. The reliability of having Point and Hart back there is unwavering.
THW caught up with Team Canada defenseman Cal Foote after the game and asked him what sort of comfort he feels by having Point and Hart on the backend.
"It's a great feeling," said Foote. "Obviously you feel secure with their presence in net. If you make a mistake, they'll most likely they'll have your back. It is a good feeling for sure."
#2. Relishing the Play of Taylor Raddysh
It is a little difficult to fathom that Canada's Taylor Raddysh was not drafted until the 58th pick of the 2016 NHL draft. From what he has done in Erie with the OHL's Otters and what he is doing for Canada at this tournament, the Tampa Bay Lightning may have really made a steal.
While it was Canada's Jonah Gadjovich who was named Player of the Game for their team, Raddysh stood out to this THW analyst as Canada's top player against Slovakia. Not only did he bury his own rebound on the power play to give Canada a 4-0 lead, but he also had five shots on goal. Through the tournament so far, Raddysh has two goals and an assist in Canada's two games. That ties him for second in scoring on the team with Sam Steel and Gadjovich (Jordan Kyrou leads the way with four points).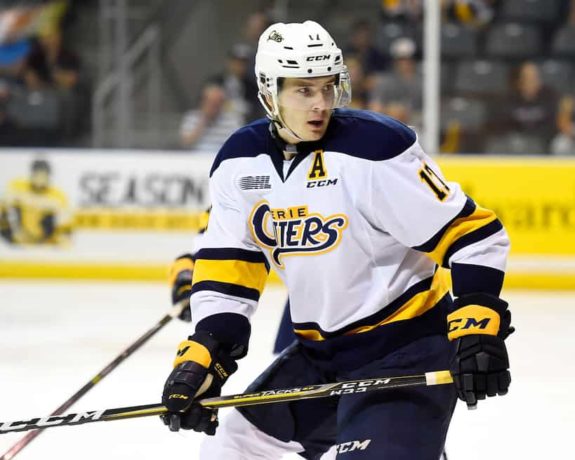 Through Raddysh's career with the Otters he has scored 253 points in 213 games played. That includes 102 goals. He will continue to be a productive force for Canada, and could be a good bet to finish as the team's top scorer by tournament's end.
#1. Canada Will Not Face Their Truest Challenge Until USA
While all of the aforementioned points about Canada's depth and prowess are certainly great, the team really has not been tested yet. Truly, we do not know what they are capable of putting forth from the deepest bowels of their determination. Day One they defeated Finland 4-2, and that was their greatest challenge until this point. Still, the game against the Finns was never out of hand and never out of Canada's control.
This Day Two game, for all intents and purposes, was merely a hurdle. Canada limited Slovakia to 20 shots on goal. In the second period alone they potted three goals to take a commanding 4-0 lead. When Comtois and Gajovich tallied in the third for goals five and six, it was really just icing on the cake.
FINAL | 2⃣ goals for @JGadjovich & 2⃣0⃣ saves for @colton_point led 🇨🇦 past 🇸🇰 for a 2nd win in as many days. RECAP: https://t.co/Q9eakbBJYj #WorldJuniors pic.twitter.com/7r7uw291Iu

— #WorldJuniors (@HC_WJC) December 28, 2017
Where Canada gets to test their mettle is this next game against the United States. The USA is the only other team in Group A that has a legitimate shot at the gold. Friday's outdoor game at New Era Field will be most telling as to the intestinal fortitude of the Canadians. The 6-0 win over Slovakia was certainly nice, and perhaps a mean of building confidence, but there is nothing more to extract from it. Time to move on to their truest challenge, Team USA.
Heading Into Day Three
There are four games scheduled for Thursday Dec. 28. The Danes will take on the Finns at noon at the Key Bank Center. That is followed by the Russians and the Swiss two hours later inside the HarborCenter. Then you have the two evening games of Sweden versus Czech Republic and the USA facing Slovakia, as the action returns back to Key Bank. The most interesting of the four games may be Denmark and Finland, as this rivalry stems back to last year when Denmark defeated the Finns 3-2. Finland never truly recovered from the loss and nearly was relegated.
General Manager of the Buffalo Beauts (NWHL). Hockey history writer "The Hockey Writers". Credentialed media for the NHL Combine and 2018 IIHF World Junior Championships in Buffalo, NY, USA. Born and raised in Buffalo, NY. Lifelong hockey fan for over 40 years. Proponent of the women's game.