With news breaking that the annual Winter Classic could be the next casualty in the labour war between the NHL and NHLPA, the likelihood of an 82 game season occurring has been reduced to foolish optimism.  If NHL hockey is to occur in 2012-2013, it will undoubtedly be in the form of an abbreviated season of 62 or even 48 games, much similar to the 1994/1995 season.
While the sport will essentially remain the same, an abbreviated season does raise some interesting questions.  The grind of a full 82-game season is a common culprit in explaining numerous NHL phenomena, such as the "Stanley Cup Hangover" or the playoff collapses of successful regular season squads that have a comparatively high roster ages when juxtaposed to the teams that oust them, such as the San Jose Sharks or Detroit Red Wings.
A lockout-shortened season could also be a blessing in disguise for those aforementioned veteran teams, and as the Flames currently sit as an older roster in the league they stand to benefit from an extended off-season rest.  Could the Flames potentially break out of their 3-year playoff slump thanks to a shorter regular season?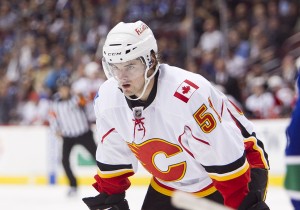 The obvious benefit that the Flames would enjoy from a shortened season is the already mentioned older average age of the team, holding an average age of 28.6.  While the team has certainly gotten younger with the infusion of rookie Sven Bartschi (aged 20) and sophomores TJ Brodie (22) and Roman Horak (21), the elements of the team that very much determine their success are either passing into the latter half of their careers or comfortably into their thirties.  Michael Cammalleri (30), Alex Tanguay (32), Jarome Iginla (35), and goaltending stalwart Miikka Kiprusoff (36) certainly will not be considered spring chickens by anybody but will undoubtedly be the key components to any on-ice success.
The time off allowed by the lockout will likely serve all four of these players some much needed rest, which should prove particularly beneficial for Kiprusoff.  No goaltender in the league has been as worked as the aging Finnish netminder over the last 7 years, and the most productive of those seasons came after the year-long lockout stoppage of 2004-2005.  Kiprusoff's personal success was addressed with his lone Vezina Trophy following the 2005-2006 campaign, while the Flames also rode his goaltending prowess to their only division championship since 1994-1995.
Captain Jarome Iginla, entering the final year of his contract, is obviously not the same player who won two Maurice Richard Trophies and an Art Ross Trophy in the early 2000s and has seen his production fluctuate from point totals in the high 60s to the 90s in recent years.  Despite this inconsistent production, he continues to mesh well playing with either Cammalleri or Tanguay and should still be considered a top-line threat.  Another enigma following Iginla throughout his career is his notoriously streaky play, usually warming up in December and playing his best January onward after posting disappointing Octobers and Novembers.  While the lockout has eliminated those months from a potential 2012-2013 NHL season, it will certainly be interesting to see if Iginla's infamous slow starts still plague him should the NHL begin in December or January.  Given the younger lineup and new offensive weaponry at the Flames' disposal, Iginla has his best chance in recent memory to avoid a slow start.
Conversely, the new makeup of the team and its coaching staff could ultimately prove to be the demise of Calgary in a shortened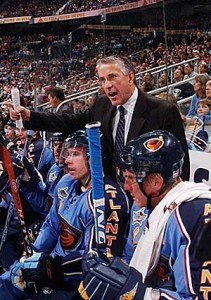 season.  Ever since being named Calgary's next head coach, Bob Hartley has yet to run a single practice with his NHL squad and begin implementing his aggressive system.  This will obviously sharpen the impact of the learning curve amongst a group of Calgary players that has been drilled into playing defensive hockey for the last decade.
Not only will a new coaching staff potentially hinder the regular season of the Flames, but a myriad of new faces will have less time to mesh with their on-ice linemates, giving great importance to chemistry being developed quickly.  Dennis Wideman will have to be paired with a suitable defensive partner that can counter his offensive tendencies while free agent acquisitions Roman Cervenka and Jiri Hudler are slated to factor into the offensive production in a top-6 capacity. This means that lines will undoubtedly be juggled at the outset of the year in order to find productive combinations.  Cervenka must acclimatize himself to the NHL in general, as at the age of 26 he has yet to play in a single NHL game.
While the NHL lockout drags on and more games are sacrificed upon the altar of greed, one can only prognosticate how a shortened season will affect the Calgary Flames.  When the NHL does get around to finally resuming play, these issues and concerns can be analyzed with concrete facts.  Even if the Flames do find themselves floundering, that will be a favoured outcome as opposed to not having an opportunity to play at all.