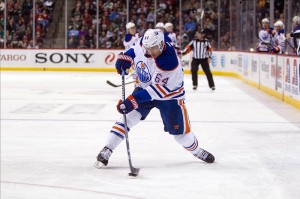 Does Nail Yakupov have a future with the Edmonton Oilers?
This question is extremely difficult to answer, largely in part due to Yakupov's inconsistent success with the Oilers since entering the league in 2012.
His first season? Yakupov was exactly what the Oilers anticipated he would be: a highly skilled and competitive player who could straight up score goals.
In that, the 48 game lockout shortened season, Nail led the Oilers in goals with 17 and scored a solid 31 points, good enough for fifth in the Calder Trophy race.
However, Nail took a significant step back in his sophomore season. Not only did his offensive production dip significantly, scoring a mere 11 goals and 24 points in 63 games, but he was atrocious defensively and was a liability on the ice. In fact, his -33 rating ranked 883rd in the entire league.
In the current 2014-15 NHL season, Nail has been difficult to interpret. He has shown flashes of brilliance dating back to his rookie season, as well as moments of inadequacy common with his sophomore season.
[Related: Yakupov and Oilers Going Through Growing Pains]
There are two major factors which have helped Nail to become a more consistent NHL player, the first of which was the arrival of current head coach Todd Nelson.
Enter Todd Nelson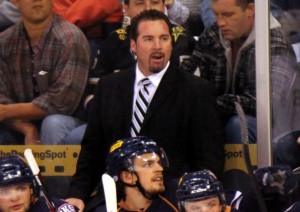 Since the promotion of Todd Nelson to head coach on December 15th, 2014, Nail Yakupov has experienced a resurgence of sorts in his play.
Under Dallas Eakins, Yakupov was receiving inconsistent playing time, ranging from nine minutes some nights to twenty minutes on others, yet typically averaging about 13 minutes per game.
Following a brief feeling out period by Nelson to determine how his new players played and in which positions they excel, Yakupov has been receiving consistent playing time, on average about 17 minutes per game. Also, Yakupov has seen considerable time on the Oilers' powerplay, which has been one of the leagues best of late.
The numbers don't lie. In 31 games under Eakins, Yakupov scored 4 goals and 4 assists for 8 points. That equates to 0.258 points per game, simply terrible production for a former first overall pick.
However, under Nelson, Yakupov has scored 7 goals and 11 assists in 38 games, good for 18 points and 0.47 points per game. In his last 16 games, Yakupov has netted six goals and seven assists for 13 points. Although Nail's numbers are certainly not where he would like them to be, they are noticeably improved under Nelson as Yakupov is doubling his offensive production.
Should Todd Nelson return behind the bench next season (which he should), Nail Yakupov could be poised to have his most productive season in the NHL.
We Like Roy!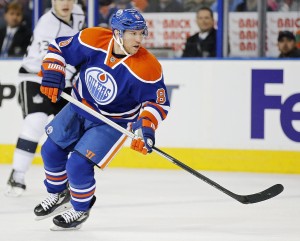 The second major factor which is contributing to a resurgence in Yakupov's play is the presence of veteran centreman Derek Roy.
Acquired by the Oilers on December 29th, 2014 in exchange for Mark Arcobello, Roy is an 11 year NHL pro who has seemingly calmed the often overly energetic Yakupov.
Since beginning to center Yakupov's line, the two have become a dynamic duo who exhibit incredible chemistry on the ice. Typically, when either Yakupov or Roy score an even strength goal, the other picks up an assist or factors in to the tally to some degree.
Watch Yakupov set up Roy for a great goal:
https://www.youtube.com/watch?v=nKsYxDGRw4U
Roy's current contract is a steal for the Oilers considering Nashville is paying approximately 44% of Derek's one million dollar salary. However, the deal is only good for this season, as Roy is slated to become an unrestricted free agent.
A former 30 goal scorer and point per game player, extending a contract to Roy would be a great move, as not only can he still contribute offensively, but he brings both veteran presence and leadership to a young Oilers team.
The Perfect Combination?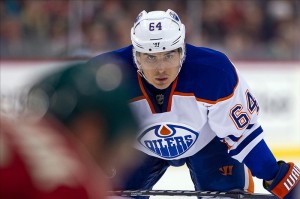 Are Todd Nelson and Derek Roy exactly what Nail Yakupov needs in order to resurrect his career? Time will tell, especially if both Nelson and Roy are signed on long term by the Oilers.
The potential for Yakupov to be an elite NHL player certainly exists, however whether he will reach his sky high potential will definitely be determined in the coming years. However, considering Yakupov is in the final year of his entry level contract and will become a restricted free agent following this season, the Oilers have a huge decision to make.
Will Edmonton management show their ultimate confidence in Yakupov's abilities and sign him to a long term extension? Will they award Yakupov a bridge type deal of 2-3 years in order to gauge his progress? Or will the Oilers begin to look at options which would see Nail sent packing?
These tough questions and more will soon have to be answered; with the outcome of which determining Yakupov's future in Edmonton.
[yop_poll id="6″]
What are your thoughts? Comment below!
Brett Slawson is a four-year veteran of The Hockey Writers who covers the Toronto Maple Leafs, NHL prospects, and the OHL's Mississauga Steelheads.
Contact Brett on Twitter @brettslawson92, or by email at brett_slawson@hotmail.com.