With the 5-2 shellacking the San Jose Sharks suffered at the hands of the Winnipeg Jets on Tuesday, Team Teal is all but mathematically eliminated from the postseason race. Barring an unexpected 9-3 type hot stretch in their final 12 games (or better) and getting scoreboard help to leapfrog multiple teams, the Sharks will miss the postseason this year for the first time in a decade. Will it be enough for GM Doug Wilson to lose his job after the very public war of words with the team's best forward Joe Thornton? Owner Hasso Plattner is mostly a mystery, residing in his native Germany for large portions of the calendar year and has had little to say to the media. Will he make the one big move an owner like him has to make? Will he fire his GM? Maybe, maybe not. Either way, for as miserable as this Sharks season has been, next year doesn't look all that bad. Let's take a realistic angle at what they could look like opening night October 2015.
Line 1: Melker Karlsson, Joe Thornton, Joe Pavelski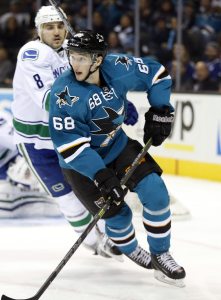 The one player who far exceeded expectations on the Sharks roster this season was rookie Melker Karlsson. An undrafted 24-year-old out of Sweden, Karlsson was signed this past offseason as a free agent making his move from Europe to North America. There were zero expectations for him to even make the NHL level but he has proved himself a quality depth forward capable of top line minutes.  For awhile there it looked like Karlsson's initial hot streak may have been a fluke but he has regained his form in recent games to remain on the Sharks top line. Overall, having scored 12 goals in 41 games at the NHL level, that is a 24 goal 82-game pace. Now he may not be able to continue that pace next season but if the Sharks have found a 15-20 goal guy, one who clearly works his butt off every shift, from out of nowhere, that will be a major plus moving forward. Karlsson is an RFA and will almost certainly be back next season. Yall already know about Thornton and Pavelski, they are really, really, really good.
Line 2: Patrick Marleau, Logan Couture, Matt Nieto
This trio was San Jose's best line down the stretch and into last year's playoffs. This year they haven't nearly had the same success but have shown glimpses. Plus next season both Marleau and Nieto are bound to have much better puck luck than they did this season. Couture in the middle is as solid as ever, a dynamite two-way second line center that can help take some shutdown minutes away from the Thornton line. These three read off each other well and ideally they spend most of next season together with better puck luck and continued growth from Nieto. They are all under contract and going nowhere.
Line 3: Tomas Hertl, Ben Smith, Tommy Wingels
While I don't think Ben Smith is the right fit at third line center, this is probably a wise line to start the year next season. Hertl and Wingels have shown they work together well, and this trio did have a couple good games right after Smith was acquired. This line would then allow the Sharks to reunite the all rookie line from this year's preseason as their fourth line. All three of these projected third liners are under contract for next season.
Line 4: Barclay Goodrow, Chris Tierney, Nikolay Goldobin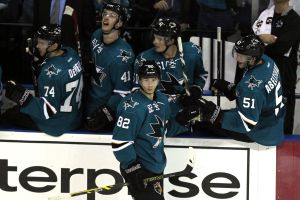 Couple of notes to go over with this group. First and foremost is that since we have not seen Raffi Torres for the majority of the past two seasons, I'm just going to assume he won't be ready to go for the start of the season. Also, while personally I prefer putting Goldobin in an offensive role on the Thornton line, the Sharks like to "ease" their rookies in with fourth line minutes. In my opinion fourth line minutes are harder to play, especially with the Sharks penchant for dressing terrible possession fourth liners like Adam Burish, Mike Brown, and John Scott. Wasting Goldobin's offensive talents on a piss poor possession fourth line would be absolutely terrible. However, if he doesn't start up top with Thornton, then reuniting the rookie line from this past preseason would be my next choice, and the more likely one. Goodrow and Tierney have gotten a good amount of games in this year and can help Goldobin along, plus the talent level is enormous, these three should crush fourth line matchups. All three are under contract.
Top Pair: Marc-Edouard Vlasic and Justin Braun
I think it is pretty safe to say the Sharks figured out that their defensive makeup is best when overloading the top pair. Now generally I'm not a fan of overloading, and was arguing that Vlasic covering for Brent Burns made sense. However, Vlasic plays against top opponents in a shut down role, and that is not the role you want Burns to be in long term. The Sharks are better off sticking with what has worked for a number of years and that is Vlasic and Braun. Both are under contract for the foreseeable future.
2nd Pair: Brenden Dillon and Brent Burns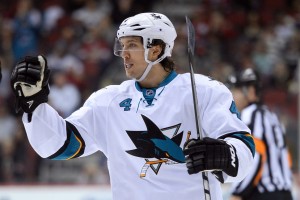 OK, you all know that playing Burns on defense instead of forward is the wrong decision. However, as long as Wilson is around, Burns will remain on the blue-line. This is a pair that actually showed some promise for a good stretch around December-January. They were mostly teammed up with the Thornton line at even strength and with the possession dominance No. 19 brings, this is a solid way to go. Limiting the amount of time Burns spends defending his own zone? That is smart. Burns is under contract and Dillon is likely to return as an RFA.
3rd Pair: Mirco Mueller and Matt Tennyson
Another year of maturity for Mirco Mueller should help settle him down. He has show the goods of a future shut down top pair defenseman, just has a ways to go to get there. The 19-year-old is under contract for next season and his partner could be 24-year-old Matt Tennyson. Despite hardly playing at all at the NHL level the previous two years, Tennyson filled in admirably this season when called up. He has another year remaining on his deal, so if the Sharks don't add a veteran free agent to fill the slot next to Mueller, Tennyson should be able to handle it fine.
Starting Goaltender: Jonathan Bernier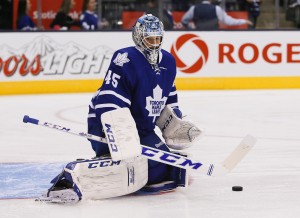 Assuming he is still GM, we all know Wilson likes to wheel and deal. It is pretty much a foregone conclusion this team is moving on from Antti Niemi. One of the ways they can upgrade via trade is at the goaltending position. It sounds as if Bernier has been on the trade block for awhile now with Toronto. He is set to be an RFA and RFA players are often traded during offseasons. Bernier has been a highly touted goaltender for years, even with the Kings before Jonathan Quick developed his super human playoff powers. This season behind a terrible Maple Leafs team Bernier has posted a respectable .912 save percentage. In 2013-14 it was all the way up to .923. With Toronto needing a fresh start over, possibly could foresee something like prospect Rourke Chartier and a third round draft choice to make the deal happen.
Backup: Alex Stalock
One more year left on his deal. Not much more to say here, he has proven to be a capable backup. It truly is a bummer he never got a chance to prove whether or not he could be more though at the NHL level.
Conclusion:
It remains a mystery why the Sharks seem to misuse their personnel. The Sharks have done a lot of winning with Burns at forward and Pavelski at third line center. With Burns at defense and Pavelski in the top six, they have done a lot of losing. However, even with these two in the spots that make the Sharks less effective, there is a good chance with improvement from young players, and a new goalie that the Sharks could be back in the playoffs next spring.
Andrew has been credentialed to cover the Sharks since 2010 and the 49ers since 2012. He graduated with his BA in Broadcast Electronic Communication Arts in 2013 from San Francisco State University.