When David Krejci was injured in late February, it looked like the final straw for the Boston Bruins. The team was amid a season worst, six game losing streak, with the Florida Panthers and the Ottawa Senators rapidly gaining ground on Boston for the final playoff spot in the Eastern Conference.
Losing David Krejci was a huge blow to the team. The most common thought was that no player would miss Krejci's presence in the lineup quite as much as Milan Lucic. The power forward had already been struggling, so this certainly couldn't help.
So far, we've seen just the opposite happen. In 12 games since being paired with rookies Ryan Spooner and David Pastrnak, Lucic has put up four goals and four assists. His young linemates seem to have rejuvenated Lucic, keying the Bruins on their impressive run (8-2-2 in Krejci's absence).
Which raises an interesting question, what will Claude Julien do with David Krejci when he returns to the lineup?
The Bruins are a much better team when Milan Lucic is at his best. His combination of offense and physicality changes the entire complexity of the team. Claude Julien could hope that Lucic's return to form would continue if he were re-united with Krejci, but it is risky to change up a line that is clicking.
So what are Julien's other options?
The Options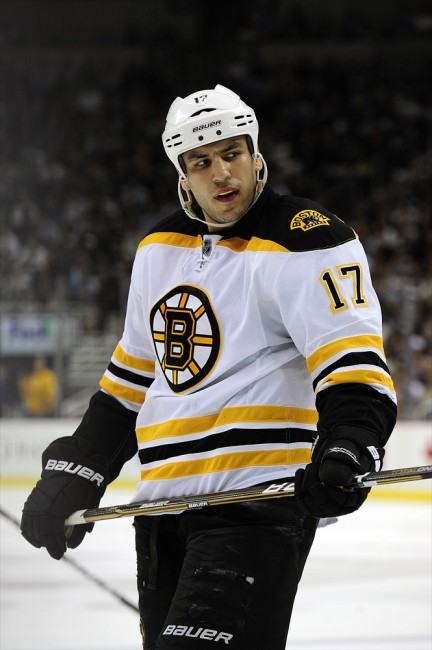 The alternative to these lines would be to reunite Krejci with his long-time linemate Milan Lucic, dropping Ryan Spooner to the third line with Loui Eriksson and Brett Connolly. Spooner's game has been drastically improved in his latest stint in the NHL. Maybe he would carry that elevated level of play with him to a new line, but that introduces the risk of both Lucic and Spooner dropping off. While it is not out of the realm of possibility, I'd personally hate to see Spooner's reward for his improvement be a demotion.
In my eyes, the least likely option would be to try Krejci on the wing. This would allow for Carl Soderberg to stay at center, but it would mean that either Loui Eriksson or Brett Connolly is playing on the fourth line. Beyond that, it doesn't make sense to try to resolve your superior depth at center by moving your top offensive center out to the wing. In the past two runs to the Stanley Cup Finals, while playing center Krejci has led the NHL in postseason points. He's going to play center in the playoffs, so let him get back into top shape by playing his natural position.
Unfortunately, a more likely scenario would be that Ryan Spooner gets time in the press box. Spooner's game does not translate to the style of play that the Bruins prefer in their fourth line. While Julien has been complimentary of Spooner as of late, history suggests that he defers to more experienced players when he has that option. The only player in Boston's forward group that is close to Spooner in terms of NHL experience is David Pastrnak, but his spot seems secure because of his ability to play the wing. At the very least, this would be a mistake in the short-term. Perhaps Spooner will eventually hit the "wall", but until then, he has done nothing to warrant a seat on the ninth floor.
My Choice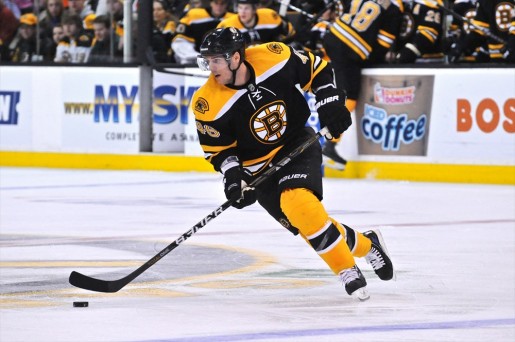 In the short term, Krejci could be eased back into duty with a place on the third line. Pairing Krejci with Loui Eriksson and Carl Soderberg would be an interesting choice, as Krejci would absolutely represent an offensive upgrade over Chris Kelly on that line. Additionally, that would bump Kelly down to the fourth line, where he would replace either Daniel Paille or Gregory Campbell. The ability to upgrade the quality of both the third and fourth lines like this would pay dividends considering the frequency with which Julien rolls four lines.
This particular option becomes a little more interesting when Brett Connolly returns. Soderberg's recent struggles (no goals, six assists in his last 24 games) suggest that he will be the odd man out on this line. As such, Soderberg will find himself on the fourth line, while Connolly and Eriksson flank Krejci on the second line.
This shift upgrades the new Krejci line and puts them back in the 1A/1B conversation with the Bergeron line. This move also allows Spooner and Pastrnak to continue playing with Lucic on the third line, causing all kinds of matchup problems for other teams. That leaves Julien with a versatile and experienced fourth line of Soderberg, Kelly, and Max Talbot.
Configuring the lines in this way provides an additional luxury. It may not seem like much, but this will allow Krejci to develop chemistry with two new linemates in Eriksson and Connolly. This chemistry could pay major dividends down the road, as Claude Julien will have a variety of options when it comes to putting together the power play.
The forward depth of this team, when healthy, should inspire confidence throughout Boston's fan base, regardless of how the lines are put together.
So which line combinations would you want to see? What would you do with David Krejci when he is ready to return to the lineup? Let me know in the comments below or on twitter.