On September 29th, 2014, Carbon Sports, LLC will launch a Kickstarter Fund campaign to raise the funding for production of a new stick design.
Carbon Sports LLC was born in the Stoneham, Massachusetts, when engineer Tovi Avnery and material scientist Scott Heitmann came together to design a new, more effective, longer-lasting hockey stick.
The new design, dubbed the AirBlade, uses innovative stick technology to improve upon the current carbon hockey stick. The foam innards of a stick's blade will be eliminated; rather, the stick will be made with an aerated blade. The "criss-cross" design will allow for air to pass through the blade, giving players "faster shot speeds, more accurate shots, and less wind resistance".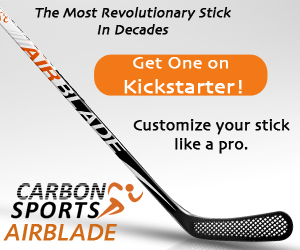 The campaign will be conducted across both the United States and Canada, primarily targeting hockey players, fans, parents, and enthusiasts. According to the company's Chief Operating Officer, Richard Fucillo, the company hopes to have production under way and the sticks rolling out by early 2015.
"This is an exciting opportunity for anyone interested in hockey and its technological advancement to get involved on the ground floor," says Fucillo. "Our engineers have developed a stick that is unlike anything ever seen in hockey."
The team has spent ample time developing the stick, and it shows. Due to the strength and weight of the three-dimensional fiber aerated blade, the AirBlade will be better able to absorb the impact of the puck- eliminating the need for tape. The "perforated cross-beam pattern" will provide a much better feel for the puck, which provides players with a more accurate shot each and every time. There's a larger sweet spot, and the lack of a foam core prevents the puck from bouncing. The stick is made of carbon fiber composite, which will give the AirBlade a longer life span than the current carbon fiber stick.
The team is confident that this will become the new standard design for hockey sticks- the stick has already received testimonials from 1980 "Miracle on Ice" team member Mike Eruzione, Ken Hodge Jr., Ken Linseman, and Craig Janney.
Their thirty-plus years of NHL experience speak for themselves- and their testimonials have been backed up by a number of NCAA and prep school players.

The stick won't just be for the hockey pro.
Players of all skill level will be able to custom-order the AirBlade, choosing from six different blade models in addition to customizing the stick's orientation (left or right), blade length, shaft flex, lie, curve depth, curve type, face angle, and grip coating.
This will improve recreation play, as it will eliminate the need to settle with limited in-store stick selections.
To learn more about the stick and watch video testimonials, you can visit Carbon Sports LLC's website. For more information, check out the company's Facebook and Twitter.
CARBON SPORTS – 60 DAY MONEY BACK GUARANTEE
We are so confident that you will love your customized AirBlade that we are offering a 60-day money back guarantee to backers through Kickstarter. As long as you use your stick within our warranty policy guidelines, you can return it up to 60 days after date of shipment for a full refund.
To access the Kickstarter page, click here.
Catherine likes to write about sports, usually hockey. She tries really hard to keep Rob Ford references out of her work, but… no guarantees. Sometimes, she's even allowed to edit other people's stuff.