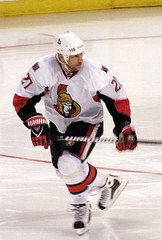 The season of milestones continued for Ottawa Senators players last night, as Alex Kovalev reached the 1,000-career point plateau. With a goal and assist in Ottawa's 3-2 victory over the Los Angeles Kings, Kovalev joined teammate Daniel Alfredsson in the exclusive 1,000-point club; the win ended a three game losing streak for the Senators.
Often described as one of the most talented players in hockey, Kovalev has frustrated more then one coach and perhaps a few teammates with his inconsistent effort throughout his career. However, calling Kovalev a "floater" is too strong a word, perhaps he is best described as a "drifter". In the past, he has given the impression of not giving it his all every night, but when he is "on" his talent and abilities shine and he is capable of changing the outcome of a game with one pass or one shot.
Kovalev had mixed results in his first season with the Senators, scoring 18 goals and assisting on 31, before his season ended early due to a knee injury. After contributing only one point in the first eight games of the season, Ottawa GM Bryan Murray wondered if Kovalev had lost a step after off-season knee surgery. Kovalev disagreed, and once he was placed on a line with Jason Spezza and Peter Regin, the 37-year-old began to look like a new man. In his past 13 games, he has six goals and four assists.
While he is still guilty of an occasional giveaway, the talented Russian has back checked in his own zone this season, proving that he has the will to win. He may not be the player that scored 95 points in a Pittsburgh Penguins uniform during the 2000-2001 season but he is providing the Senators with much-needed secondary scoring.
"Well, it is definitely good to get that off my back," Kovalev said after reaching the 1,000 point mark. "It was great, I'm glad that we won that game and I think it was exciting for the fans and for everybody, the way we played tonight."
A first round selection of the New York Rangers (15th overall) in the 1991 NHL Draft, Kovalev spent time with the Rangers, the Pittsburgh Penguins and Montreal Canadiens before signing with Ottawa as a free agent in the summer of 2009. In 1,249 career games, he has scored 418 goals and accumulated 583 assists. While he may never reach the historic 500-goal plateau, his 1,000 points and over 1,000 career games playing against the world's top talent in the NHL is certainly an accomplishment.
To go along with his Stanley Cup ring (1994 with New York), Kovalev won gold at the 1992 Albertville Olympics and a bronze at the 2002 Salt Lake Olympics. Off the ice, he enjoys taking to the skies – Kovalev is also a licensed pilot.