Christopher Ralph is a hockey writer with a focus on prospects and the entry draft, as well as the Leafs' correspondent here at THW.
"Full Potential" Prospect Profile: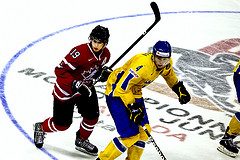 Please "Click Here" for "Notes Up Front" and "Legend" for various topics covered below, as well as a running live updated NHL 2009 Draft rankings.
2. Victor Hedman – Örnsköldsvik, SWE – 6'6″ – 220 lbs – SEL – Modo – D
One-Timer: A fast and smooth skating defenseman, offensively and defensively sound and is 6'6" 220lbs and only recently turned 18?!? Is he genetically engineered? Nope! It's one Victor Hedman who's a shoe in to go second overall in June, with more than a few GMs considering him at first overall. Iwas, in fact, contemplating ranking him at numero uno, given the rarity of such a combination in a defenseman of size, skill and skating ability. In the end, I had to give Tavares the slight edge.
NHL Player(s) Comparison: Hybrid of Jay Boumeester and Chris Pronger
Bio/Interview Link(s):
Scouting Combine Performance:
Eug Sorokin, my inside agent at the combine, had the opportunity to speak with Hedman while he was waiting for a laptop to do one of the tests. Eug  was so impressed with Victor, he went so far as to say he was "one of the finest human beings he had the opportunity to meet." While Hedman is not vying for a Nobel Peace Prize, Sorokin went on to report: "All in all, a good-hearted kid, very genuine, and an absolute physical freak."
Gare Joyce reported Hedman was one of only seven of all tested to score "AA" (above average) in both upper and lower body physical development. He measured in at 6'6".
International Tournaments: WJC: Hedman had just 2 assists in 6 games and had a seemingly underwhelming performance, but scouts were not deterred by his tournament play.
ETA = Ready to 1 year away
Risk-Reward Analysis: Risk = 0.5/5   Reward = 5/5
NHL Potential: #1 blueliner – Norris Trophy candidate
Fantasy Hockey Potential: Offensive = 8.5/10   Defensive = 10/10
Other Rankings:
ISS: 3
CSB: 1-E
TSN: 2
THN: 2
This document is the intellectual property of Christopher Ralph and cannot be used or duplicated in anyway without expressed written consent. Any use of this document without the expressed written consent of Christopher Ralph will result in public exposure and legal prosecution.