At the 2009 NHL Entry Draft held on June 26th you will, without some unforeseen surprise, hear one of two names called first.  One of those, John Tavares, has been heralded as a future superstar for four years now.  However, there is another player from across the Atlantic that is getting a lot of consideration for that first overall pick as well, Victor Hedman.
Hedman is so highly thought of that a senior NHL scout who had a lot of success in drafting the past 20 years told a representative at Hockey's Future during a WJC game this week that he would not hesitate to recommend to his organization to take Hedman instead of Canadian John Tavares as the first overall pick.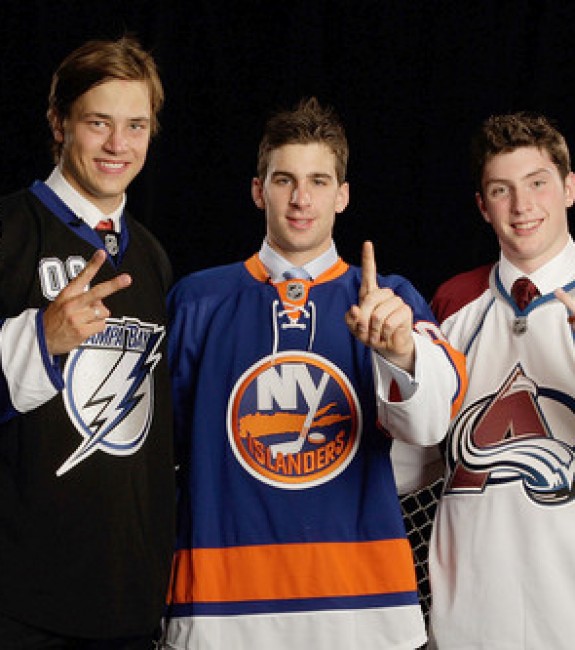 While Tavares is a barely six foot forward, Hedman, a defenseman, comes in at a huge 6'6″ and 230 lbs.  Even with this size, however, he is known as one of the fastest, smoothest skaters around.  Hedman has amazing offensive instincts, rushes with the puck and gets involved in the offensive end frequently.  He combines excellent vision and play making skills with sound positioning  and defensive ability, using his size to his advantage as to not be beaten on the rush very often. This balanced combination makes him adept at both running a powerplay and also spending plenty of time killing penalties.
Victor Hedman Comparisons
With his enormous size, he is currently being compared to current NHL defensemen Chris Pronger and Zdeno Chara.  While he does share their size, he does not share their nasty demeanor.  While he doesn't shy away from physical play, he isn't nearly as aggressive and is more of a finesse player than either Pronger or Chara, using his size to get great positioning and battle in front of the net or against the boards.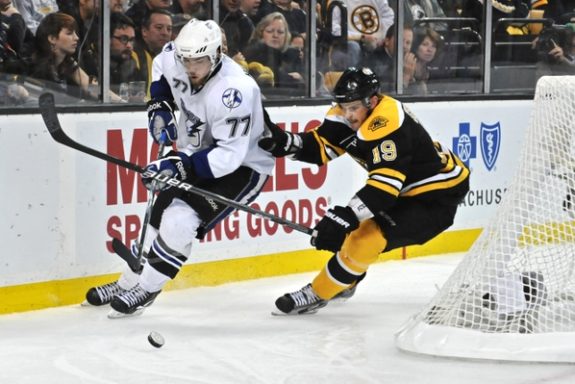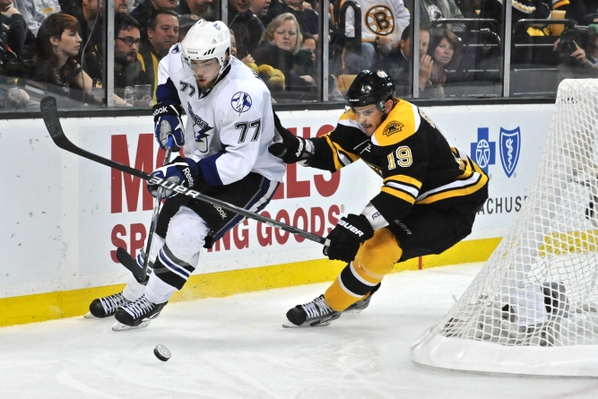 Hedman began playing junior hockey with the Modo Hockey Organization in the Swedish J20 Super Elit during the 2005-06 season, playing in 10 games.  During the 2006-07 season, his first full season with the team, he recorded 13 goals and 25 points and a +17 in 34 games.  The following year he would only play 6 games with Modo's junior team before turning pro and joining Modo's team in the Elitserien as a sixteen-year-old.   He played 39 games as a pro scoring 4 points and was a +1.
Traditionally, younger players who play with the senior teams in Sweden often get lower ice time. This was never the case with Hedman.  At the beginning of the 2008–09 season, he was ranked first overall among all draft-eligible skaters in the International Scouting Services'  (ISS)  preliminary rankings.  He would not hurt that status with his performance during the season scoring 21 points and finishing with a +22 in 43 games.
Hedman's International Hockey Experience
Hedman also has several years of experience in international competition as well.  He played for Sweden's Under 18 team at the World Junior Championships in both 2007 and 2008, winning a bronze medal in 2007, and also played for Sweden at the Under-20 World Junior Championships in 2008, helping the team win a silver medal.  At the conclusion of the tournament he was selected to the tournament All-Star Team after scoring 1 point and finishing at a +5.  He later became one of the youngest players to play for Sweden's national men's team when he made his debut at age seventeen in an exhibition game against Norway. Hedman would once again play for Sweden's national junior team at the 2009 World Junior Championships in Ottawa, where he met Canada, and John Tavares, for the second consecutive year in the gold medal game, earning another silver medal in a 5-1 loss.
At the upcoming draft the first two picks are held by the New York Islanders and Tampa Bay Lightning, respectively.  While its seems to make perfect sense that the Islanders, who have needs basically everywhere on the roster, would take the more marketable Tavares to not only boost their team but boost ticket sales, leaving Hedman for the Lightning who have a good group of top 6 forwards and need a top defenseman, it remains to be seen if that will actually happen.  There are rumors that the Toronto Maple Leafs are making a push for that #1 pick to draft Tavares, that the Lightning may look to trade their top forward Vincent LeCavalier, wanting to replace him with Tavares and you just never know if the Islanders may hope history repeats itself and take Hedman with the top pick.  After all, they took a defenseman, Denis Potvin, with the first overall pick in 1973 and he eventually went on to play a huge role in the team's 4 straight Stanley Cups.
Whichever team ends up drafting Hedman, they are certainly getting a player that looks to be a future superstar and may just represent the next generation of NHL defenseman.