Seven days ago, the New York Islanders season came to a close in a heart-felt battle with the Pittsburgh Penguins. Gloves were dropped, fists were thrown, goals were scored, goaltenders stood on their heads, a comeback occurred and over time was needed: the ingredients to a great hockey game.
Unfortunately for the Isles, it all meant nothing. Their fate had been sealed about four games prior to their last one as they knew they were not going to make the playoffs. All they were playing for was their pride; so what does that say about this team? They are maturing.
"I don't think we can look too much at the last three games (prior to the Penguins game), but I can certainly say from the Olympic break up until that point, I thought that our guys, when the chips were against them, they competed at a level that probably wasn't to be expected with the competition they were up against," said head coach Scott Gordon during the post-game press conference. "It's encouraging to see that. We've got some building blocks in place for next year, we just got to put it all together."
One of those building blocks is Matt Moulson, a player who was invited to training camp and only expected to be a Bridgeport call-up when needed. Instead, he ended up leading the Islanders with 30 goals on the year.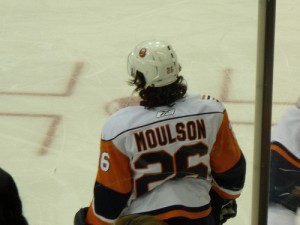 "You can't say enough about Matt and the year he's had," said Gordon. "He came in here and wasn't even expected to be part of our line up. He was a depth guy from Bridgeport in here and he ended up leading us in goal scoring in training camp. And after training camp was over, my words to Matt were 'you made the team out of camp, you got to treat it like every day is your last day,' and I don't think any player has headed whatever advice that I have given anymore than Matt Moulson."
Scott was then asked how it felt for him to have his sophomore year under his belt as a head coach in the National Hockey League. He went on to evaluate his team's progress, as well as his, over the past two years.
"The first year to me pretty much didn't even exist. It was like trying to play five card draw with four cards. From the get-go, losing Ricky, within our first month and a half we were down four defenseman and once our defenseman started to come back we lost a ton of forwards. The first half of the year was a waste of time. There was nothing gained from it, nothing learned. We just weren't playing with a full deck," said Gordon.
It wasn't until the latter portion of the 2008-2009 year that Scott started to see success on the ice that bled into this season.
"The second half we had a good stretch from the middle of January probably until the middle of March and then the last month, you can throw it out nothing was accomplished there," said Gordon. "As far as this year it was good to be able to come in and know the players; the players know me. To have a base line where the guys knew what the expectations were: how we did things; how we practiced; how we played the games; what our systems were, and even though we modified things throughout the year, the guys have been much better at adapting to things on the go."
Over the past ten years, one problem that the Islanders have had as an organization is consistency. Coaches have constantly changed with player personnel being traded, signed, bought-out and so on. When you look at the teams that are always in the playoff hunt, it is because they are mostly home-grown players that know the system that a coach has instilled after being part of a franchise for a considerable amount of time. Snow said from the beginning that his goal was to find a coach that he could have a relationship with for several years. Gordon has already developed that relationship with a young core of players that are going to continue to improve, therefore, Snow has to be glad with what he has seen thus far.
"We stood in there, and with the exception of the stretch from the last week or so of January, and the games prior to the Olympic break were really the only set back that we had, and it wasn't that we got out-played every game; goals dried up and for a brief period there we couldn't keep them out of our net. With the exception of that time frame I think the whole year is something we can look back on and say we were a pretty competitive team with what we had and we'll continue to get better," said Gordon.
But what is next for this team? Two years now have been spent teaching, growing and learning through experience. It seems that the next goal for the Islanders is not to hope for a draft pick next summer, but to look to be one of the top-8 teams in the Eastern Conference.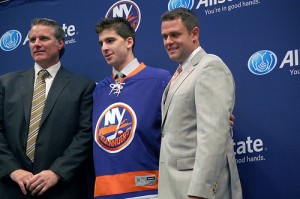 "There's a level of certainty with what we're going to get from players," said Gordon. "This year there weren't too many games that we didn't have a chance to win, we were competitive every night. For me, to know that we didn't have too many off nights and we didn't add any, outside of John and the two goalies, we didn't go out and put together a team that you said at the start of the year was going to win the Stanley Cup. We went into the year with the intention of trying to build off of some of the players from the year before and just take our time with it. We weren't looking for quick patches. Matt Moulson was a find for us but was unexpected. To be able to build on what we did last year, to me, was important."
Scott is right. This is, more or less, the same team that contended for the John Tavares draft lottery and they still managed to be a better team. The Isles have avoided quick patches, but now is the time for Snow to look to free agency for some offensive and defensive help.
"We have some contracts that are expiring that we have to make decisions on. Between now and the start of the year, one thing certainly we'll have to fill those spots," said Gordon.
One area of the game that Gordon said needed to be addressed was size.
"The value of being able to take away time and space makes you a better defensive team and that's one thing we lacked this year, both up front and on defense. It just makes the game a little bit hard, so that's something that will be a nice addition."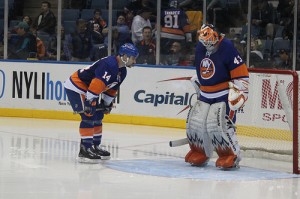 Snow didn't take long to answer that call, as Trevor Gillies was re-signed by the Islanders to a one-year contract earlier this week. The Islanders were a much harder team to play against and had a record above .500 when he was in the line-up. He's a team player that will stick up for anyone. His presence is enough to make the opposition think twice about doing anything stupid to one of the team's core players and his fists are always ready to go.
Overall, the Islanders were much more exciting to watch this year and as Gordon said, there were not many nights when they were unable to compete. Scott has done a pretty good job of developing his players without much assistance from the free agent market or from the team captain. Remember, Doug Weight missed the majority of the year with a shoulder injury that eventually forced him to miss the rest of the season.
Fans can get excited about the 2010-2011 year. Playoffs should be the expectation, but a lot depends on what Snow is able to do with his wallet. He has the permission to spend and has made comments about looking for help this off-season. If Gordon doesn't get a team that has an added top-six winger and top-4 defenseman, it would be unfair to expect the head coach to propel his team further up the standings. Although it's a possibility, it's an unfair demand.
In addition, goaltending will still remaing as a major issue. Question marks are going to surround Rick all summer long. Fans shouldn't expect Martin Biron to stick around either. This year was a season of uncertainty for Biron and if I were him, I would want to find a more stable job position; and he will. Plus, as Gordon noted, without Sutton, the team has a very fragile defense. A shutdown presence is needed that can hopefully provide some offense to help take some pressure off of Mark Streit.
Yes, the team will continue to get better. How much better depends a lot on what management accomplishes this summer. With that being said, Scott Gordon and the New York Islanders get a good grade for improvement and should continue this run into next season.