The Hershey Bears hosted the 2013 AHL Outdoor Classic Weekend at Hershey Park Stadium, taking on their division rival Wilkes-Barre/Scranton Penguins. The Penguins defeated Hershey's alumni team on Saturday and Pittsburgh's AHL affiliate defeated the Bears 2-1 on Sunday, earning the win on Paul Thompson's overtime game winner. You can view a game recap of Hershey's loss, here.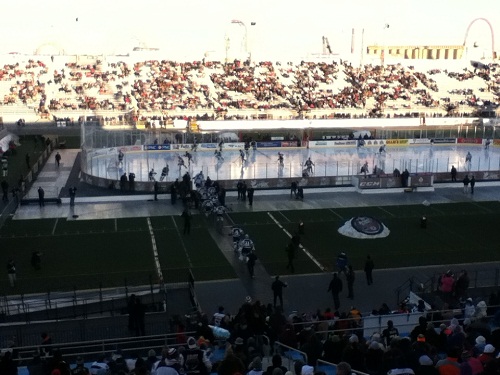 Below are interviews with Hershey Bears coach Mark French, forward Jeff Taffe, goalie Dany Sabourin and defenseman Tomas Kundratek.
Mark French
Q: Talking about the experience of the Outdoor Game
French: "I thought it was a pretty well-played game considering the conditions and I thought a lot of credit goes to the ice crew and the planners of the event, because the ice was excellent, much better than what we saw in Philly. Weather probably had something to do with that, but it really was a once in a lifetime experience."
Q: What couldn't you do outside that you could have done playing inside?
A: "As the game wore on it was almost, the shorter the pass the better, anything that was going to occur long was certainly not well executed."
Q: Comparing this year's Outdoor Game to last year's contest in Philadelphia.
A: "Obviously the dynamics of the building were different, but the fans didn't feel so far away. You certainly felt a part of the action, where last year in Philadelphia you almost felt that there was something else going on."
Q: Ice conditions playing into a defensive game.
A: "I think ice conditions played into it. I think both our faceoff structures instead of trying to make plays it was trying to get the puck into the neutral zone and maybe create some races, which led to some icings."
Q: On playing such a good game, but still coming up short.
A: "Disappointed. I'm very proud of our guys I thought we played a good hockey game. At the end of the day it's a game of mistakes, and we had a guy who stumbled. I told the guys we had a real good four line, six defensemen effort. I think they can be proud of their effort and it didn't turn in our favor."
Q: Did it feel like a regular season game?
A: "It didn't feel like that at all. Once you get through the feeling of the disappointment I think each guy who participated today will feel it was a very special event and probably in their hockey career, it ranks pretty high for them."
Q: On Dany Sabourin's effort in goal.
A: "The goalies probably had the biggest challenge. I thought late in the first period there seemed to be a lot of shadows. The darker it got the less shadows there seemed to be on the ice. In terms of playing the puck and the puck bouncing, I think both goalies can be credited for how they played."
Jeff Taffe
Q: On playing outdoors.
A: "It's a neat experience for the fans. The outcome isn't what we wanted, but I think we played a good game tonight. The fans would like to have seen a little bit more scoring, but it's one of those things we the conditions out there."
Q: On Sabourin's big saves in the third period.
A: "It was huge, because I was out there for that one holding my breath. I was chasing him back there, but it was a big save by [Sabourin]. Anytime we can get into overtime and obviously get a point out of it."
Dany Sabourin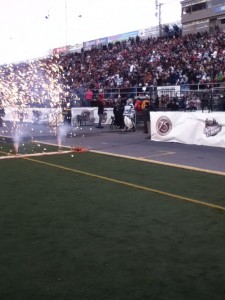 Q: On the experience of playing outdoors.
A: "It was a great experience again. I've been to two of them, in Buffalo and last year in Philly and this one was great. It's better when you win though."
Q: On making some big saves at the end of the third period to extend the game to overtime.
A: "It was a close one. He had lots of time and I was patient, I did a good job on it. He come to me [and said] you didn't want to go down? He was trying to get me to go down and try to maybe go on his backhand, but I did a good job. Just kind of sad I couldn't do the same thing on the overtime."
Q: On starting in goal as opposed to watching from the bench like past Outdoor Games.
A: "It's a totally different experience. It was nice to play. I just remember when you play outside as a kid having fun, and even though it's for a big two points, but it's so different that you have no choice to think about that when you were a kid and playing outside. The experience was awesome. I really enjoyed myself."
Tomas Kundratek
Q: On the experience playing outside at Hershey Park Stadium.
A: "It was awesome, it was a great experience. I think [every guy] enjoyed it, it was awesome."
Q: On his second period goal.
A: ""I try to join the rush once in a while. Taffer did a great job and passed the puck and I just tried to hit the net and it went in. Every goal is great and I wish it would be the winning goal."
Q: On Dany Sabourin's performance in net.
A: "Dany [Sabourin] was unreal. He was doing a great job moving the puck, helping us on the wall. He was great."
Q: On Oleksy's fight in the second period to give Hershey momentum into the third period.
A: "It was a great fight by Oleksy. He did a great job, it was unreal, it was huge for us and then we got a goal right after. It was awesome."
You can follow Matthew on twitter @m_speck and email him at mspeck21@yahoo.com with any questions or comments.