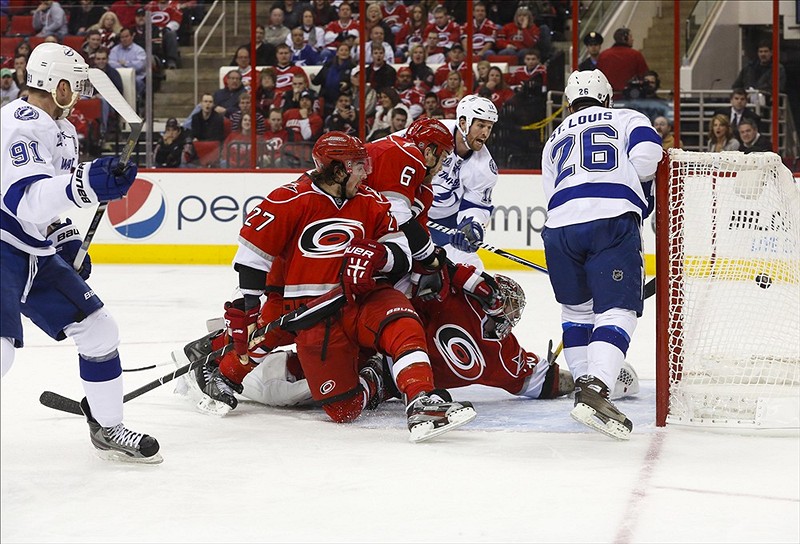 RALEIGH, N.C.—The Carolina Hurricanes have lost their first two games of the 2013 season, and in the process have surrendered nine goals against. Sure, they've only scored two themselves, but we know they have the offensive firepower in place to start lighting the lamp more frequently.
The defense, on the other hand? A bit more questionable right now.
Tim Gleason and Justin Faulk have looked good; Jay Harrison has been solid, and Joni Pitkanen has had his moments. Other than those four, however, the Canes haven't gotten the kind of effort they need from their blueline—and it's showing in the box score.
Bobby Sanguinetti, recently called up from Charlotte of the AHL, has struggled considerably in the first two games of the NHL season. He'll likely take a seat on Thursday when Buffalo comes to town, which would give Jamie McBain his first action of the year.
The pairing of Sanguinetti and Pitkanen were on the ice for Tampa's first two goals on Tuesday, and unsurprisingly, that combination will be broken up by Kirk Muller.
"We need a guy who can play the minutes with (Pitkanen)," the head coach said after losing to the Lightning. "We gotta find which guy can do that … (Sanguinetti) was playing in Charlotte and he's used to the minutes. We took a chance to see if that would be a match-up … overall, as a group we have to be tougher and stronger back there and defend better."
Defense Missing Allen
The Canes are clearly suffering from the loss of Bryan Allen, who departed in the off-season for Anaheim. The Kingston, Ontario native provided some much-needed stability to Carolina's D last year, and was half of a strong top pairing—the other half being Gleason.
Joe Corvo was brought in to fill Allen's void, and he's yet to play at a comparable level. Corvo has been sloppy with the puck and frequently out of position in his own end of the ice, and has a minus-two rating and two bad penalties to show for it.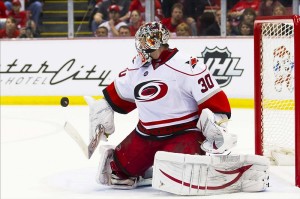 Ward Not Looking Sharp
But these issues cannot fall solely on the defensemen. Former All-Star and Conn Smythe winner Cam Ward has had a difficult time between the pipes, as well. The 28-year-old netminder didn't play during the lockout, and it's pretty clear that he's not in mid-season form at the moment.
Ward has surrendered eight goals in four periods of play in 2013—several of which have been uncharacteristically soft for him. Perhaps more so than the blueline, the Canes need their starting goalie to return to form before they can work towards evolving into a contender.
"Well, we had a lockout for half a season and we had a week-long training camp," Ward told the News & Observer. "I'm doing the best with the time that I've got. Obviously I don't go into games hoping to get scored on. Judging by my tone, I'm obviously not happy with it, but I'm not going to sit here and dwell on it."
Team Looking for More Grit
Heading into Thursday, the Canes will be looking to play a rougher style of hockey against the Sabres than they did against the Panthers and Lightning.
"I would say the area we need to get better at is we have to be a tougher team to play against," Muller said.
Said Captain Eric Staal: "This game is won by battles, physical play and being tough to play against. We need to be a little stronger there."
First Period Lulls Need to End
With 120 minutes to play in two nights this week versus Lindy Ruff's club, Carolina can't afford any more slow starts. The Canes gave up four and two first period goals in their first two games, respectively—four more than they've accumulated in total.
"We have to come out hard, come out harder than we're doing," Gleason said. "We just have to put our work boots on from the beginning and come out more focused and ready to play. The first period so far—that's what's killed us."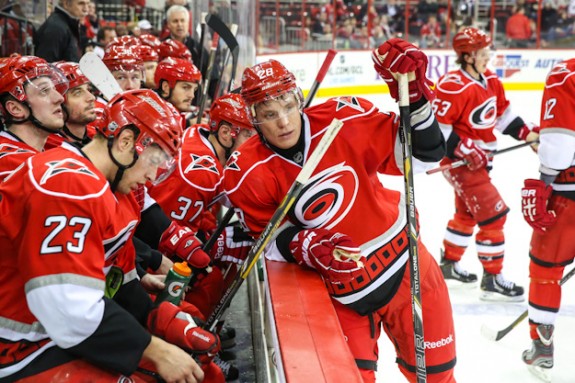 *  *  *
Buffalo has won its first two games, beating the Flyers 5-2 and the Leafs 2-1, respectively. The Sabres and Canes will play each other in back-to-back days Thursday and Friday, the first in Raleigh and the second in upstate New York.