With Jamie Benn still without a contract, the Dallas Stars have been searching for a second line center to fill the void until Benn returns.
The Tom Wandell experiment ended after two games. In a win against Phoenix and a loss to Minnesota, Wandell played only 12:53 and 12:33, respectively, despite being listed as the man centering Michael Ryder and Ray Whitney.
Perhaps having Wandell at line two was one last chance for him to prove he can be a serviceable scoring option as an NHL player. A fifth round pick in the 2005 NHL Draft, Wandell had 41 points in 51 games for Timra IK of the Swedish Elite League in 2008-09. However, he has never eclipsed 20 points at any level in North America.
Enter Cody Eakin, the 21-year old center acquired, along with a second round pick in the 2012 NHL Draft, for Mike Ribeiro back in June. Unlike Wandell, Eakin has a history of offensive proficiency, posting 91 points with Swift Current of the WHL in 2010-11.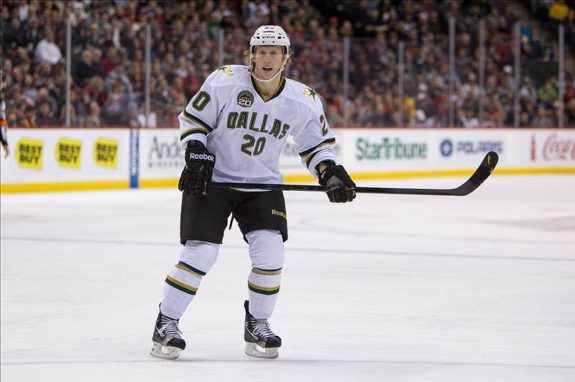 He had 24 points in 35 games with the Texas Stars of the AHL this season prior to the lockout's end. Given his past success, he seemed like a natural fit as temporary fill-in on the second line.
After playing only 10:32 against Phoenix and 8:55 against Minnesota, head coach Glen Gulutzan decided to promote Eakin to that second line.
The move paid off, as Eakin assisted on both of Ryder's goals in a 2-0 win against Detroit on Tuesday night.
In speaking with Mike Heika of the Dallas Morning News following the game, Eakin credited his time in the AHL for his success on the second line.
"I'm not sure I was ready then. I might have overthought things and tried to be too skilled and play a different way," Eakin told Heika. "But having played in [the AHL] and having gotten a little time in this system, I knew I had to just play my game."
Ryder was impressed by the way Eakin played, he told NHL.com following the game.
"Eaks plays hard and he was doing a good job," Ryder said of Eakin, according to NHL.com. "He gets in on the forecheck and creates those turnovers. He created some space for me and [Whitney]. He did well and I was impressed with the way he played. He did a lot of good things and he helped us out."
So how long will Eakin be counted on to be a top-six forward? TSN's Bob McKenzie reportedly said that Dallas and Benn are a few hundred thousand dollars apart. A lot of money, yes, but a small percentage of a deal that could exceed $30 million during its duration.
In his latest 30 Thoughts column, Elliotte Friedman cites Jeff Skinner's six-year extension that begins next season as the most accurate comparable contract. He added that he believes that Benn's contract will be settled before P.K. Subban of Montreal or Ryan O'Reilly of Colorado.
Regardless of how long it takes, Dallas is treating Benn's absence as if he was injured, and Eakin appears to be the most qualified replacement for the interim.