There is a distinct buzz is in the air! The puck is about to drop in San Jose for the Sharks home opener. This Thursday the NHL hockey is officially back in Northern California when the Sharks host the Phoenix Coyotes. After two solid performance against Alberta teams – the Flames and the Oilers – fans would be eager to welcome back their beloved team in hopes that the Sharks would get a 3-0 start to their campaign. The Sharks should be able to maintain their form, and excitement against the Coyotes who started their regular season with a 0-2 record.
On Thursday there are sure to be plenty of house parties and pub get-togethers with thousands of people watching the game inside "the Tank", around San Jose, and across the world. If you are planning to watch the game with someone else, be sure to test their knowledge with this short 10 questions quiz! Have a go yourself, and then test your buddies! It could be a perfect trivia knowledge test or an ignition to start friendly fan chirping about who is the most knowledgeable Sharks fan. Try it during the downtime either before the game, or during the intermissions! Answers can be found at the bottom of the quiz. Let's drop the puck already!
[Also: 5 Sharks to Watch in 2013]
The Sharks Home Opener Quiz – 10 Questions: (answers at the bottom – don't peek)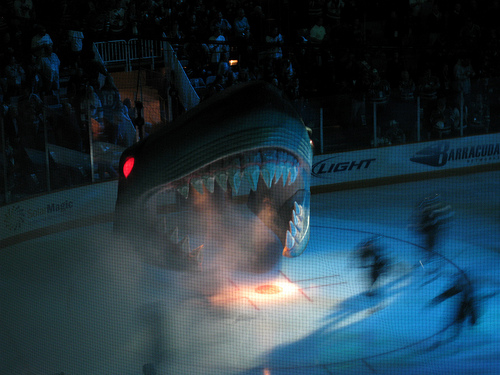 1. Who was in the net when the San Jose Sharks recorded their first win on October the 8th in 1991?
A) Jeff Hackett
B) Arturs Irbe
C) Brian Hayward
2. Who did the Sharks select with their 1st round (2nd overall) pick in the NHL Entry Draft 1991?
A) Ray Whitney
B) Pat Falloon
C) Doug Wilson
3. Who is the all time point leader for the San Jose Sharks?
A) Patrick Marleau
B) Owen Nolan
C) Jonathan Cheechoo
4. How many Hall of Fame inductees have played for the San Jose Sharks?
A) 1
B) 2
C) 3
5. Who is the oldest player for the San Jose Sharks this season?
A) Dan Boyle
B) Joe Thornton
C) Brad Stuart
6. Since team's induction, which was the only year when the San Jose Sharks did not have a representative in the All Star Game?
A) 1992
B) 1997
C) 1998
7. Which individual award was the first one in the Sharks trophy cabinet?
A) Bill Masterton Memorial Trophy (Tony Granato)
B) Calder Memorial Trophy (Evgeni Nabokov)
C) Maurice 'Rocket' Richard Trophy (Jonathan Cheechoo)
8. Who scored the most playoff goals for the San Jose Sharks?
A) Owen Nolan
B) Mike Ricci
C) Patrick Marleau
9. With 671 games under his belt, which blueliner has the most regular season games for the Sharks?
A) Brad Stuart
B) Mike Rathje
C) Marc-Edouard Vlasic
10. Who is the only player to amass more than 1000 penalty minutes playing for the San Jose Sharks?
A) Owen Nolan
B) Bryan Marchment
C) Jeff Odgers
Answers:
1.C, 2.B, 3.A, 4.B, 5.A, 6.C, 7.A, 8.C, 9.B, 10.C