As the twenty-game mark approaches, the NHL standings are starting to take true form and with that projecting where teams might end up selecting in the 2013 NHL Entry Draft becomes a little easier. Mock drafts remain a pure guessing game and are constructed merely to entertain hockey's most die-hard fans but it also serves to show whereabouts draft-eligible players are being considered. Predicting how thousands of scouting hours, among hundreds of scouts, from thirty different NHL franchise, all with different needs will reflect the final 2013 NHL draft order is virtually impossible. As you browse through the following mock draft take into account the countless different scenarios and possibilities and accept that the end result of the mock draft is for sheer recreation.
*Mock draft does not take into account the NHL draft lottery, playoff implications or potential trades.
**Draft order reflective of NHL standings as of Sunday, February 24th, 2013.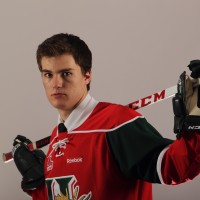 1st Columbus Blue Jackets – Jonathan Drouin, LW (Halifax Mooseheads, QMJHL)
The Blue Jackets are in a tough position with arguably four franchise players to choose from with the top selection. Last season, Columbus was robbed of the top pick when the Edmonton Oilers won the draft lottery to select Nail Yakupov. With a slew of talented defensive prospects, including 2012 2nd overall selection Ryan Murray, and three first round picks, Columbus opts to select Jonathan Drouin. In Drouin, the Jackets add an electrifying player who will get fans out of their seats with all-world puck skills and an unmatched on-ice hockey sense in this draft class. If Columbus passes on Drouin, Nathan MacKinnon certainly would be an equally valuable player for the Blue Jackets with his blazing speed and total package of skills.
2nd Washington Capitals – Seth Jones, D (Portland Winterhawks, WHL)
In recent drafts, owning the second overall pick often results in an easy decision – pick the next best player. However, in the 2013 draft class the decision becomes more complicated not knowing which player will be selected first overall as well as having several other worthy candidates. With MacKinnon and Seth Jones available, Washington has an opportunity to add a valuable centre ice man or a future defensive stalwart. After taking a look at the Capitals' depth chart and factoring in how difficult it is to find a defenseman of Seth Jones' calibre, George McPhee (assuming he is still in charge) will draft the Texas born Seth Jones and add a vital player for decades to come.
3rd Buffalo Sabres – Nathan MacKinnon, C (Halifax Mooseheads, QMJHL)
All 30 NHL teams would love to have the opportunity to own the third overall selection in 2013 NHL Entry Draft with the high-end prospect crop available this season. Buffalo essentially owns a top pick and they will quickly snap up the draft's best skating pivot in Nathan MacKinnon if he remains on the board long enough to reach third overall. The Sabres have had a lowly season to date but bringing in a player of MacKinnon's breed would quickly mend bad feelings swirling around the Buffalo Sabres' fan base.
4th Florida Panthers – Aleksander Barkov, C (Tappara, FIN)
It is starting to sound like a broken record, but the Florida Panthers would be the fourth team to add a potential franchise player to their depth chart with an opportunity to select big Finnish centerman Aleksander Barkov from Tappara. With no real weakness in his game and a late birthday, Barkov has the potential to develop into one of this draft class' most dangerous forwards.
5th Colorado Avalanche – Elias Lindholm, C (Brynäs, SWE)
The Ryan O'Reilly debacle has been extremely messy in Colorado this season but with an chance to bring in a responsible two-way centre with above average offensive abilities, Mr. O'Reilly can be replaced with a fresh face of equal or better ability. The last first round pick Colorado owned came two years ago when the Avalanche selected Gabriel Landeskog second overall and with Lindholm, the Avs add a similar hardworking skilled Swede.
6th Edmonton Oilers – Darnell Nurse, D (Sault Ste. Marie, OHL)
The Oilers enter the 2013 NHL draft in an unfamiliar place as they sit out of the top slot (for now) for the first time in three years. Since 2010 when Edmonton drafted Taylor Hall from the Windsor Spitfires, the Oilers have selected a player from the Canadian Hockey League with its first round selection and do not be surprised if that trend continues. With an embarrassment of riches at the forward position, Edmonton will likely target a defensive prospect to add to its young talented roster and Darnell Nurse owns the skills, toughness and versatility that Edmonton could easily integrate into their system. There will be plenty of options if Edmonton chooses to draft a defenseman with Ristolainen, Pulock, Morrissey and Zadorov as other options as well.
7th Calgary Flames – Sean Monahan, C (Ottawa, OHL)
The Flaming C was donned by Mark Jankowski last year at the draft surprising many teams after Calgary traded down to select the raw offensive high school standout in the 21st position. It was a risk that Jay Feaster and company felt was necessary and only time will tell if it was a successful gamble but there isn't a better player for Calgary's future than Sean Monahan of the Ottawa 67's. Considered almost NHL-ready, Sean Monahan plays a complete game from goal line to goal line and Calgary would graciously welcome his top-six potential into an offensively challenged and aging lineup. Calgary has a tendency to stick to it's North American prospects in recent drafts and if Sean Monahan dons the orange and yellow jersey then he could quickly spark a fire under a frustrated fan base.
8th Winnipeg Jets – Hunter Shinkaruk, LW (Medicine Hat, WHL)
With a stable blueline and a strong scouting staff in the Canadian Hockey League, look for the Jets to add a forward with some tantalizing offensive upside. Hunter Shinkaruk and Max Domi are two players who share that description and while my gut instinct says 'Domi', Shinkaruk is the player with less risk in his game so it is he that ends up in the 'Peg. Shinkaruk is an elusive scoring winger with an element of excitement to his game that could look nice alongside future number one centerman Mark Scheifele.
9th New York Islanders – Max Domi, C (London, OHL)
The Islanders have had great success drafting forwards out of the Ontario Hockey League and with them using all seven draft picks last year on defensemen, Garth Snow opts to swing for the fences with Max Domi from the London Knights. A player with elite offensive skills and a non-stop motor packed into a small frame, Domi knows how to create offense and has an ability to elevate his game when the game is on the line.
10th Columbus Blue Jackets (via Los Angeles Kings) – Rasmus Ristolainen, D (TPS, FIN)
As the NHL's first European General Manager, Finn Jarmo Kekalainen gets his chance to add a potential franchise defenseman from his homeland in Rasmus Ristolainen. The big defender competes with great poise and confidence and that type of presence would be welcomed in Columbus. He is a mobile defenseman that makes smart decisions with the puck and understands how to play within his skillset.
11th Columbus Blue Jackets (via New York Rangers) – Valeri Nichushkin, C (Traktor Chelyabinsk, RUS)
With its third pick in the draft courtesy of the Rick Nash trade, Columbus replaces Nash's size with a similar rangy forward in Russian Valeri Nichushkin, considered a top 10 talent. Nichushkin is a risky pick considering Columbus' track record of developing Russians but with a new front office in place, Columbus is not the same team and adding a skilled big forward in Nichushkin is a big gain for the Blue Jackets.
12th Minnesota Wild – Anthony Mantha, LW (Val d'Or, QMJHL)
With a wealth of top prospects, Minnesota can take a chance selecting a player with raw offensive potential and Anthony Mantha fits that billing. He is a winger with great on-ice vision and an ability to create offense off the rush but his consistency and attention to detail will require further development and time.
13th San Jose Sharks – Ryan Pulock, D (Brandon, WHL)
The Sharks have struggled in recent drafts failing to add prospect depth but if Ryan Pulock is available when their selection comes due then they will surely be adding a promising blueliner. Pulock owns a howitzer of a shot that complements his cerebral game well. He doesn't play in a huge frame but he competes smart and would make a great eventual replacement to an aging Dan Boyle.
14th Carolina Hurricanes – Josh Morrissey, D (Prince Albert, WHL)
Morrissey is a smooth skating offensive defenseman that comes in a similar mold as Hurricane's 2011 1st round selection, Ryan Murphy, but with a more developed defensive game. An instinctual defenseman, Morrissey understands the game well at both ends of the ice and has shown continual improvement.
15th Tampa Bay Lightning – Nikita Zadorov, D (London, OHL)
Lightning GM Steve Yzerman has shown adds another Russian gem to its development system in 6-foot-5 Nikita Zadorov. A mobile defenseman with an ability to lay bone-crushing body checks, Zadorov is a player with a appealing potential and would fit nicely into the Russian community Yzerman is creating in St. Petersburg. His defensive game has improved throughout his rookie OHL season and there have been flashes of offensive potential but he remains a raw rearguard offensively.
16th Phoenix Coyotes – Adam Erne, RW (Quebec, QMJHL)
Locking up a big powerful forward with a physical frame to develop into an impact power forward in Adam Erne would be a big get for the Phoenix Coyotes. Erne lacks a real standout skill but in a Coyotes' system that preaches smart hockey, Erne could excel.
17th Dallas Stars – Kerby Rychel, LW (Windsor, OHL)
The Stars have gravitated to drafting big forwards over the past few years under GM Joe Niewendyk and adding Spitfires' forward Kerby Rychel would continue that trend. Rychel has shown to be a great complementary scoring winger especially when he uses his size. With good size, scoring instincts and the potential to get gritty, Rychel has some interesting pro potential.
18th Philadelphia Flyers – Robert Hägg, D (Modo, SWE)
With few noteworthy prospects in the Flyers' farm system, Philadelphia will look to add a player who can play big minutes and contribute in the team's skill game. Hägg is a cerebral defenseman with an ability to slow the game down dissecting his opponents. He is an excellent passer who handles the puck well under pressure and he could be a nice addition to a Flyers' team looking for fresh faces on their blue line.
19th Nashville Predators – Frédérik Gauthier, C (Rimouski, QMJHL)
The Predators have perfected the art of drafting defensemen but now it's time to add some impact forwards and Oceanic breakout forward Frédérik Gauthier would fit nicely into the Nashville system. He is a responsible two-way forward with an impressive compete level making him a relatively safe pick mid-way through the opening round.
20th Detroit Red Wings – Alexander Wennberg, C/LW (Djurgården, SWE)
A forward with good size and an extremely intelligent hockey mind, Alexander Wennberg screams Detroit Red Wings' material. His vision, smooth puck handling skills and ability to execute accurate passes makes him a prospect with very projectable NHL skills.
21st St. Louis Blues – Shea Theodore, D (Seattle, WHL)
A gifted skater, Theodore is a mobile defenseman with good four-way agility and has the potential to become a solid top-four defender. He owns a hard accurate point shot and defends the opposition well plus he owns some great intangibles (great leader).
22nd Toronto Maple Leafs – Bo Horvat, C (London, OHL)
There is a good chance that Bo Horvat is not available if the Maple Leafs pick this late but he is an ideal candidate to don the blue and white. An extremely intelligent hockey player who competes hard at both ends of the ice, Horvat is also has an exceptional ability to read the ice well. For a team looking for a centerman who doesn't lose a faceoff and competes the entire length of the ice, Horvat is an attractive player for Leaf nation.
23rd Boston Bruins – Ryan Hartman, C/RW (Plymouth, OHL)
In a similar mold as current Bruin Brad Marchand, Ryan Hartman is a high-energy skilled forward with an ability to agitate his opponents. His upside remains a question mark but his offensive skills are showing that he has the fundamentals to serve as a top-six forward and earn special teams ice time.
24th Vancouver Canucks – Madison Bowey, D (Kelowna, WHL)
Playing in close quarters to Vancouver is Kelowna's Madison Bowey, a mobile defenseman with a strong two-way game, a component accurate with many of Kelowna's recent graduates to the NHL including Shea Weber, Duncan Keith, Tyler Myers, Sheldon Souray, Alexander Edler, Josh Gorges and Luke Schenn.
25th Ottawa Senators – André Burakovsky, LW (Malmo, SWE)
Senators add a speedy winger with good playmaking instincts by selecting André Burakovsky. Ottawa has had good recent success drafting players holding Swedish passports and Burakovsky is a promising player that can serve as a versatile forward and as a bonus, he is already gaining valuable experience among men in Sweden.
26th New Jersey Devils – Jason Dickinson, LW (Guelph, OHL)
Dickinson has shown flashes of great offensive skills and his size, hockey sense and one-on-one skills are very promising. The Devils would be adding a potential top-six winger who has yet to tap into his offensive skills. With the lose of Zach Parise last off-season, Dickinson would give the Devils a legit top-line contender in the future.
27th Montreal Canadiens – Curtis Lazar, C (Edmonton, WHL)
With Galchenyuk firmly planted as Montreal's future top-line centre, Montreal adds a versatile two-way forward to strengthen the bottom half of their lineup. Lazar has the skills to play in a top-six role and could develop into a player much like the Ryan O'Reilly's and Dustin Brown's of the league, playing anywhere inside the top-nine forward spots.
28th Pittsburgh Penguins – Anthony Duclair, LW (Quebec, QMJHL)
With the 28th pick, Pittsburgh rolls the dice on speedy forward Anthony Duclair in hopes of one of their late-round forward selections panning out, something that has not happened often in Steeltown. Duclair is a winger with an ability to create lanes and scoring opportunities using his blazing speed and quick hands.
29th Anaheim Ducks – J.T. Compher, C (USNTDP, USHL)
The Ducks opt to select a heady two-way forward in J.T. Compher. The product of the US National Program remains one of the most complete forwards in the draft class and his desire for winning is a contagious quality. Offensively, Compher has good complementary skills that derive mainly from his advanced playmaking abilities.
30th Chicago Blackhawks – Zach Fucale, G (Halifax, QMJHL)
There are several routes the Blackhawks could go with the 30th selection but with underwhelming goaltending prospect depth, selecting Zachary Fucale would be a smart play. As one of the few goaltenders with starting potential, Fucale has shown good poise between the pipes and an attitude driven to win.
Please follow @RossyYoungblood as he continues to focus on 2013 NHL draft eligible forwards.