The Washington Capitals early season struggles continued Thursday night in their 5-2 loss to the Pittsburgh Penguins, dropping to 2-8-1 on the season, dead last in the NHL. Special teams, a lack of strong goal-tending, a lack of effort and intensity all hurt Washington last night, as they continued to quickly become the joke of the 2013 National Hockey League season. The Capitals have yet to win on the road, and hold a league worst -16 goal differential.
With the loss to the Penguins, Washington has dropped three straight contests as they near the quarter mark of the 48 game schedule. The Capitals schedule doesn't offer any hope however, with divisional contests against the Florida Panthers and Tampa Bay Lightning upcoming, along with tough games against the New York Rangers and New Jersey Devils.
Offensive Struggles
Washington's offense has been perhaps the most prominent struggle, 24th in goals per game at 2.27 per contest, as only a few players have contributed consistently. Perhaps it's the fact that the players aren't shooting the puck enough, only averaging 28.1 shots on goal per game, but the Capitals are an embarrassing 1-3 when outshooting their opponent.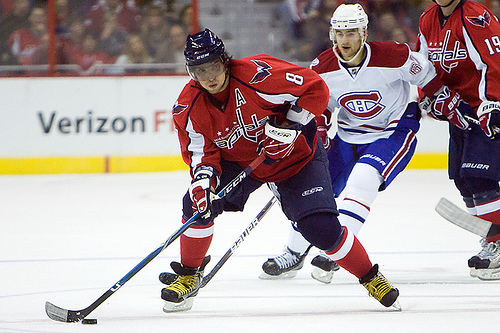 Washington only has seven forwards who have contributed more than two points through eleven games, with scoring depth nowhere to be found. Center Mike Riberio has been the catalyst offensively, registering 13 points along with a plus three through eleven games. Alex Ovechkin has yet to score an even strength goal this season, with all of his three goals coming on the man advantage. He has yet to show a commitment to the defensive end either, with a minus five placing him second worst for Washington forwards.
Former Nashville Predators forward Joel Ward has been a pleasant surprise following a disappointing first year in the nation's capital last season, registering four goals, tied for first on the team. Troy Brouwer has been average at best on the offensive side of things, with only five points on the season.
The Capitals power play has turned it around of late, converting at a 21.4% clip through eleven games, good for 13th in the NHL. If Washington can get their man advantage unit to past from, there's still a shot at a respectable record this season.
Penalty Killing/Goaltending
Washington surrendered three power play goals over a span of 4:21 in their loss to Pittsburgh on Thursday, dropping their penalty killing to a 70.6% rate, 27th in the league. The goalies haven't been stellar on the PK for Washington either, but there have been numerous defensive breakdowns, which continued on Thursday night.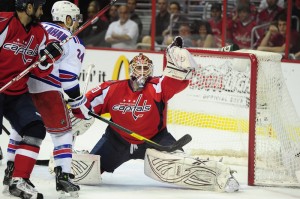 Both Capitals goalies, Braden Holtby and Michal Neuvirth, have been average at best, not helping an already inept Washington blue line. Neither goalie holds a save percentage above .900 and Neuvirth leads the team with a subpar 3.05 goals against average. Holtby (1-4, 4.74 GAA) replaced Neuvirth in Washington's loss to the Penguins Thursday night, after Neuvirth gave up two goals.
"A little bit of everything," Washington head coach Adam Oates said of what needs to change. "You got to be a strong team, you go to do as many little things as you can, which includes the goalie. Our power play is fine, the penalty killing has got to get better, no question. We got to fight through our mistakes."
Lack of Mental Focus
Along with obvious struggles by the goalies, penalty kill and offense, there's been many mental lapses from Washington as well early this season. Defensive breakdowns have clearly haunted the Capitals to this point in the season, but numerous delay of game penalties and lack of focus in their own end put Washington in a hole they often fail to climb out of.
"We definitely got outplayed in that second period," said defenseman Karl Alzner after the loss on Thursday. "We weren't strong enough on pucks, we weren't hard enough. We weren't bearing down enough."
Forward Troy Brouwer put it best after the loss on Thursday, pointing out that the team needs to dig in and work harder to get back into the win column.
"It seems like guys think this is going to turn around without any extra effort and that's not the case."
"Not a whole lot of confidence in our abilities right now," added Brouwer. "We did look deflated because we were. We got to continue to try and battle through."
Washington must turn this ship around quickly, or Capitals' fans will already be debating who the team should pick with the first overall pick in the NHL draft.
You can follow Matthew on twitter @m_speck and email him at mspeck21@yahoo.com with any questions or comments.