General Manager George McPhee and the Vegas Golden Knights drafted 13 defensemen at the 2017 NHL Expansion Draft, in addition to the few blueliners acquired in subsequent trades. With the Golden Knights' first NHL Entry Draft on the horizon, McPhee acknowledged how he has a surplus of defensemen, even after completing a few trades on Thursday, and he will look to move them accordingly.
While some players' time as a Golden Knight, like David Schlemko and Trevor Van Riemsdyk may have been brief, the defensemen originally drafted by the newest NHL franchise are still a part of history as the first members of the team via the expansion draft as an early iteration of their inaugural roster.
Marc Methot
The Golden Knights headlined their defensive selections with Marc Methot from the Ottawa Senators. Since Dion Phaneuf did not agree to waive his no-movement clause, the Senators were limited to protecting only two other defensemen — Cody Ceci and Erik Karlsson. Once the 32-year old was exposed, he seemed like a likely choice for McPhee and the Golden Knights, despite them having younger defensive options like 24-year-old Fredrik Claesson.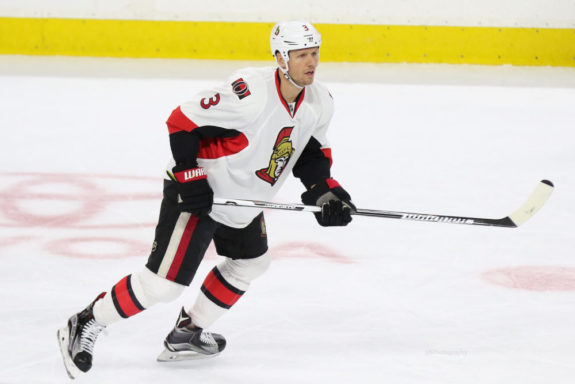 Methot's career can be highlighted by his time on the Senator's top defensive pair with Karlsson. Being on a pair with Karlsson — 2588 of the 3234 5-on-5 minutes he played in the last three seasons were spent with Karlsson — certainly helped improve his play. Still, he could prove to be a key acquisition for the Golden Knights, especially because he is generating interest elsewhere.  Methot may have been drafted with the intention to flip him for other assets to teams in contention for the Stanley Cup.
The only stipulation the Golden Knights have to consider since they chose Methot and his contract that entails two more seasons with a cap hit of $4.9 million, is his modified no-trade clause.
Jason Garrison
From the Tampa Bay Lightning, the Golden Knights picked defenseman Jason Garrison. In order to sway McPhee away from exposed players like Cedric Pacquette and JT Brown, and towards absorbing 32-year-old Garrison, his $4.6 million cap hit and no-trade clause, Steve Yzerman sent the Golden Knights a 2017 second-round pick, 2018 fourth-round pick and prospect Nikita Gusev.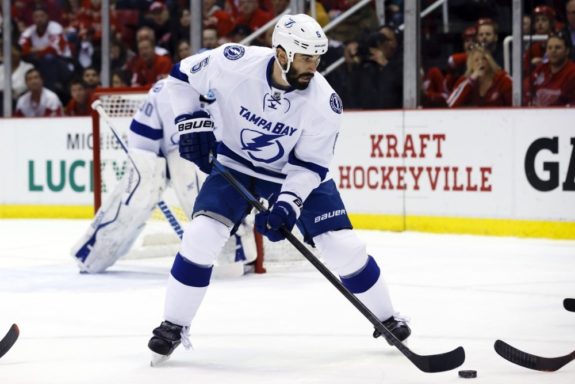 Gusev, a 2012 seventh-round pick of the Lightning, is currently playing in the KHL. After his contract expires in a season, Gusev could transition to the NHL. As a part of the Golden Knights, he could reunite with his former line mates Vadim Shipachyov, and possibly even Evgeny Dadonov – who the Golden Knights have reportedly been working on a deal with.
Alexei Emelin
From the Montreal Canadiens, Emelin was selected. The 31-year-old defenseman carries a cap hit of $4.1 million for one more season, as well as a modified no-trade clause. While younger players were available, like forward Charles Hudon and defenseman Brandon Davidson, the Golden Knights instead selected gritty veteran Emelin.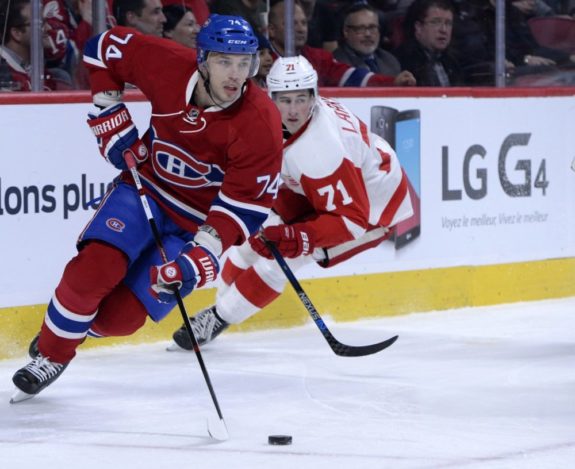 After losing Emelin, the Canadiens blue line looked thin as they have already lost two defensemen and decided not to qualify a third in Nikita Nesterov – they traded the Golden Knights after the draft for their selection from the San Jose Sharks, David Schlemko.
As for Vegas, Emelin may not be a mainstay as he could be traded as well for other assets. If Emelin remains a Golden Knight for next season though, he could bring experience and a veteran presence to the inaugural team's locker room.
Luca Sbisa
The Vancouver Canucks unfortunately did not have the most appealing options available to be drafted by the Golden Knights, so Sbisa, one of the more established options, was chosen.
The 27-year-old defenseman is signed for one more season, with a cap hit of $3.6 million. While he may have been playing on a lackluster team in recent seasons, his play in particular was dreadful. McPhee may be hoping that moving Sbisa to a new city will re-ignite his game or that he can generate enough interest to move him elsewhere.
Clayton Stoner
Leading up to the expansion draft, the focus was on the Anaheim Ducks defensemen. Both Sami Vatanen and Josh Manson were exposed, but the Ducks were looking to retain them past the draft to avoid losing them for nothing, when either player could certainly bring in a number of valuable assets.
To avoid Manson or Vatanen being drafted, the Ducks struck a deal with the Golden Knights: draft 32-year-old Clayton Stoner, who is signed for another season with a cap hit of $3.25 million (because the Ducks are in a cap crunch on defense, especially with Cam Fowler's contract expiring) and acquire 21-year-old defenseman Shea Theodore as well.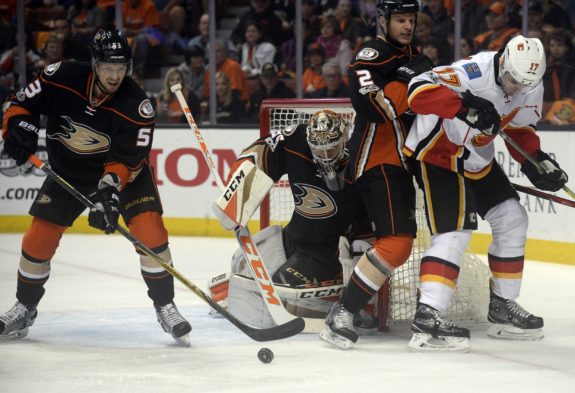 From a Ducks' perspective, the move is questionable because Theodore looks to have a promising future. On the other hand, for the Golden Knights, acquiring Theodore for the price of Stoner is certainly worth it. Theodore is a player that Vegas intends to retain, as they have denied teams looking to trade for him.
David Schlemko
From the San Jose Sharks, the Golden Knights selected Schlemko. He had just completed the first year of his four-year, $8.4 million contract. The 30-year-old defenseman appeared to be a key depth defenseman for any contending team – which is why the Canadiens traded for him.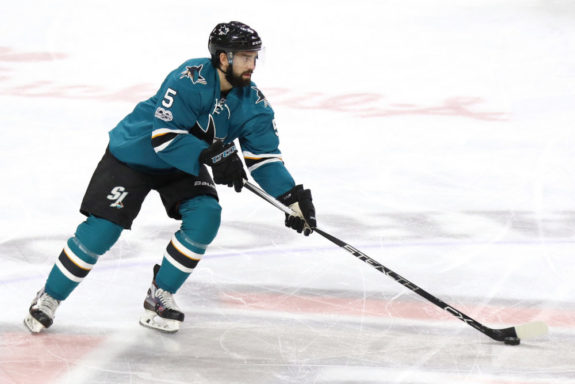 Selecting Schlemko and trading him in an effort to stock pile draft picks is a strategy for a new franchise, one that is looking to build for the future rather than focusing only on their play right now. However, the Golden Knights likely could have netted more than just a fifth-round pick for Schlemko – unless, there was an agreed upon arrangement that involved Emelin being left available for Vegas at the draft.
Brayden McNabb
McNabb looked to be the top option available from the Los Angeles Kings. The 26-year-old defenseman may not have put up an overwhelming number of points this season, but has demonstrated his defensive skills in Los Angeles. Along with his skill, he brings an element of size to the Golden Knights with his 6'4″ frame. Additionally, he is a low-risk, affordable option with a cap hit of $1.7 million for one more season.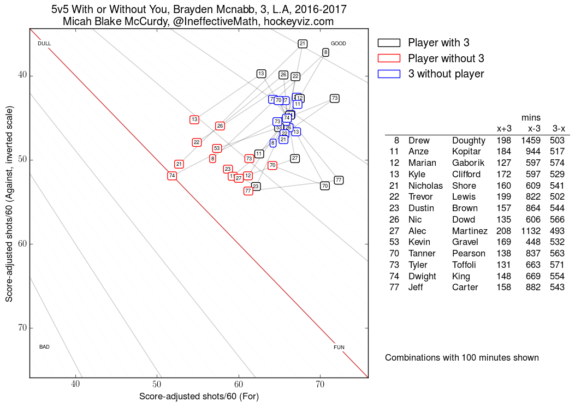 Of the defensemen drafted, McNabb likely could bring in a high return. McPhee has already expressed the Golden Knights strategy of retaining young defensemen, which is why McNabb could remain a member of the Golden Knights. If he is retained by the expansion team, he could become a key part of their blue line.
Jon Merrill
Merrill was drafted from the New Jersey Devils to add to the Golden Knights defense. Between his low cap hit ($1,137,500 for one more season) and age (25-years old), he is a low-risk option that could either find a role in Vegas or be flipped to another team seeking defensemen.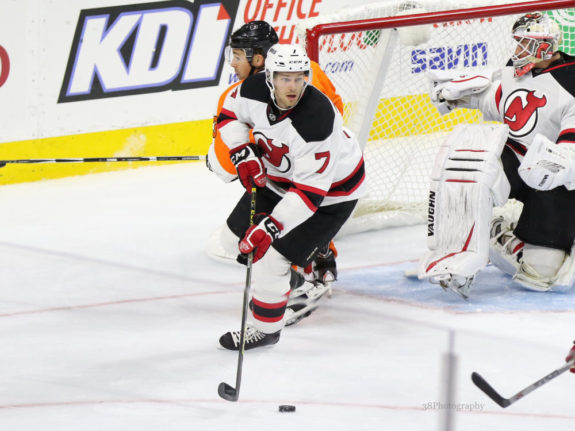 The Devils did not have many flashy players available in the expansion draft. There were other options, like Mike Cammalleri and his $5 million cap hit for the next two seasons or Ben Lovejoy and his $2,666,667 cap hit for two more seasons, but Merrill's low cost and young age made him the least risky option.
Also, like  most of the other drafted defensemen, Merrill is only signed for one more season. If he does in fact play for the Golden Knights next season and does not succeed, they could simply move on from him without any future implications.
Colin Miller
When the Boston Bruins protected Kevan Miller over Colin Miller, Colin jumped out as a frontrunner for the Golden Knights – because of his play on both sides of the ice, as well as his $1 million cap hit.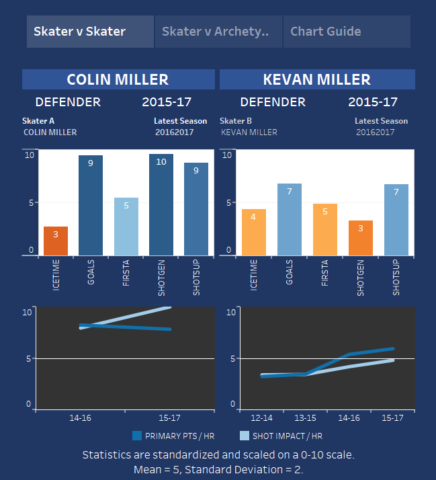 Of the defensemen drafted, only Miller, Deryk Engelland and Trevor Van Riemsdyk (who was already traded) are right-handed, which is why he could be viewed as a key piece for the Golden Knights next season. A number of teams around the league are in search of a talented right-handed defenseman, though, which is why, for the right price, he could also be moved before the season starts.
Deryk Engelland
In their exclusive free agency period, the Golden Knights signed Deryk Engelland to a one year, $2 million contract – counting as the Calgary Flames' draft pick. His contract entails a cap hit of $1 million and performance bonuses worth $1 million. The right-handed defenseman helps strengthen the area in which the Golden Knights were lacking in their initial draft.
While the 35-year-old defenseman may not have been the expected draft choice for the Golden Knights, he is a key option for more than just his on-ice contributions. Engelland actually played for the ECHL's Las Vegas Wranglers 14 years ago when he began his professional hockey career. For the last 13 years, he's been a resident of Las Vegas. His ties to the community and off-ice attributes help the budding franchise connect to their new community even more.
Trevor Van Riemsdyk
Van Riemsdyk was speculated to be the Golden Knights' pick from the Chicago Blackhawks leading up to the expansion draft. It was reported that the Blackhawks would not move Van Riemsdyk before the draft, leaving him available and exposed (due to their three no-movement clauses on defense) on the condition that they acquire Marcus Kruger and his $3,083,333 cap hit as well.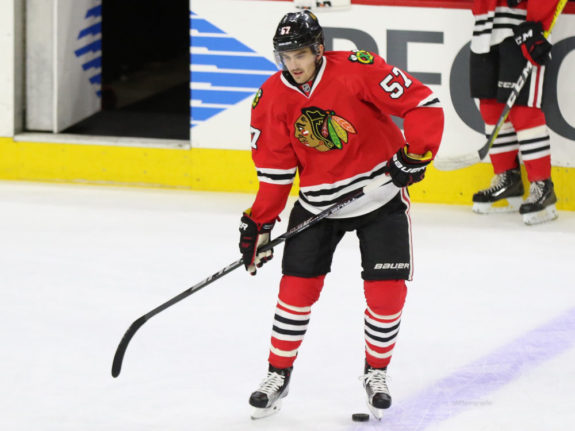 But Van Riemsdyk was not a member of the Golden Knights for long. The day after being selected, he was traded to the Carolina Hurricanes in exchange for the 62nd overall (Penguins' 2017 second-round pick). By selecting Van Riemsdyk, the Golden Knights ultimately added to their stockpile of draft picks, as well as a earned a defensive center in Kruger.
Griffin Reinhart
From the Edmonton Oilers, the Golden Knights selected pending restricted free agent Griffin Reinhart. The former fourth overall draft pick's (2012) entry-level contract is expiring on July 1. His NHL experience is limited, between eight games with the New York Islanders and 29 with the Oilers.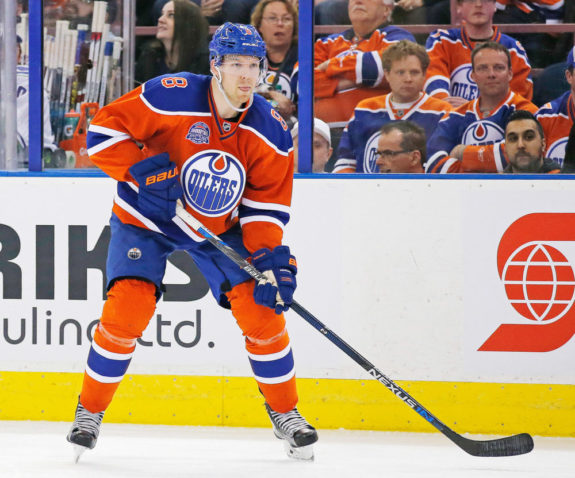 Since being signed to his entry-level contract, Reinhart has yet to prove whether he is an NHL-caliber player, as he has spent the majority of his career in the AHL. Whether he will make the Golden Knights' team (if he is not moved prior to the start of the season) has yet to be seen. If he does not make the NHL club though, he could develop further in their NHL and serve as defensive depth since they have to build up a farm system of developing players to build for the future.
Nate Schmidt
When selecting from the Washington Capitals, where McPhee served as general manager for 17 years, the question of whether he would select a player he was connected with was considered. A number of the players he traded for or drafted were available to McPhee during the expansion draft, including defenseman Karl Alzner and goaltender Philipp Grubauer.
Along with these players though, another player who was signed as an undrafted free agent after McPhee's time in Washington was available – Nate Schmidt.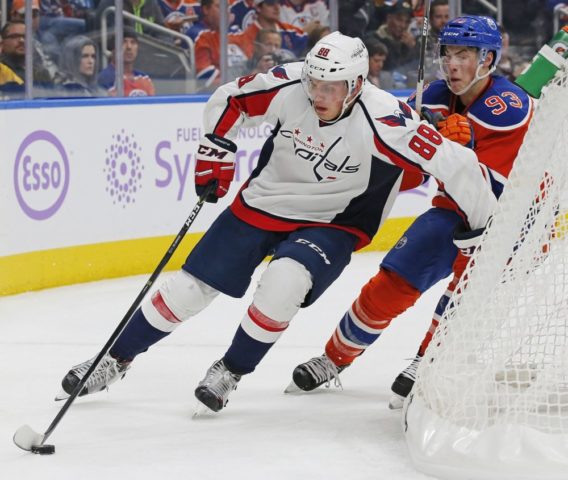 Schmidt may have been underutilized by the Capitals this season, but he looked primed for an expanded role next season. Now as a member of the Golden Knights, he could easily slot into their top four on the blue line. The 25-year-old defenseman, who is a pending restricted free agent, could become a valuable trade asset. However, as it stands, the Golden Knights seem adamant on exploring their potential with Schmidt instead.
Graduated NYU in 2016 with a Masters in Sports Business. Covering the Vegas Golden Knights from New York.