Nolan Patrick's ascension within the hockey world has been quick and decisive.
As the fourth overall pick in the 2013 WHL Bantam Draft, Patrick has long been a prospect of incredible skill and intrigue. Following three immensely successful seasons with the Brandon Wheat Kings, including a WHL championship in 2015-16, Patrick has continued to prove himself as a legitimate NHL hopeful.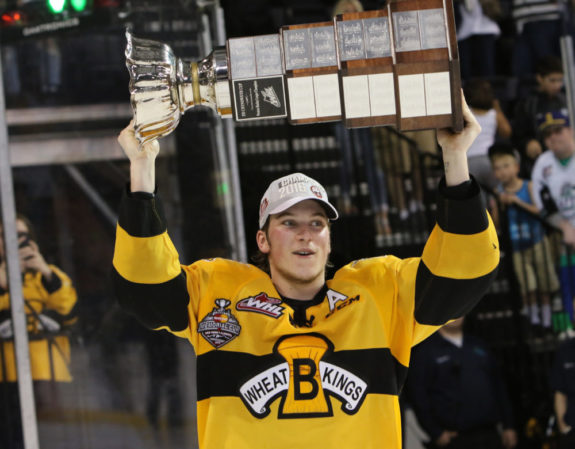 In fact, following his most recent campaign with the Wheat Kings, Patrick was awarded the Canadian Hockey League's Sherwin-Williams Top Prospect Award – a distinction which definitively defined him as more promising than both Nico Hischier and Gabriel Vilardi. Joining previous winners such as Eric Lindros,  Joe Thornton, John Tavares, and Connor McDavid, capturing the trophy reiterated Patrick's standing as the consensus first overall selection in the 2017 NHL Draft.
However, aside from all of the awards and distinctions which Patrick has earned as well as ranking first in my final Draft Ranking, a very real concern lays quietly in hiding.
A History of Injury
While Patrick's list of accomplishments quite obviously speaks for itself, an issue often lost in the conversation is the vast number of injuries which Patrick has compiled throughout his short hockey career. In fact, upon closer inspection, Patrick's injury history is more daunting and, arguably, concerning than previously imagined.
The 2013-14 Season: A Missed Opportunity?
Drafted by Brandon earlier in 2013, Patrick had spent his campaign dominating the Manitoba Midget Hockey League with the Winnipeg Thrashers. In 39 games played, Patrick illustrated his immense potential by scoring an incredible 33 goals and 63 points. So, when the Wheat Kings became plagued with injuries, it only made sense for their top prospect to garner valuable playing time and experience.
Weak draft class? Potential top pick Nolan Patrick is having none of it. https://t.co/qDBpaLoxFv pic.twitter.com/eVIfM1Pwj4

— theScore (@theScore) June 5, 2017
However, upon his call-up, Patrick was originally unable to play due to a shoulder injury. Following the conclusion of the Thrashers' season, Patrick did, in fact, skate in three games with Brandon and record one goal in the process, yet, it served as somewhat of a missed opportunity for the Winnipeg, Manitoba, native.
The 2014-15 Season: Restricted Rookie Run
Although Patrick's 2014-15 season started out with great success, the strong centre was once again hit by the injury bug. Mid-way through February, Patrick fell victim to an upper-body injury, although it was originally misdiagnosed as a lower-body issue. Ranging from February to the middle of March, Patrick missed 12 games and would go on to miss 17 total contests over the course of the season.
Despite missing nearly a quarter of his rookie campaign, Patrick still went on to record impressive totals. In 55 games played, Patrick scored 30 goals and a fantastic 56 points – a showing good enough to earn him the Jim Piggott Trophy as the WHL's rookie of the year.
The 2015-16 Season: Sustained Sophomore Success
In his sophomore campaign, Patrick exploded offensively and in doing so showed why he had long been considered one of the most promising prospects ahead of the 2017 NHL Draft. The 2015-16 season also marked the first campaign in which Patrick was able to stay healthy.
Well, for the most part.
Playing all 72 games of a WHL season for the first time in his career, Patrick netted 41 goals, 61 assists, and 102 points – a total which ranked fifth-best in the entire league. Further, he helped lead the Wheat Kings to a WHL championship and to a showing in the Memorial Cup as well.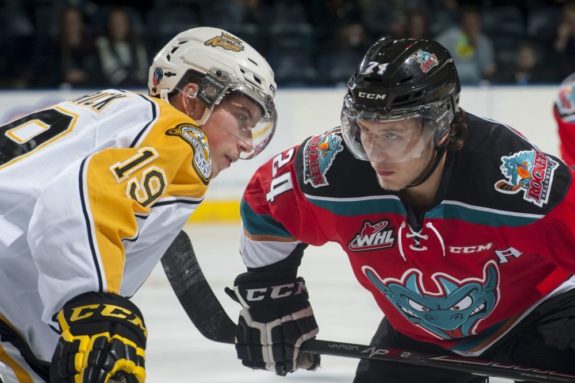 However, Patrick was not himself when his team needed him the most, as it was later revealed that the budding star had suffered a sports hernia injury half way through his team's Eastern Conference Final matchup against the Red Deer Rebels. Although Patrick must certainly be commended for his willingness to play through the injury, the harm done to his body would ultimately require surgery.
So, in the offseason of 2016, Patrick underwent surgery to aid his sports hernia scare and, as such, was forced to miss Team Canada's World Junior Championship orientation camp.
The 2016-17 Season: Surging Skill, Similar Injuries
Eager to put his surgery and growing list of injuries behind him, Patrick set out to prove himself once the 2016-17 WHL campaign got underway. Named as the team captain of Brandon and considered be the top prospect eligible for the 2017 NHL Draft, the coming season held incredible promise and pressure for the developing centre.
However, after skating in his team's first five games to begin the season, Patrick was, once again, pulled from the lineup. Although it originally appeared to be a minor day-to-day issue, the injury persisted into November and was finally revealed to have been associated with his original sports hernia injury. While surgery had addressed the right side of his groin, initial examinations had failed to see that his left side was also damaged.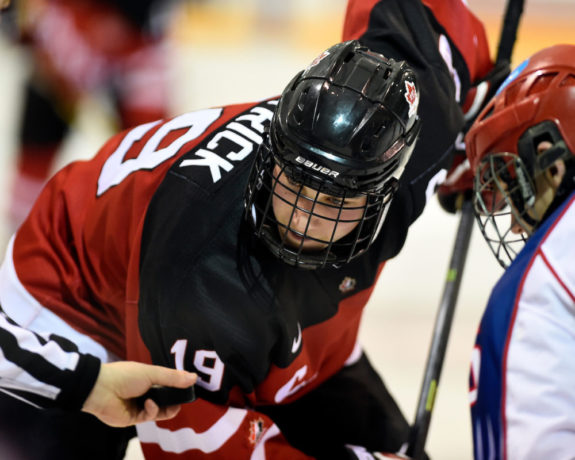 So, Patrick would go on to miss his team's next 35 contests before making his return to the team on Jan. 13, 2017. Opting to avoid an additional surgery, Patrick chose to let his injury heal "in a different way".
Yet, although injury appeared to be officially behind Patrick, the bug would strike once again late in the season. Forced to miss the Wheat Kings' final regular season game, Patrick would also miss his team's four-game playoff appearance in which they were swept by the Medicine Hat Tigers.
The Butcher's Bill
Although Patrick has quite clearly enjoyed incredible success throughout his WHL career to date, it goes without saying that it is one which has also been significantly impacted by injury. Having played in just 160 of a possible 216 regular season games, or roughly 74%, Patrick has missed more than a quarter of his major junior career due to a variety of significant injuries.
Perhaps what is more troubling – if possible – is Patrick's offensive output over the past seasons and how it has been impacted by his lack of health.
If we analyze Patrick's points per game pace over his WHL career, his output began on a steady upward trend, moving from 0.33 in 2013-14 to 1.01 and finally to 1.41 in 2015-16. However, in 2016-17, Patrick's point per game pace dropped slightly to 1.39. Now, although this is a minor change and could be due to the lesser amount of skill home the Wheat Kings, it is certainly worth noting.
Is Patrick's Health a Long-Term Concern?
So, is Patrick's health truly a long-term concern?
Well, I think it has to be, and especially so for the NHL franchise which chooses to select him at the upcoming 2017 NHL Draft. While having missed such a substantial portion of his development is of no concern to some, it has to have an impact on how he and his immense potential will be viewed at hockey's highest level.
Of course, Patrick could quite easily put these injuries behind him and enjoy a long and healthy NHL career, much like Alex Galchenyuk has been able to do with the Montreal Canadiens. However, until Patrick can honestly claim to be fully healthy and play a entire, uninhibited hockey season, concerns surrounding his health will understandably continue to abound.
Uncertainty over Nolan Patrick's health follows him to NHL Combine https://t.co/TQyxH7IP8B pic.twitter.com/30qaslcxgv

— Ottawa Sun (@ottawasuncom) June 3, 2017
Now, it goes without saying that no one wants to see Patrick sidelined for any further time, as his incredible skill makes him an undeniably tantalizing talent to behold. However, whether or not Patrick's long list of injuries will impact his selection at the 2017 NHL Draft quite obviously remains to be seen. While he surely will not fall far given his elite potential, such could occur if an NHL organization values guaranteed consistency over short-term potency.
Whichever the case may be hopefully Patrick can move past his recent injuries and focus strictly on further developing his individual game. While it could take some time to shake the 'injury prone' tag, Patrick stands poised to do so in resounding fashion given his electrifying talents on the ice.
Brett Slawson is a four-year veteran of The Hockey Writers who covers the Toronto Maple Leafs, NHL prospects, and the OHL's Mississauga Steelheads.
Contact Brett on Twitter @brettslawson92, or by email at brett_slawson@hotmail.com.