The NHL Draft Lottery takes place Saturday night in Toronto.
For just the second time in NHL draft lottery history, each of the 14 teams that did not make the postseason will have a crack at the top three spots. This rule was implemented by the league in 2016 in an effort to reduce the incentive for any team to finish lower in the standings in order to get a better draft pick (a.k.a, tanking). Vegas, set for their inaugural season, will also be included and have the same odds of scoring the number one pick as 28th- place Arizona.

The Golden Card
One lucky team will see Deputy commissioner Bill Daly flip a golden card with their logo on it.
There will be three drawings to determine the top three picks, with the first draw determining the number one selection, the second draw for the second selection and the third draw for the third selection. Once the top three picks have been selected, the remaining 12 teams will be ordered based on the final standings from this past season.
The three lowest-ranked non-playoff teams now have worse lottery odds than they had in the past. For example, the Toronto Maple Leafs, who finished 30th in 2016, had a 20 percent chance of winning the No. 1 pick (which they did). Colorado, which finished 30th this season, will see its odds reduced to 18 percent.
Last year, the Toronto Maple Leafs were awarded the No. 1 pick and chose Auston Matthews and the Winnipeg Jets moved up four spaces to win the No. 2 pick (Patrik Laine).
Ping Pong Balls Determine Outcome
The actual selection is based on a batch of lottery ping pong balls. Each ball has a series of numbers on it and all number combinations are assigned to teams at random. The accounting firm of Ernst & Young supervises the entire process.
The odds for the first draw are:
Colorado Avalanche 18.0%
Vancouver Canucks 12.1%
Vegas Golden Knights 10.3%
Arizona Coyotes 10.3%
New Jersey Devils 8.5%
Buffalo Sabres 7.6%
Detroit Red Wings 6.7%
Dallas Stars 5.8%
Florida Panthers 5.4%
Los Angeles Kings 4.5%
Carolina Hurricanes 3.2%
Winnipeg Jets 2.7%
Philadelphia Flyers 2.2%
Tampa Bay Lightning 1.8%
New York Islanders 0.9%
If you're up for a little fun, there are online draft simulators you can play around with.
Top Prospects
Vancouver Canucks general manager, Jim Benning noted, "We're excited about the top five, but I don't know that there's that generational player that we've seen the last couple of years with McDavid and Matthew and Eichel and Laine."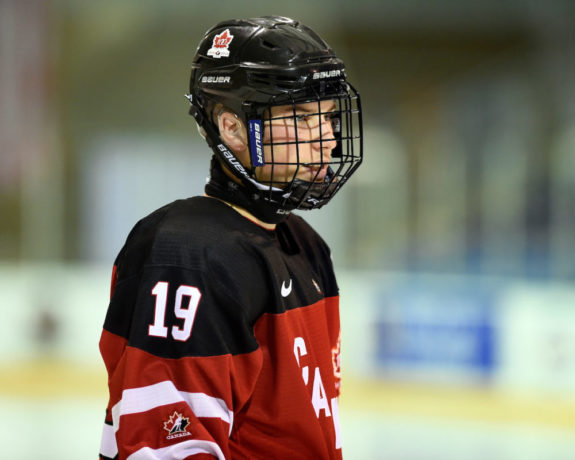 The top-rated prospect is Brandon Wheat Kings center Nolan Patrick. He's long held the top position in NHL Central Scouting's prospect rankings. He racked up 30 goals (56 points) in 55 games as a 16-year-old and followed it up with 41 goals (102 points) in 72 games in 2015-16. This year, unfortunately, he was sidelined after just six games (nine points) with an upper-body injury. His status went from day-to-day to week-to-week, resulting in his absence from Team Canada at the World Juniors.
Switzerland native, Nico Hischier, who plays center with the Halifax Mooseheads is ranked a close second. His explosive season in the QMJHL, where he scored 86 points (38 goals, 48 assists) in 57 games earned him the league's rookie of the year honor.
Central Scouting's top European-based skaters are Russian forward Klim Kostin and Swedish center Elias Pettersson.
Central Scouting lists Brooks defenseman Cale Makar – a UMass commit who scored 75 points (24+51) in the Alberta Junior Hockey League this past season – as the top-ranked North American defenseman, while Finland's Miro Heiskanen is the top European defenseman.
Tune In
The show will take place at the Hockey Central studio inside CBC headquarters in downtown Toronto. Coverage begins at 7:30 p.m. on NBCSN while the actual results are slated to begin shortly after 8 p.m.
The first round of the 2017 NHL Draft will take place June 23-24 at the United Center in Chicago.