On Saturday, I shared my list of must-have prospects with you. Today, we look at the other side of the spectrum. This is our annual "Do Not Draft" list.
We debuted this column in 2017. Those who appeared on that list included Casey Mittelstadt (went 8th not 3rd), Michael Rasmussen and Klim Kostin (went 31st). All-in-all, not bad considering what was written about them. This column is all about value.
I'm pinpointing players who will get drafted but likely too early for where I have them ranked. This column is not saying to not draft these players. It's saying there are players in a particular spot that I think would work out better for a team.
This season I have 15 players pinpointed as those I would not draft in a certain spot but probably will go there anyway. I'll share my reasoning and give you a name or two of someone I prefer to that player. Let's begin.
The 2018 "Do Not Draft" List
You're saying to yourself what? You don't want Brady Tkachuk? I love him but not third overall. Central scouting has Tkachuk ahead of Filip Zadina. The Montreal Canadiens could conceivably have a decision to make between those players. While Tkachuk does so many things well and has a long career ahead of him, I have both Zadina and Oliver Wahlstrom ahead in my rankings. No need to reach if you don't have to. In other words, if you have Tkachuk ahead of Zadina, trade down and gain some more assets.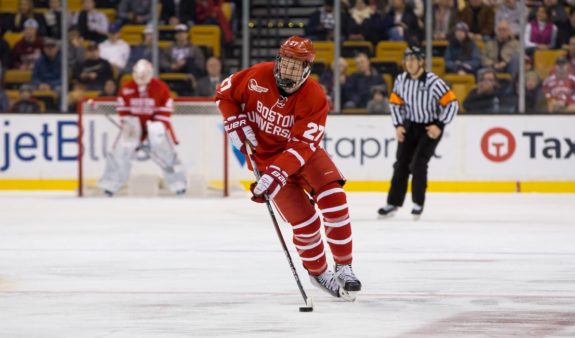 Evan Bouchard (Rank: 4th NA)
Bouchard had an outstanding season but I wouldn't take him as high as he's projected to go. I'm not sure his offensive output is the norm. He took advantage of being the man on a rebuilding London team and to his credit, did well with it. I think Ryan Merkley has higher offensive upside. I prefer Quinn Hughes, Adam Boqvist and Noah Dobson overall. Bouchard is safe, just not a top-10 pick for me.
Barrett Hayton (Rank 9th NA)
Hayton made the most of his opportunity especially in the OHL playoffs. I question what his upside is at the next level. There are teams who think he's the best center in this draft. He's a late first for me. I'd rather have Jesperi Kotkaniemi, Akil Thomas and Ty Dellandrea as I think they each have higher upside.
Martin Kaut (Rank: 4th EU)
Some teams have Kaut in the middle of the first but that's too soon. He's in the late 20's for me. I'd rather have Dominik Bokk over Kaut if faced with a decision.
Adam Ginning (Rank: 5th EU)
Ginning is a second rounder for me. Teams who value size see Ginning as a first. Players like Rasmus Sandin and Ty Smith rank higher on my board.
Serron Noel (Rank: 10th NA)
Like Ginning, Noel is a second rounder. You see the flashes of offense he can bring and is a monster on the wing. There aren't too many right wingers available at the top of the draft which could help his cause. I just think there's players I'd rather have in the first round. Blade Jenkins is someone I prefer to Noel.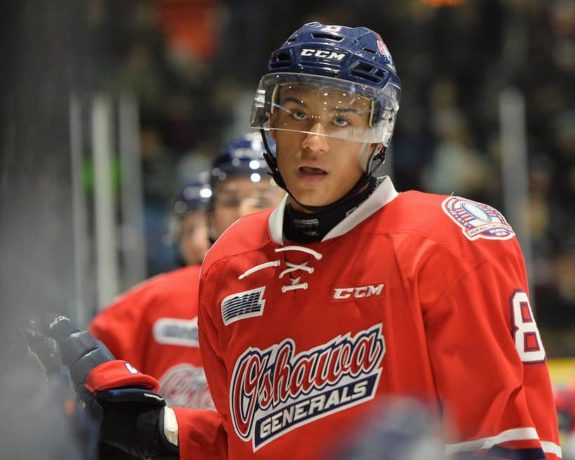 Jared McIsaac (Rank: 13th NA)
He had so much potential and just hasn't lived up the hype. He's still considered a good defenseman for the next level but I'd rather have guys like Bode Wilde and K'Andre Miller.
Ryan McLeod (Rank: 16th NA)
I think he has the talent but has underwhelmed given the potential. Like Hayton, I'd rather have Thomas and Dellandrea over McLeod. He needs to become more consistent in future seasons.
Liam Foudy (Rank: 19th NA)
He's skyrocketed up the rankings but isn't a first rounder in my book. He's developing in London which sure helps. I prefer a player like Jack Drury given the overall skill set.
Filip Johansson (Rank: 10th EU)
Johansson is a third rounder for me. Just think he's ranked too high and there are better options available in the second. Jett Woo and Calen Addison come to mind.
Alexander Alexeyev (Rank: 22nd NA)
I'm not willing to spend a first on Alexeyev. I get the sense some teams value him as a first given how heavily scouted he was in Red Deer. He's a good defender with some offense but feel like I could do better with a coveted first. If faced with a choice, I'd rather have Nicolas Beaudin.
Kevin Bahl (Rank: 29th NA)
He's got the size and an intriguing skill set but I feel he's ranked too high. If it's round three and he's still there, go grab him. I just wonder if he can keep up at the next level against faster players. I prefer a guy like Sean Durzi here.
Jacob Bernard-Docker (Rank: 33rd NA)
This comes down to preference. He enjoyed a nice end of the season and shot up the rankings. I have guys like Jonathan Tychonick and Ty Emberson ahead in the rankings.
Aidan Dudas (Rank: 68th NA)
Dudas enjoyed a great season in Owen Sound which boosted his draft stock. He is undersized though. I'm not sure what to make of him at the next level. If I'm using a later pick on someone, I think a player like SDA (Semyon Der-Arguchintsev) has more to offer. But if Dudas slips too far, then get him. I start thinking of him in round five. He probably goes sooner.
Luke Henman (Rank: 83rd NA)
Henman is another one who shot up the rankings thanks to a nice end to the season in the Q. His ranking suggests fourth to fifth round. I'm not considering him until round six. Billy Moskal and Riley Damiani are guys I prefer at this part of the draft.
That's my list. So who are you avoiding and why? Feel free to leave your comments about your picks or why I'm crazy.