The Edmonton Oilers were a disappointment in 2017-18 and the team could use a major roster shake-up to get the train back on track heading into the new season. Poor special teams played a big role in the team's regression and should be the primary point of focus for general manager Peter Chiarelli, and company, this summer.
The Oilers have severely lacked a big shot on the power play ever since the days when Sheldon Souray manned the point and let pucks fly on a regular basis. It's taken a while, but people around the team have finally begun to acknowledge this key missing piece. Defensemen Justin Faulk, Rasmus Ristolainen and Mike Green have all been mentioned at one time or another as possible players of interest to the Oilers, with Faulk being the most likely in terms of fit and acquisition cost.
Carolina Hurricanes: A Perfect Trade Partner
It just so happens that the Carolina Hurricanes, under new owner Tom Dundon and GM Don Waddell, are also looking to make a significant splash in order to change the makeup of their group. The Oilers and Hurricanes could actually make excellent trading partners given each team's wants and needs.
It has been widely reported that the only untouchable piece on the Carolina roster is second-year forward Sebastien Aho. It just so happens that, in 19-year-old Jesse Puljujarvi, the Oilers have a fellow Finnish forward who has previously established chemistry playing on a line with Aho.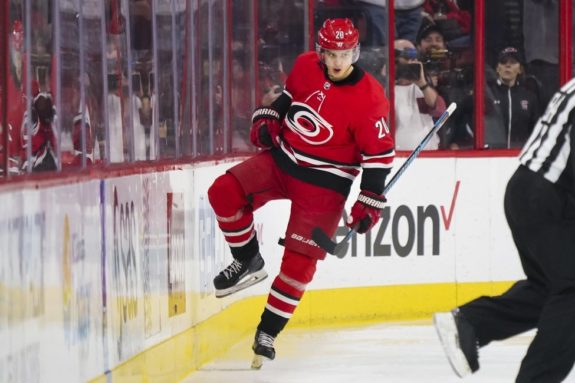 Given the circumstances, the Hurricanes would likely jump at an opportunity to reunite the duo in Carolina. The former fourth-overall draft pick might just be the key to getting a blockbuster deal done between the two clubs.
So what would the framework of a trade between Edmonton and Carolina look like?
Heading to Edmonton
Justin Faulk
Faulk is a name that has been linked to Edmonton on and off for the past couple seasons. The main reason for the interest in the defenseman is his big right-handed shot and overall offensive instincts. The 26-year-old rearguard is a sure bet for at least 30 to 40 points from the blue line, and is under contract for two more seasons with a cap hit of $4.833 million.
Throughout his seven seasons in the NHL, Faulk has scored 34 power play goals, for an average of 4.85 per season. His career-best is 12 power play markers, which came in the 2015-16 campaign. To put these numbers into perspective, the entire Oilers defense corps combined for a grand total of two power play goals in 2017-18, and one of those came off the stick of late-season call up Ethan Bear.
In all, 41 percent of Faulk's total offense has come on the man advantage. He logs over 22 minutes a night and checks a lot of the boxes that the Oilers are looking to fill.
Elias Lindholm
A durable and versatile forward, Elias Lindholm would be another nice fit in Oilers colours. The 23-year-old has played a feature role in both the Hurricanes power play and penalty kill units and is money in the face-off circle.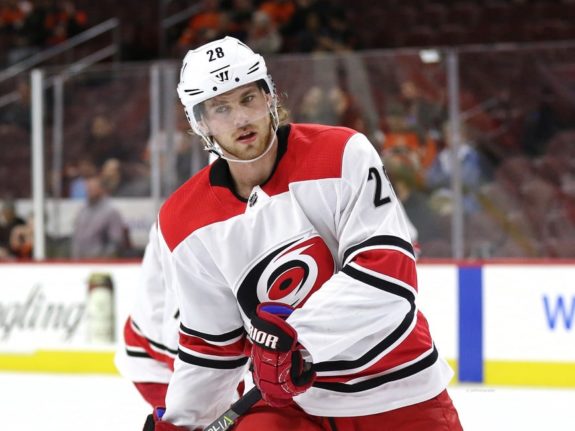 Lindholm is a right-shot forward who could play either centre or wing alongside Leon Draisaitl on the second line in Edmonton. With excellent defensive awareness, skating and work ethic, he could also become a key player in shorthanded situations and help improve the Oilers poor penalty kill.
The fifth overall pick from the 2013 draft has consistently scored between 39 and 45 points during each of the last four seasons. His offensive output is good, but he has shown glimpses of greater skill during international events. An increase in production is not out of the question as he continues to mature and get stronger.
Lindholm is scheduled to become a restricted free agent in July and is coming off a two-year $5.4 million contract. He will be looking to re-up long-term on his next deal.
Valentin Zykov
Valentin Zykov is a 6-foot-1, 225 pound winger who scored 33 goals in the AHL in 2017-18. The Russian forward is an impressive skater for his size and registered seven points in 10 NHL games with the Hurricanes this season.
Zykov was originally a second round pick by the Los Angeles Kings in 2013, and is wrapping up his entry-level contract with 12 games of NHL experience. The 23-year-old should not cost a lot to re-sign and has the potential to provide a value deal for a soon-to-be cap-strapped team like the Oilers.
The former QMJHL product can play either wing and has the potential to fit in on a scoring line in Edmonton. If Zykov can keep up with Draisaitl and Lindholm at even-strength then it would allow Milan Lucic to slide down to the third line where he would be a better fit at this point in his career.
Heading to Carolina
Jesse Puljujarvi
Puljujarvi is a quality prospect with a very high potential ceiling, but, if you want to undergo major changes, you need to give up quality to get quality. The 20-year-old Finn has excellent size and skates like the wind. He possesses a heavy shot but his accuracy needs some work. Puljujarvi was once spoken of in the same breath as countryman Patrik Laine, but his development curve hasn't been anywhere near as sharp. Still, once he figures out the NHL game, the 6-foot-4 winger has all the tools to become a superstar in the league.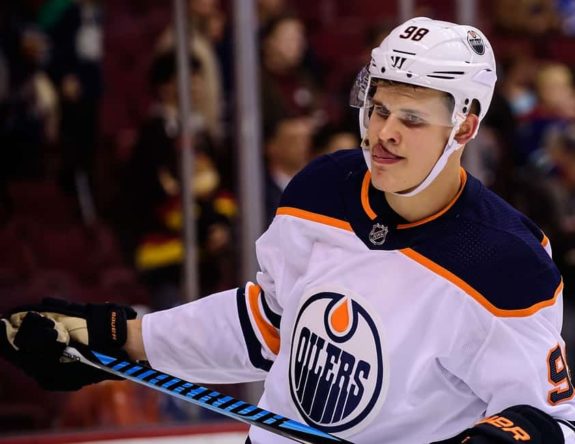 Players drafted fourth overall aren't usually traded two years after they are selected, but the Oilers want to win now and may not want to wait for Puljujarvi to hit his stride. Trading such a promising player is always a gamble and the only way that the young forward does get moved is if an established impact player, at a position of need, is coming the other way.
Darnell Nurse
Known for his quick feet and tough character, Darnell Nurse enjoyed the best offensive season of his NHL career in 2017-18. The 23-year-old paced the Edmonton blue line with 26 points, all of which came at even strength. Nurse logged over 22 minutes per night for the first time in his career, and had career-best numbers in shots, hits, blocked shots, takeaways and penalty minutes.
Nurse is a former seventh-overall draft pick and continues to develop into a hard-nosed physical force which is unmatched by anyone on the Hurricanes roster. If the new owner in Carolina is looking to shake up his roster, then adding a missing element like Nurse would do just that.
The 6-foot-4 defenseman is coming off his entry-level contract and the Hurricanes have more than enough cap room to get a long-term deal done. Nurse could essentially come in and replace the minutes previously logged by left-shot blueliner Noah Hanifin, if the speculation of his departure via trade comes to fruition this offseason.
Zack Kassian
A solid foot soldier, Zack Kassian has done everything that has been asked of him since arriving in Edmonton. He has been a stand up teammate, has played with an edge and has learned to contribute on the penalty kill where he's been able to use his speed to generate a multitude of shorthanded scoring chances.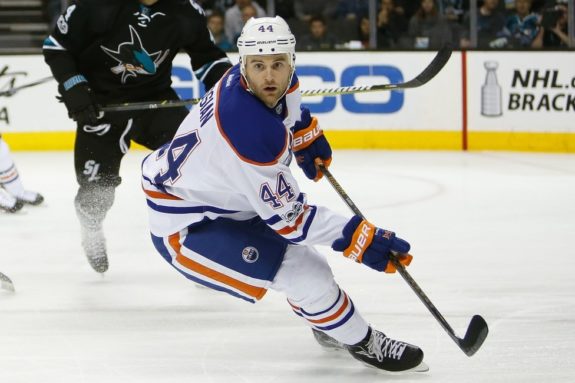 Unfortunately for the Oilers, Kassian's contract is simply too rich for where he plays in the lineup. In order for the Oilers to acquire a contract like Faulk's, they would need send some salary out. Ideally a trade involving Andrej Sekera would occur, but given his full no-movement clause, the veteran rearguard is almost certainly staying put.
Kassian can motor, likes to throw the body and routinely gets under the opposition's skin. He's a big game player who could be invaluable to a team with the cap space to employ him.
A Deal That Works for Both Sides
The framework of this trade works for both teams involved, although some additional compensation in the form of prospects, draft picks or salary retention may need to be involved to even things out.
The Oilers acquire a right-handed rearguard with a big shot and a proven track record on the power play. The Hurricanes acquire an ever improving big and tough two-way defenseman who can skate, hit, block shots and put up his fair share of points.
The Oilers acquire a young versatile forward who is strong on face-offs, can kill penalties and has more untapped offensive potential. The Hurricanes acquire a recent fourth overall draft pick who stands at 6-f00t-4, skates like the wind, possesses a deadly shot and has existing chemistry with one of the team's key offensive forwards.
The Oilers acquire a 23-year-old prospect with scoring prowess at the AHL level and the potential to produce in the NHL on a cheap contract. The Hurricanes acquire a glue guy who thrives in the pest role and can kill penalties in his own right.
This is a blockbuster trade that would change the landscape for two clubs looking to alter the dynamic of their respective rosters. It's a big deal, but it just might work.
Mark Bowie covers the Edmonton Oilers and the QMJHL for THW.