We are exactly one week away from the NHL Combine and the annual fitness testing.
That means the countdown to the draft is officially within striking distance. We'll be just three weeks away from hearing the Buffalo Sabres announce Rasmus Dahlin as the first overall pick.
While the first couple of picks are fairly obvious, what about the rest of the draft? What do the Ottawa Senators do with the fourth pick? What about Arizona at five? There is some high-end talent available for those franchises to pick from.
Who should they and others go after though? That's what we're going to try and answer with this column. In this space, we are going to highlight 20 prospects from various parts of the draft and tell you why teams should do just about anything to draft them if they start to fall. Think of this as the opposite of the Do Not Draft list.
A couple of things before we begin. First, let's define what our objective is. Let's use Dahlin as an example. If the Sabres decide Andrei Svechnikov is their pick (it won't be, but follow me here), Dahlin becomes a must-have for everyone else. If Carolina passes on Svechnikov, he's a must-have. We are trying to find prospects that teams should scratch, bite, claw or do whatever it takes to trade up or draft if they start falling.
Second, names on this list are those that I feel have good value if they start to fall. If Arizona somehow lands Filip Zadina third overall, that's excellent value. To be successful at the draft, you must find good value every chance you get. For a good portion of this season, I had Zadina ahead of Svechnikov in my rankings.
Ok. The ground rules are laid out. Let's dive right into our list of 20 prospects that are must haves at this draft. We'll include a couple of sentences why and the level they become a must-have.
The 2018 NHL Draft Must Haves
1. Oliver Wahlstrom
When to draft? Anytime after the third pick.
Why: Wahlstrom is in my top-5 overall and an excellent prospect to land if you miss on Svechnikov or Zadina. He brings an element of dynamic to your top-six that you won't get elsewhere.
2. Jesperi Kotkaniemi
When to draft? Anytime after the fourth pick.
Why: Kotkaniemi in my mind is the best center available in the draft. If you're in the 5-10 range and need a cornerstone center, look here. The Blackhawks happen to pick 8th. I don't see them passing on him if he's available there.
3. Adam Boqvist
When to draft? Anywhere in the top-10 if you missed on Dahlin.
Why: He's the next best offensive defenseman in this draft after Dahlin. If Arizona doesn't trade the pick, this is an ideal landing spot for him. The Rangers are also ideal.
4. Joel Farabee
When to draft? Anytime after the 10th pick.
Why: Farabee just cracks my top-10 overall. Although he's not Oliver Wahlstrom, he has excellent offensive instincts. If you're a team picking in the teens and he starts falling, you're getting a guy with top-10 upside if he reaches it. That's a risk I'm taking every single time.
5. Ryan Merkley
When to draft? Anytime after the 10th pick.
Why: The reality of this situation is that I'd normally take him in the top five. We know the questions though. Fact is he's too talented to be ranked 45th on the central scouting list. This is the most fascinating story to watch in Dallas. Who finally realizes the talent and grabs him? He's already got a chip on his shoulder. If he falls, the chip gets stronger. Someone like Toronto or Tampa Bay is primed to cash in here.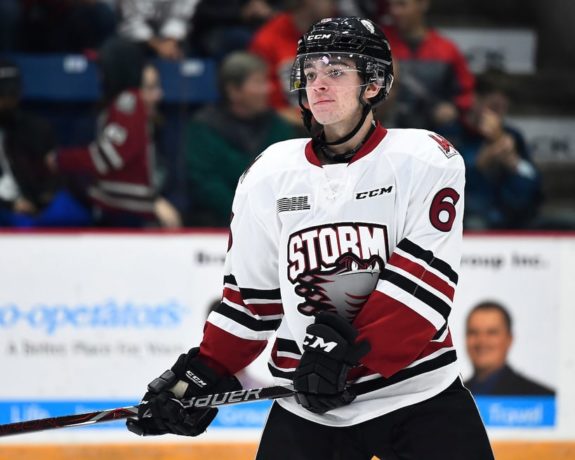 6. Akil Thomas
When to draft? Anytime after the 15th pick.
Why: Thomas is one of the best playmakers available in the draft. He can play both center and wing. The chances of his NHL success are higher than most given his skill set. Add him to a prospect pool of a playoff team and they're instantly better.
7. Sampo Ranta
When to draft? Anytime after the 15th pick.
Why: Although his numbers don't jump out, the things he brings to the table do. At 6-foot-2 and and over 190 pounds, he is a great skater and can shoot the puck. He's the perfect candidate for someone who likely goes in the second round but could produce like a lottery pick.
8. Ty Dellandrea
When to draft? Anytime after the 15th pick.
Why: Dellandrea projects as a top-six center at the next level and can play in all situations. He's especially appealing because of his skill set, the way he handled a tough season and the character he has. He's a classy individual and has demonstrated how to make the best of his surroundings.
9. Bode Wilde
When to draft? Anytime after the 20th pick.
Why: There simply comes a point where you take the risk on a player. That's certainly the case for Wilde if he slips. He's very tantalizing given his skating and offensive instincts. But he is a chance taker. The talent is all over him. He's got high upside especially for those late in round one.
10. Blade Jenkins
When to draft? Anytime after the 25th pick.
Why: Here's a case where you have to look beyond numbers. Jenkins turned his game on when put in the top-six in Saginaw. He has an NHL frame and is a great skater. You're getting a potential first-round talent in the 30's or lower. Yes please.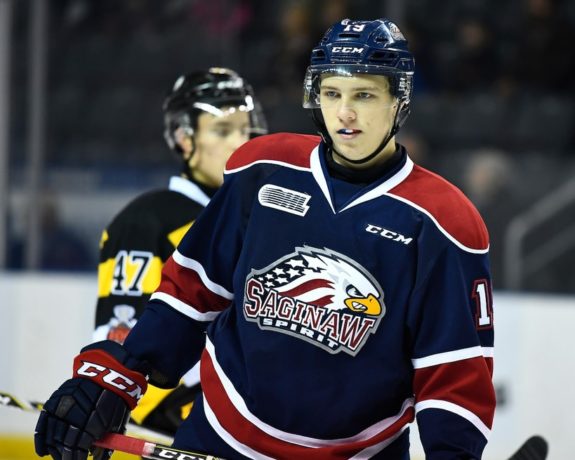 11. Dominik Bokk
When to draft? Anytime after the 25th pick.
He has some of the best offensive upside in this draft. We should call him Dymanic Bokk. It's very possible he goes higher than 25th, but if not, get in line and trade up. You'll be glad you did.
12. Jack Drury
When to draft? Anytime after the first round.
Why: Passion, tenacity and lots of points. This is what you like to see in a prospect. You get that in spades with Drury. Plus he has NHL bloodlines. He's also a leader. He'll take his team into the battle and give you everything he has. Although his skills aren't elite, it's good especially in the second round.
13. Jack McBain
When to draft? Anytime after the first round.
Why: Centers with NHL size and skill are always worth the risk at this part of the draft. McBain is one of the better prospects to come from the OJHL in several years. He needs time but for the cost of a second, I'm in.
14. Tyler Madden
When to draft? Anytime after the 45th pick.
Why: Tyler plays like his father John, the former New Jersey Devils' great. Although he lacks the size, he brings it every game and isn't afraid of any situation. When we start getting to the later part of the draft, landing someone like Madden is a low risk, high reward situation.
15. Allan McShane
When to draft? Anytime after the 45th pick.
Why: Because he's Allan McStar. Seriously the skill he possesses is intriguing for the next level. He needs to get more consistent, but when he's on, he's a treat to watch. McShane cracks my top-40 because of how he can create offense. If it's in the 60's, trade right on up and get excellent value.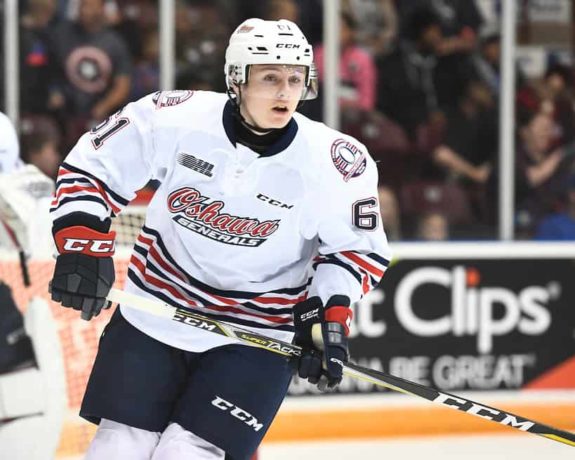 16. Cam Hillis
When to draft? Anytime after the second round.
Why: Another prospect with intriguing offensive skills. He shined as a rookie in Guelph and became one of their best players. Not sure he's a center at the next level, but for a third, I'm investing.
17. Jesse Ylonen
When to draft? Anytime after the second round.
Why: Ylonen likely falls in the deep sleeper category but he opened my eyes with his high-end offensive skills. He could go undrafted. That's unreal if that happens. If you're in round five and want a high-end lottery ticket, not many better than Ylonen.
18. Billy Moskal
When to draft? Anytime after the third round.
Why: He's on the London Knights, he's a center and he's a natural leader. Given the track record of development in London, Moskal has a chance to open some eyes this upcoming season. Smart teams will grab him sometime in round four or later and reap the benefits for future seasons.
19. Joey Keane
When to draft? Anytime after the third round.
Why: I don't care that he's a re-entry. He's a fast mobile defenseman that helped the Barrie Colts enjoy a successful season. At a price of a fourth or later, I'm all in on Keane.
2017-18 #OHL 3rd Team All-Stars:

Forwards: LW @amascherin_23, C @Gabe_Vilardi13, RW @JasonRob1999.

Defence: @CamDineen & Joey Keane

Goaltender: @MattVillalta31

Coach: Trevor Letowski pic.twitter.com/yzjqk1hFsq

— OntarioHockeyLeague (@OHLHockey) May 17, 2018
20. Egor Zamula
When to draft? Anytime after the third round.
Why: Defenseman who prove to be smart and reliable have value later in the draft. Zamula was traded midseason after being selected in the CHL Import Draft. In his first season in the WHL, he played well especially after joining Calgary. Taking a chance on a player who is low-risk is wise. Teams will have Zamula on their list later in day two and could make an impact in the NHL.
These are the players I feel most strongly about. What about you? Which players are your must haves and when? Feel free to leave your comments. Stay tuned for our next installment, the Do Not Draft list.