Although the Toronto Maple Leafs hold a relatively low first-round pick in the 2018 NHL Draft — 25th overall, to be exact — the franchise still boasts an excellent opportunity to add an immensely talented player to their organization.
Yes, the likes of Rasmus Dahlin, Andrei Svechnikov, and Filip Zadina will be long gone, however, the depth of this year's draft class should allow the Leafs to nab a high-calibre player in the opening round and one capable of contributing at the NHL-level in the near future.
Ideally, Toronto will target a defender who owns ample size and the ability to play a strong two-way game. Already loaded with young defenders of elite skill, the Leafs would do well to add a stabilizing yet intimidating presence to their blue line capable of playing physically yet responsibly.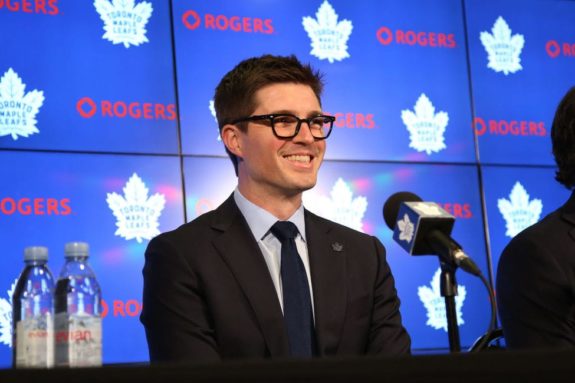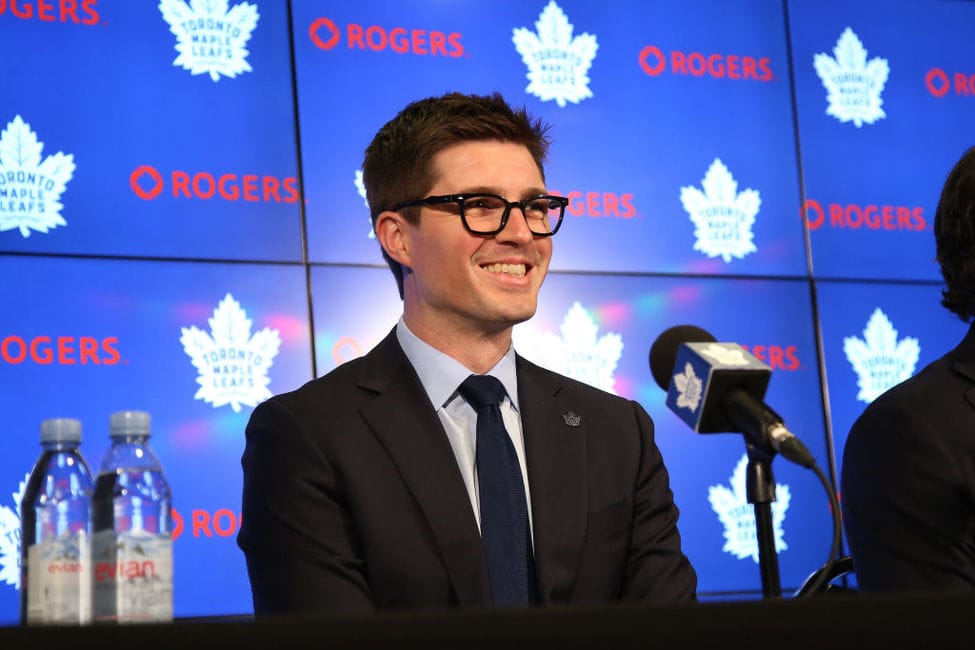 However, if no defence prospect meets this criterion when newly minted General Manager Kyle Dubas takes to the draft stage, Toronto could opt to add a dependable yet lethal two-way player to their pipeline. Although highly skilled offensive players will surely be available to the Leafs, opting to nab a sound two-way forward capable of playing crucial third-line minutes could be an intriguing option, and especially so given Toronto's seemingly endlessly core of talented forwards.
Fortunately, there will be plenty of options for the Leafs to consider at 25th overall. However, here are three particular players which Toronto should highly consider on draft day.
Ty Dellandrea
Height/Weight: 6-foot-1/190-pounds
2017-18 Team: Flint Firebirds (OHL)
Draft Rankings:
THW's Brett Slawson: 25th
NHL Central Scouting: 25th (NA Skaters)
TSN's Craig Button: 18th
Ty Dellandrea is determined to leave a lasting impression at hockey's highest level.
Despite beginning the 2017-18 season as a relative unknown, Dellandrea dramatically altered his perception as an NHL prospect through an industrious and persistent campaign with the Flint Firebirds. Although skating for an underwhelming team, Dellandrea established himself as a dependable and lethal two-way threat capable of playing a strong, professional style of play.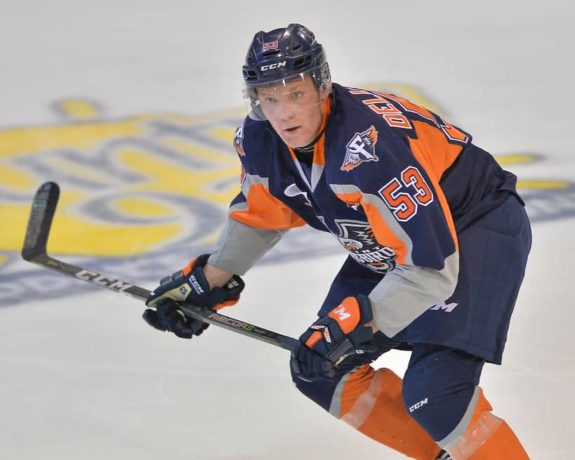 Throughout his 67 regular season games played for the Firebirds this past season, Dellandrea potted 27 goals and 32 assists — good for 59 points and Flint's second greatest offensive total. Founded upon strong and sturdy skating and innate offensive abilities, Dellandrea can create or capitalize upon scoring chances owing to his creativity, tact, and outstanding sense of awareness on the ice. What's more is that Dellandrea boasts a smooth pair of mitts — allowing the native of Toronto, Ontario to play with flash and flair.
RELATED: June's Top-31 Prospects
When the Leafs take to the stage on draft night, Dellandrea could be an intriguing option owing to his strong two-way game, poise, and physical maturity. Although Toronto isn't desperate for offensive help, the franchise would do well to add a versatile prospect who could very well develop into a reliable third-line player at the NHL-level. If chosen, Dellandrea would add strength, dependability, and a sprinkling of offence to an already potent Leafs lineup.
K'Andre Miller
Height/Weight: 6-foot-4/205-pounds
2017-18 Team: U.S. National U18 Team
Draft Rankings:
THW's Brett Slawson: 30th
NHL Central Scouting: 23rd (NA Skaters)
TSN's Craig Button: 31st
K'Andre Miller is the complete package and a defenceman who has been mistakenly overlooked by many given his projection as a late first-round pick.
What makes Miller such a unique talent is the size, speed, skill, and creativity which he brings to the ice on a consistent basis. Standing 6-foot-4 and weighing well over 200-pounds, Miller is an intimidating force who can compete and contribute at both ends of the ice. Defensively, Miller is a capable contributor owing to his sheer strength and competitive drive. Although he would do well to play with a greater edge, Miller's ability to smother and dispossess his opponents stands as a staple of his game.
RELATED: THW's 2018 Draft Guide
Where Miller continues to improve and impress is in the offensive zone. No, he doesn't record an insane number of points, however, Miller has the ability to lead the rush and produce scoring chances owing to his strong skating, size, and hockey sense. Once established in his opponents' zone, Miller can pound his heavy shot on goal — a critical weapon in his arsenal which creates a wealth of rebounds for his fellow teammates to pounce on.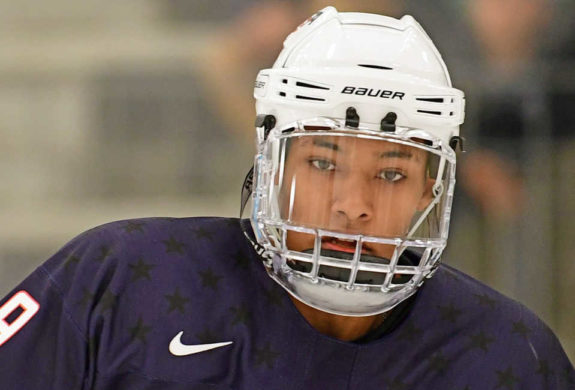 So, should Toronto target Miller?
Absolutely. Currently loaded with defenders of high-end skill, the Leafs would do well to add a well-rounded defender to their pipeline. Unlike current prospects such as Timothy Liljegren, Travis Dermott, and Calle Rosen, Miller is an intimidating and physical force who just happens to be a strong player at both ends of the ice.
Why attempt to sign a free agent such as John Carlson or trade for a veteran such as Chris Tanev when you could select a promising young defender named Miller late in the first round?
Mattias Samuelsson
Height/Weight: 6-foot-4/215-pounds
2017-18 Team: U.S. National U18 Team
Draft Rankings:
THW's Brett Slawson: 26th
NHL Central Scouting: 21st (NA Skaters)
TSN's Craig Button: 33rd
A teammate of Miller on the U.S. National U18 Team, Mattias Samuelsson is a defender who can skate, shoot, score, and irritate his opposition through force and physicality.
Standing 6-foot-4 and 215-pounds, Samuelsson is an intimidating defender whose game within his own zone revolves around strength, hockey sense, and predictive thinking. Boasting a towering frame, Samuelsson stays one step ahead of his opponents by predicting their movements and understanding their tendencies as a team. Once thinking alongside his competition, Samuelsson reacts to plays before they develop and is excellent at forcing turnovers and generating transitional play.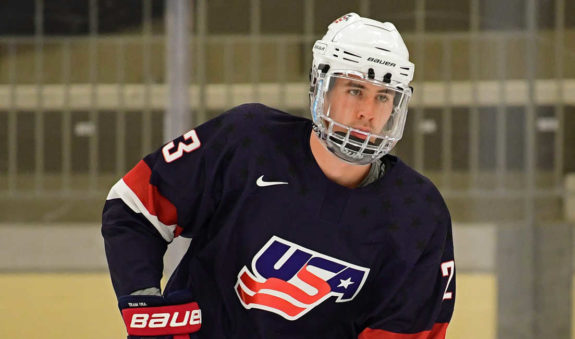 Once in the offensive zone, Samuelsson is surprisingly nimble on his feet and carries the puck with both poise and confidence. Of incredible composure, Samuelsson can move the puck with ease and loves to shoot the puck — an ability which is amongst his strongest traits as a prospect. Boasting a quick release and overpowering shot, Samuelsson can blast the puck through traffic and owns the innate ability to put the puck on net regardless of time or space.
In all, Samuelsson netted 11 goals and 20 assists in 58 games played this season — a total which trailed only Bode Wilde for the U.S. National U18 Team lead amongst defenceman. Further, mix in a whopping 113 penalty minutes, and Samuelsson can be viewed as a competitive defender capable of making an impact at both ends of the ice.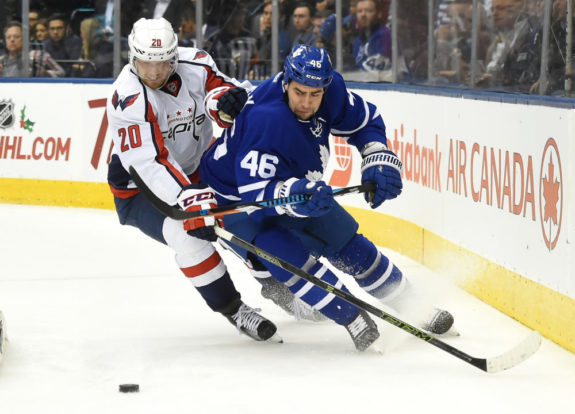 When it comes to Toronto, Samuelsson could be a very intriguing option — if still available, that is.
Although projected to be a mid-first round choice by some, others view Samuelsson as a late first-round talent who could fall in the 25-31 range — placing him directly in the Leafs' wheel-house. Like Miller, Samuelsson would bring instant size, competitiveness, and skill to Toronto's blue line. Although he would surely benefit from time at the AHL-level, Samuelsson could stand as a strong yet dynamic pillar on the Leafs' back end long into the future.
Yes, his penalty minutes could be an issue. However, if Samuelsson can tone down his — at times — reckless play and re-focus his energy elsewhere, we could be discussing a future top-four defender at the NHL-level.