The 2018 NHL Draft is less than four days away, which means that the rebuild is entering a new developmental stage in the Big Apple. New York Rangers general manager Jeff Gorton has stockpiled seven draft picks in the first three rounds, including three in round one. With the spotlight shining brighter than it has in over a decade, New York's management is now in unfamiliar territory. Will they decide to use all 10 draft picks, or will they string together a franchise-altering package deal to land John Tavares—a proven NHL All-Star?
The Rangers Must Be Active
The Blueshirts clearly have a top-heavy draft lineup with more picks than any other NHL club inside of the top three rounds. Missing out on a first-round lottery pick inside of the top three stings, but if Gorton feels that the 9th, 26th and 28th overall slots will give the Rangers their best chance to compete in the future, then so be it. But it would be a huge mistake.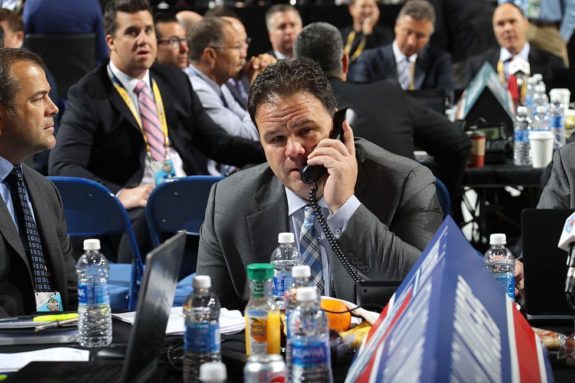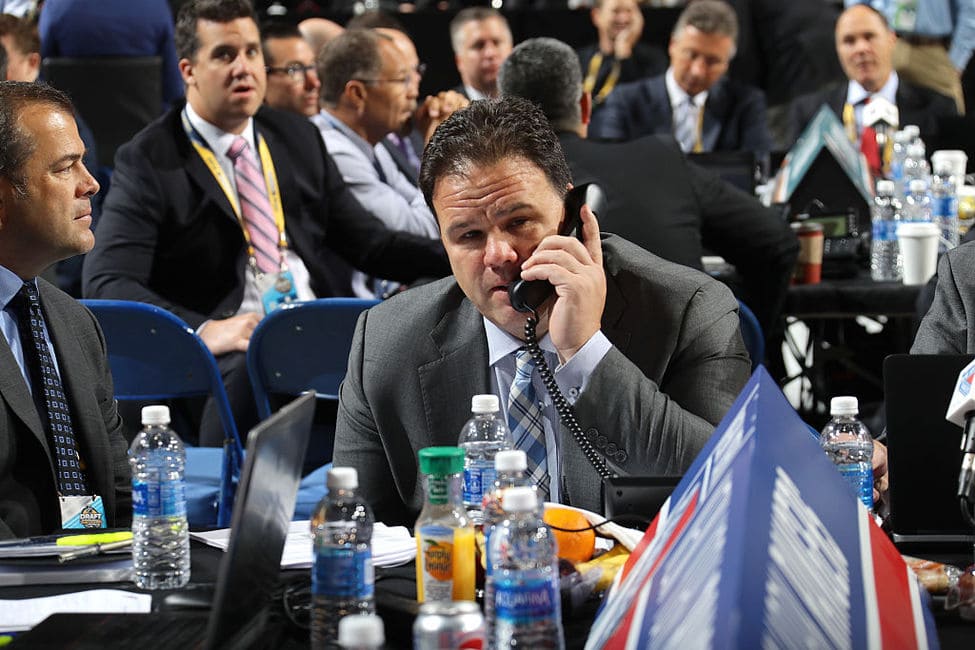 Luck plays a role on draft day in any major sport. You can have a top-five first-round pick year after year and fail to land a franchise talent (look at the Cleveland Browns). The Rangers' scouts can do all of the research in the world in hopes of finding the right group of players, but at the end of the day, they better pray that luck is on their side and the athletes that are chosen pan out.
We have seen time and time again the added pressure of being drafted in the first round. In some cases it has even turned elite players into busts. This type of risk is something that the Rangers desperately cannot allow to happen.
How the Rangers Can Land Tavares
The reliable option for management would be to orchestrate a nice package deal comprised of both draft picks and Rangers roster players with the goal of landing a proven star. Tavares is set to become an unrestricted free agent on July 1 and it is unknown if he will re-sign with the New York Islanders.
There is no doubt that Tavares is one of the best players in the league today and will be for the next several seasons. Rumors of his desire to stay in Brooklyn have been rampant, but let's not be too quick to rule out the possibility of him suiting up for a different team this fall.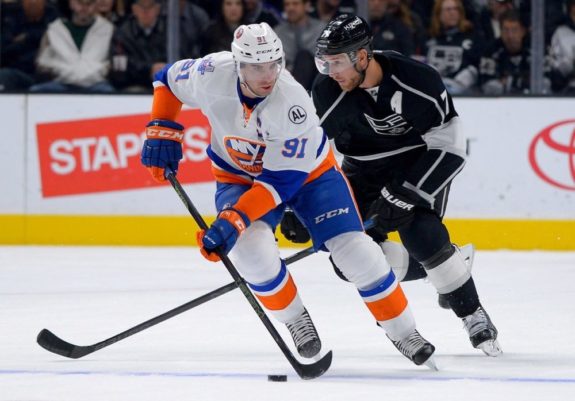 The Rangers dished away their larger salary cap hits this past February and have cleared a path to sign two big players this summer. The Blueshirts have roughly $25 million to work with, which is plenty of cash to lure a well-proven goalscorer across town. However, it will come at the expense of their first-round draft picks and could include forwards Mats Zuccarello or Chris Kreider as well.
If the Islanders fail to reach a new deal with Tavares by July 1, then they will miss out on getting anything in return. Clearly, the Rangers have enough stockpiled artillery to make a deal with their cross-town rival, and this weekend will demonstrate whether or not it is appealing enough.
Why Gorton Should Bid for Tavares
The Mississauga, Ontario native has eclipsed the 50-point plateau in every season he has played in the NHL since breaking on to the scene in 2009 with the exception of the lockout-shortened 2012-13 campaign when he tallied 47 points in 48 games. In his nine-year career, he has scored at least 24 goals in every season, and is also coming off a 2017-18 campaign where he recorded the second-highest point total of his career (37 goals, 47 assists).
For a franchise that has been looking for an elite goalscorer since the departure of Marian Gaborik in 2013, Tavares perfectly fits the mold. Even more impressive is that he has managed to stay healthy enough to play in at least 77 games in eight out of his nine NHL seasons (knock on wood).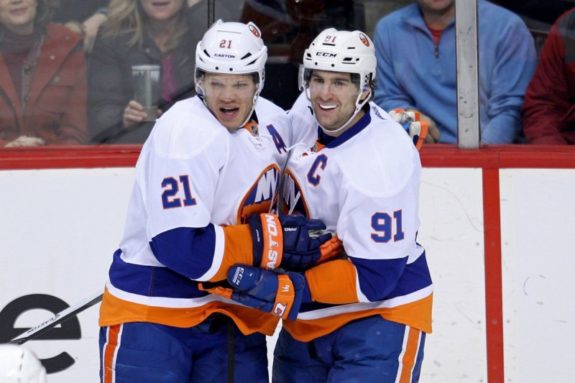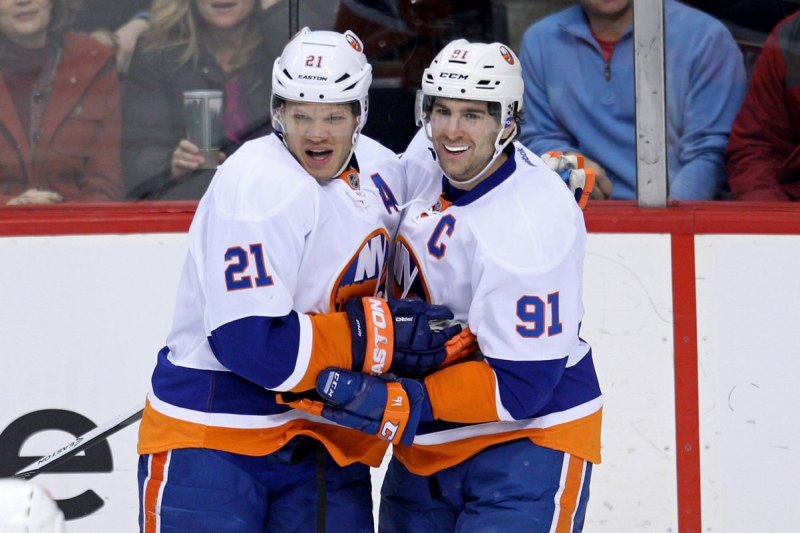 Tavares would not only step into The Garden as the number one center, but he would be the number one man in town as well. The window for winning a championship in the Henrik Lundqvist era is closing, but who is to say that it has to be right now? With the amount of cap space available the Rangers could acquire Tavares, which could then lead to the acquisition of another All-Star.
Tavares will add much-needed depth and will impact the scoring production immediately. You can pair him with almost anybody and he will produce, while also freeing up space for other players to make plays. This is a deal that benefits everyone involved with the Rangers.
Will Tavares Test the Market?
There is no question that Tavares feels at home in Long Island, but with the Islanders playing at an underselling Barclays Arena in Brooklyn, it can be tempting to relocate to a larger venue. From 2009 to 2018, the Islanders have made the playoffs just three times, advancing to the second round once. Last season looked promising, but took a turn for the worse after the All-Star break. Failing to go deep into the playoffs could be the biggest reason he goes shopping.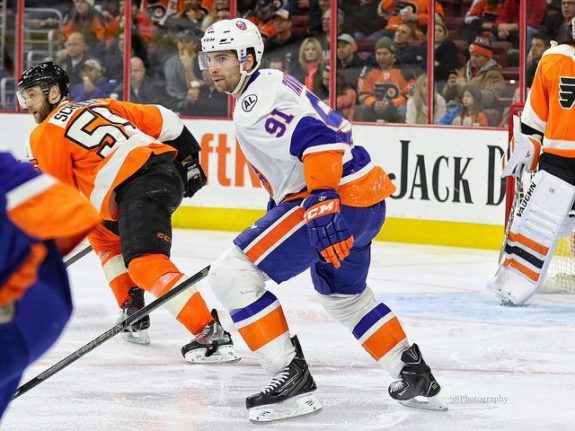 One driving factor that always plays a role in whether or not a star athlete stays home or tests the open market is family, whether it's their parents or children in school. The good thing for the Rangers is that Tavares can check none of those boxes.
Furthermore, New York is one of the largest markets in the league and most athletes would kill to be under the microscope in the city that never sleeps. Attention and criticism would be at an all-time high, but putting on that Red, White and Blue uniform puts you in a historic category amongst your peers.
What Could Hinder the Rangers' Chances?
There is no secret that the Rangers' current roster is one that highlights a rebuild, and Tavares could be skeptical that New York will struggle to sign another top-tier caliber player this summer. He may be able to fix The Garden's goal scoring issues altogether, but if he gets the feeling of becoming just a one-man-show on Broadway, then he could possibly get cold feet.
If trade talks fail to arise this weekend, then we can expect the Rangers and newly hired head coach David Quinn to start piecing together a roster for the future and not the present, ultimately deterring Tavares altogether.
Obviously, the Islanders' captain is going to cost a pretty penny to acquire, but his talents are worth it. Gorton should be willing to lay down a blank check, along with a few first and second-round draft picks with the hopes of signing one of the most elite players of this decade.