Drafting and development is cyclical and it's not uncommon for a developmental league to have a lot of representation in the first few rounds of the annual National Hockey League draft one year and less representation in the next year. A year after having seven Western Hockey League players selected in the first round of the 2017 NHL Draft, it's looking like the WHL's representation in the 2018 Draft's first round will be much leaner.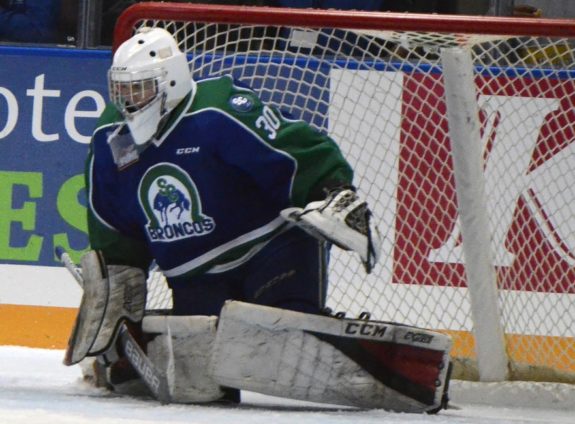 A glance at the midterm rankings from the NHL's Central Scouting Service shows only a quartet of WHLers in the top 40 North American skaters – Spokane's Ty Smith (14th), Moose Jaw's Jett Woo (20th), Red Deer's Alexander Alexeyev (26th), Lethbridge's Calen Addison (34th) and Vancouver's Milos Roman (40th). However, there are several WHLers who could offer great value outside of the first round group. Here's a quick glance at five of those hidden gems.
G Joel Hofer – Swift Current Broncos
The 6th-ranked North American goaltender, Hofer has been the backup netminder on one of the WHL's powerhouse teams. He's played behind first Logan Flodell and more recently Stuart Skinner. While he's not quite as lauded as his teammates, he's quietly put up some very impressive numbers. As a rookie, he has a .912 save percentage through his first 16 WHL appearances. Of the 42 goaltenders who have faced as many (or more) shots as Hofer, only six have better save percentages than him. With Skinner likely going pro next season, a team "buying low" on Hofer in the draft could be handsomely rewarded.
D Filip Kral – Spokane Chiefs
While Spokane teammate Smith is probably the bigger fish, Kral – the 52nd-ranked North American skater – has been having a very effective season in his shadow. In his first year playing in North America after coming over as an import Kral's dealt with the usual growing pains of adjusting to the Dub, such as adapting to bigger forwards and the smaller ice surface. But he's shown lots of upside, gradually displaying his defensive acumen and gaining offensive confidence as the season has worn on. He's already dealt with the "bright lines," with recent pro experience in the Czech Extraliga and World Junior experience with the Czech Republic, and his first WHL season has displayed many of qualities often found in imports that break out offensively in their second North American season.
C Riley Stotts – Calgary Hitmen
Also new from me today: I recently chatted with @WHLHitmen center Riley Stotts, who has jumped deeper into the #2018NHLDraft mix after a trade from Swift Current to Calgary https://t.co/PnpAVewP8m

— Derek Neumeier (@Derek_N_NHL) February 7, 2018
Stotts began the season as one of many promising depth bodies in Swift Current, but he was arguably both a victim and beneficiary of the Broncos' early success. On one hand, the 88th-ranked North American skater had the benefit of playing on a good team and soaking up a lot of his teammates' experiences. On the other, his spot in the rotation made him expendable when Swift Current made mid-season trades. Since arriving in Calgary, though, Stotts has been one of the most consistent Hitmen scorers with 30 points in his first 35 games (after just three points in 22 games with the Broncos). A versatile, intelligent player that can play in all game situations, Stotts has been a big help for a rebuilding Hitmen club. He'll continue to have a big role in coming seasons.
G David Tendeck – Vancouver Giants
Tendeck and fellow 2018 draft eligible goaltender Todd Scott entered the season as the de facto tandem for the Giants, who have been in transition in recent years and dealt incumbent starter Ryan Kubic to Saskatoon. Tendeck's improvement, along with some strong performances from other Giants players, has sparked the club and pushed them from the Western Conference's basement into a playoff position. Only eight WHL goaltenders have faced more shots than Tendeck: none have a better save percentage. He's improved tremendously from his first WHL season, pushing his save percentage from .856 as a rookie to .916 as a sophomore, and his improvement led to the Giants trading tandem-mate Todd Scott before the trade deadline. Now the undisputed Giants starter, he'll be leaned on heavily going forward.
C Kyle Topping – Kelowna Rockets
The Kelowna Rockets just have a knack for identifying, recruiting and developing strong hockey players. Topping is the latest promising draft eligible forward in a long line produced by the Rockets. After a solid rookie season, he's steadily increased his offensive production this season and has delivered promising results in a key (though somewhat sheltered) role with Kelowna. He'll likely get an even bigger role next season as the players above him in the rotation graduate to the pro ranks. Topping has the hockey sense and versatility to be able to adapt and thrive when leaned upon more heavily by his team.
Ryan Pike has covered the Calgary Flames and the NHL Draft extensively since 2010 as a Senior Writer for The Hockey Writers and Senior Contributing Editor of FlamesNation.ca. A member of the Professional Hockey Writers Association, he lives in Calgary.