On February 24 the New Jersey Devils retired the no. 26 for Patrik Elias, the most prolific forward to ever play for the franchise. A two-time Stanley Cup champion (2000, 2003), Elias is New Jersey's franchise leader in points (1,025), goals (408), assists (617), shots on goal (3,287) game-winning goals (80), power play points (333), power play goals (113) power play assists (220), hat tricks (8), and points in a single season (96). He is also the Devils' postseason leader in points (125), goals (45), assists (80), shots on goal (444), power play points (52), power play goals (21), power play assists (31), game-winning goals (6), and points in a single playoff (23).
Elias' 26 joins Scott Stevens (4), Ken Daneyko (3), Scott Niedermayer (27), Martin Brodeur (30) as the only players to have their numbers retired by the franchise, and Elias joins Daneyko as the only other player in the group that played his entire career for the Devils.
The team went above and beyond in their almost two-hour long ceremony for Elias, highlighted by the owners commemorating four seats in the stands for his family, and a heartfelt, and emotional speech in which no. 26 said he was born in the Czech Republic, but "I was raised in Jersey."
"I was raised in Jersey." – Patrik Elias had a message for all #NJDevils fans as the team retired his No. 26 on Saturday. #PattyForever https://t.co/RkgQYI8xm0

— New Jersey Devils (@NJDevils) February 25, 2018
"He did everything right. He didn't cheat and he played the game the right way, he played all over the ice and is probably one of the more underrated players to play the game. I don't think he really ever got the attention or accolades that he deserved," said former teammate Zach Parise. "To be honest I didn't know how good he was until I got here; didn't hear too much about him back home but when I got here I really realized how good of a player he is and appreciated what he does on the ice."
Elias' Impact
That wasn't the case 'back home' for two current Devils players who Elias had a different impact on in two completely different ways. They were both very well aware of who the Czech and Devils legend was. Pavel Zacha was born in 1997 in the Czech Republic and grew up idolizing Elias. Blake Coleman was born in 1991 deep in the heart of Texas.
"He grew up like 10-15 minutes away from where I'm from and he brought the 2003 Stanley Cup home when I was a little kid playing hockey growing up," a smiling Zacha told The Hockey Writers. "I watched him all of my life, him and (Jaromir) Jagr were idols for all of the Czech players growing up."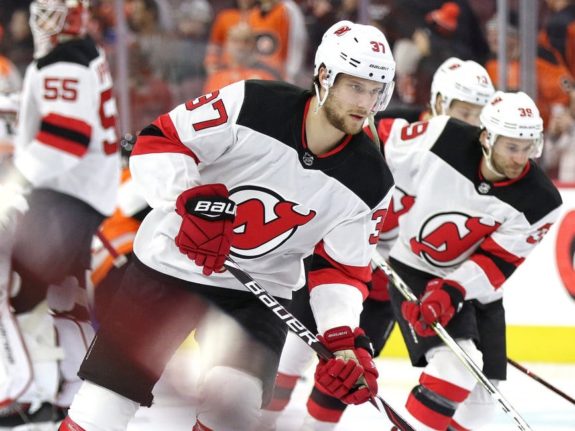 Zacha even got a shoutout during his idol's speech at the end of the ceremony. "That was great, I didn't expect it at all and it was really nice," he said almost blushing. "I'm a lucky guy that I played in my first game and it was his last – a game I'm never going to forget."
A game that Coleman would like to forget is Game 6 of the 2000 Stanley Cup Final when Elias' blind pass from the corner to Jason Arnott in the slot in double overtime ended the Dallas Stars' quest for back-to-back Stanley Cups. Funny how things work out in life, right? There was Coleman sitting on the Devils bench in 2018 watching the replay of that goal for the bazillionth time this past week.
"Yeah it was tough watching that video clip ten times tonight," Coleman told THW while grinning and shaking his head. "No it's all good, I'm a Devil now and it was a cool moment. It wasn't even for me and I was getting all emotional and stuff. It's pretty cool to see a guy who had his whole career with one team – to see the organization really pay their respects to him, I thought that was really cool," the 26-year-old added. "They did a classy job with the whole thing and it seemed like Patty and his family really enjoyed it."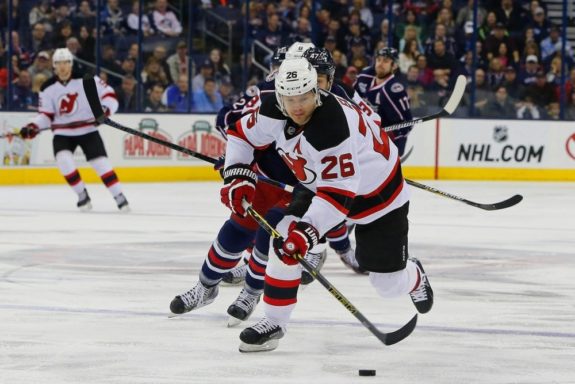 Next Stop, the Hall
There was no shortage of former teammates there to honor their buddy. From his A-Line linemates Arnott and Petr Sykora to his best Czech friends Martin Havlat and Marek Zidlicky, and even his first professional coach Robbie Ftorek.
As Parise mentioned earlier, Elias likely never received the recognition that he deserved around the NHL world, but in New Jersey — he was their star, their weapon, and their hero. Now as his no. 26 sits in the rafters of the Prudential Center with 4, 3, 27, and 30 only one more question remains: will he get a call from the Hockey Hall of Fame?
Just based on the fact that he recorded all of his 1,025 points with the New Jersey Devils — a team that still to this day many 'pundits' think is a defensive force that plays the trap (I can't help you if you don't want to listen) — should be merit enough to earn that call. But his overall body of work, including a four-season stretch where he was one of the game's top-five players, should be more than enough to earn that honor of being a member of the Hockey Hall of Fame.
Dan Rice is in his 9th year of reporting for THW & has covered NJ Devils home games for 15+ years at various websites. He began his journey working for legendary broadcaster/writer Stan Fischler from 2002-04 & completed an internship at the ECHL; he also has been writing features for the NWHL (nwhl.zone) website since 2016.